Hard works pays off in All-Star nod for Teixeira
Betances hopes to be more involved at second Game; Gardner a first-time electee
NEW YORK -- During his two previous trips to the Midsummer Classic, Mark Teixeira's favorite part was the clubhouse chatter prior to the actual exhibition, when the best in the business share anecdotes about their experiences and routines. He wasn't sure those conversations would ever include him again.
After two seasons largely lost to injury, Teixeira's health has returned, with his repaired right wrist permitting him to club doubles and homers with regularity. The Yankees' slugger is heading to Cincinnati as a reserve for the July 14 All-Star Game presented by T-Mobile, joined by Bombers reliever Dellin Betances and Brett Gardner, who was originally a candidate for the Esurance MLB All-Star Game Final Vote before making the American League roster as an injury replacement on Thursday.
"I think this is probably my most special of all," Teixeira said. "I mean, I'll always remember my first one. I didn't know if I'd ever make it back to an All-Star Game. But just putting in the work and the dedication of saying, 'OK, if I get healthy I know I can be the player I was in the past.' That hard work paying off means a lot."
Teixeira, who also represented the American League in 2005 and '09, entered play on Tuesday leading the AL with 59 RBIs while ranking among the league leaders in slugging percentage (.532, seventh), walks (44, tied for fourth) and isolated power (.289, second). His 20 first-half homers were the most by a Yankee since 2012.
"I knew what I had to do to get healthy again, get stronger and get back to being physically where I wanted to be," Teixeira said. "You don't forget how to play the game. I've kind of always remembered how to hit, remembered how to play defense. Those things don't leave you, but getting strong again was the big thing."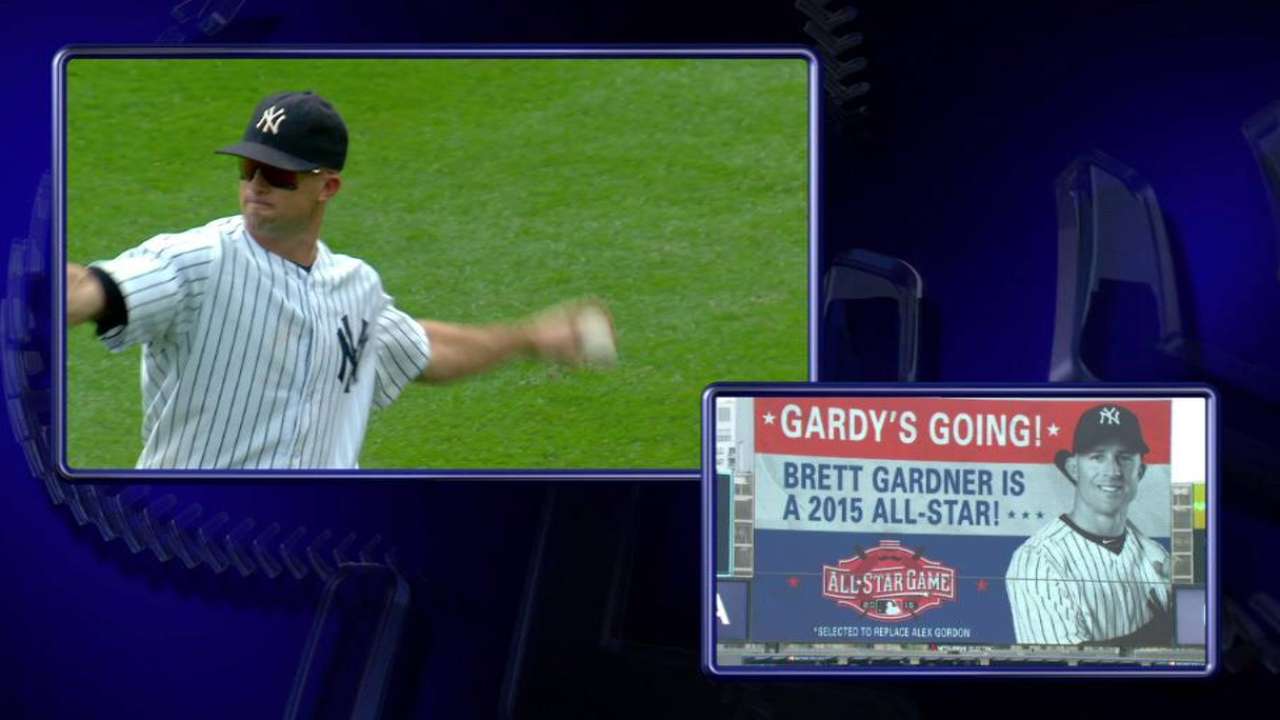 Tabbed as an All-Star for the second successive season, Betances said that he might be more chatty in the clubhouse this year. As a first-time representative in 2014 at Minnesota's Target Field, Betances kept his head down and listened while the AL celebrated Derek Jeter's final appearance, but Betances might play more of a key role for the squad in '15.
"Any time you get picked, especially by your peers, guys you play against, it's exciting," Betances said. "I've worked hard and just to be here playing with the Yankees is already a great feeling. When you get selected for the second time, it's kind of surreal, to be honest with you."
Royals manager Ned Yost has said that his working plan is to give the ball to Betances for the seventh inning. After not being called upon in the game at Target Field, Betances said that assignment sounds great to him, and that he looks at the selection as just one more rung in his career ladder.
"I'm never going to be satisfied, and continue to work hard," Betances said. "It took me a long time to get up here. Obviously, the second time means a lot to me and my family, but I've got to continue to work hard. There's other goals that I want to accomplish as a player. For us to get back to the playoffs is something that I've been focusing on more, as a team goal."
Voting is open now at MLB.com to select the final player for each League's 34-man roster via the 2015 Esurance MLB All-Star Game Final Vote. Fans can cast their votes from a list of five players from each League until 4 p.m. ET on Friday.
And the voting doesn't end there. During the Midsummer Classic in Cincinnati on Tuesday, July 14, fans can once again visit MLB.com to submit their choice for the Ted Williams Most Valuable Player Award presented by Chevrolet. Voting exclusively at MLB.com, online and via their mobile devices in the 2015 All-Star Game MVP Vote presented by Chevrolet, the fans' collective voice will represent 20 percent of the overall vote that determines the recipient of the Arch Ward Trophy.
MLB.TV Premium subscribers will be able to live stream the All-Star Game via MLB.TV through FOX's participating video providers. Access will be available across more than 400 supported MLB.TV platforms, including the award-winning MLB.com At Bat app. MLB.com will provide extensive online coverage of the All-Star Week festivities, including the 2015 Gillette Home Run Derby presented by Head & Shoulders, part of Gatorade All-Star Workout Day on Monday, July 13. The Derby will feature a new format with brackets and timed rounds and will be broadcast live by ESPN and MLB.com beginning at 8 p.m. ET.
The 86th All-Star Game will be televised nationally by FOX Sports (7 p.m. ET air time, 8:15 first pitch), in Canada by Rogers Sportsnet and RDS, and worldwide by partners in more than 160 countries. ESPN Radio and ESPN Radio Deportes will provide exclusive national radio coverage of the All-Star Game. MLB Network and SiriusXM will also provide comprehensive All-Star Week coverage. For more information, please visit allstargame.com.
Bryan Hoch is a reporter for MLB.com. Follow him on Twitter @bryanhoch, on Facebook and read his MLBlog, Bombers Beat. This story was not subject to the approval of Major League Baseball or its clubs.