A-Rod takes All-Star results in stride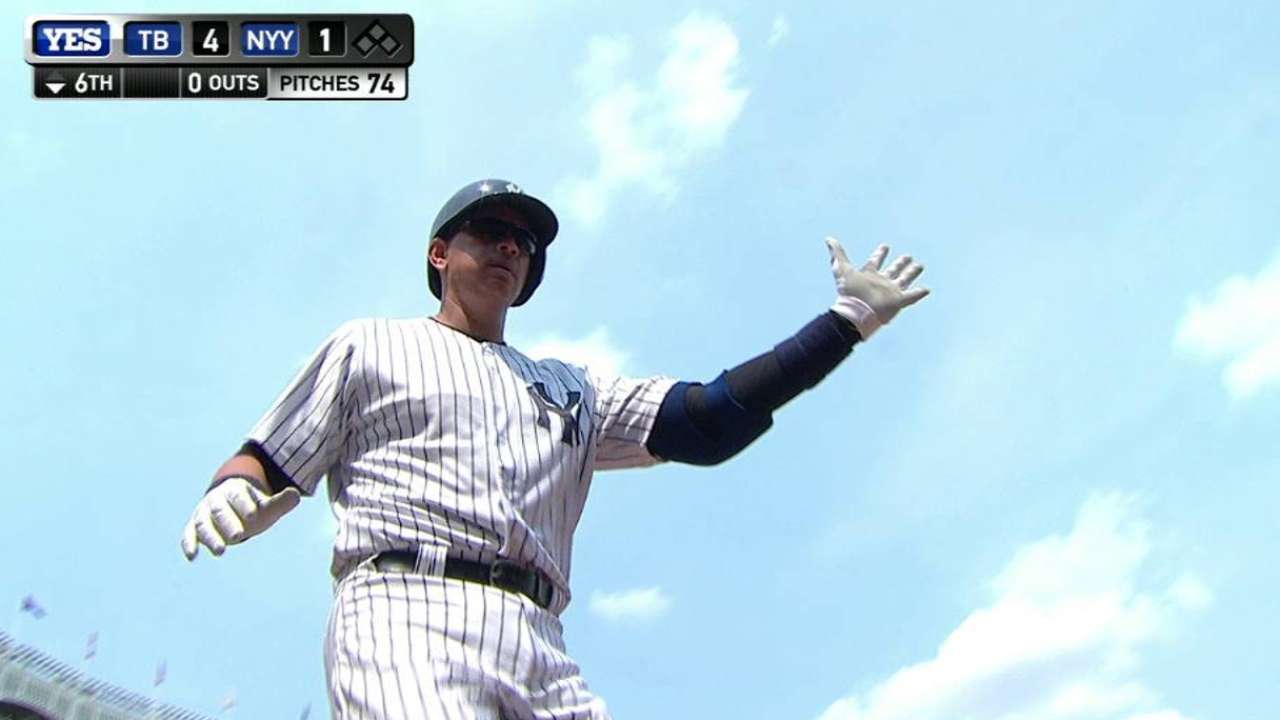 NEW YORK -- Alex Rodriguez hoped a trip to Cincinnati would be a cherry on top of an eventful first half that has already seen him return from suspension to pass Willie Mays on the all-time home run list, collect his 3,000th hit and 2,000th RBI, but the Yankees' slugger will instead watch the All-Star Game on television.
"I'm obviously disappointed," Rodriguez said. "It would have been fun to go out and represent the American League, that's for sure. But I know that while serving the suspension, the time off was very good for me. I hope the four days will be, too."
Rodriguez finished fifth among AL designated hitters in the fan vote and was not voted in as a reserve by his peers. Royals manager Ned Yost, who is piloting the AL squad, said that he gave consideration to carrying Rodriguez but preferred a player with more positional flexibility.
"We talked about A-Rod a lot," Yost said on ESPN. "You look back at this five-man vote and we have three infielders, two outfielders, and we felt that it was important that we don't -- we have Brock Holt that can play anywhere in the infield, but any other position we have a starter and a backup.
"In the outfield, we have three starters and three backups. So I just felt very strongly that if we could get another infielder or another outfielder out of that five-man vote, it would help us. That's what went in that decision."
Rodriguez entered play on Tuesday ranked among the AL leaders in OPS (.902, eighth), on-base percentage (.390, sixth) and walks (44, tied for fourth), batting .284 with 16 home runs and 47 RBIs. Yankees manager Joe Girardi said he thinks Rodriguez deserved a nod.
"I do," Girardi said. "But every year there's going to be players that are deserving that aren't chosen just because of the way it's done. I've been a big proponent of increasing the roster, but that hasn't happened. I think you could make a great case for Brian McCann. It's hard for me to figure out why he's not there with the year that he's had. Sometimes it works that way."
Rodriguez's past performance-enhancing drug use surely was a factor in some of the voting, but two other players with ties to the Biogenesis case, the Mariners' Nelson Cruz and the Cardinals' Jhonny Peralta, were named All-Stars.
Cruz is the AL's starting DH via the fan vote, while Prince Fielder of the Rangers was tabbed as the AL's backup DH. That left no room for Rodriguez, in Yost's view.
"I think the fans made a very wise choice and I think Yost had a very difficult decision," Rodriguez said. "You can't go wrong with Prince. He's had a phenomenal year and he's also a big comeback story, so I'm happy for Prince."
Though it might have contributed to him spending the All-Star break in Miami rather than Cincinnati, Rodriguez lauded Girardi's decision to use him as a full-time DH, saying that it has helped to keep his bat and body fresh through the first half.
"I knew I was a long shot. I gave myself a long-shot hope," Rodriguez said. "There are so many great players in the American League, and I'm only a DH. For a long time, I was at shortstop and third base and there were multiple ways of getting in. I'll be watching, I'll be cheering and I hope we get home-field advantage."
Bryan Hoch is a reporter for MLB.com. Follow him on Twitter @bryanhoch, on Facebook and read his MLBlog, Bombers Beat. This story was not subject to the approval of Major League Baseball or its clubs.