Cueto's mates helping in push for Final Vote
Frazier among Reds leading charge; lunch-time voting effort set for Friday at The Holy Grail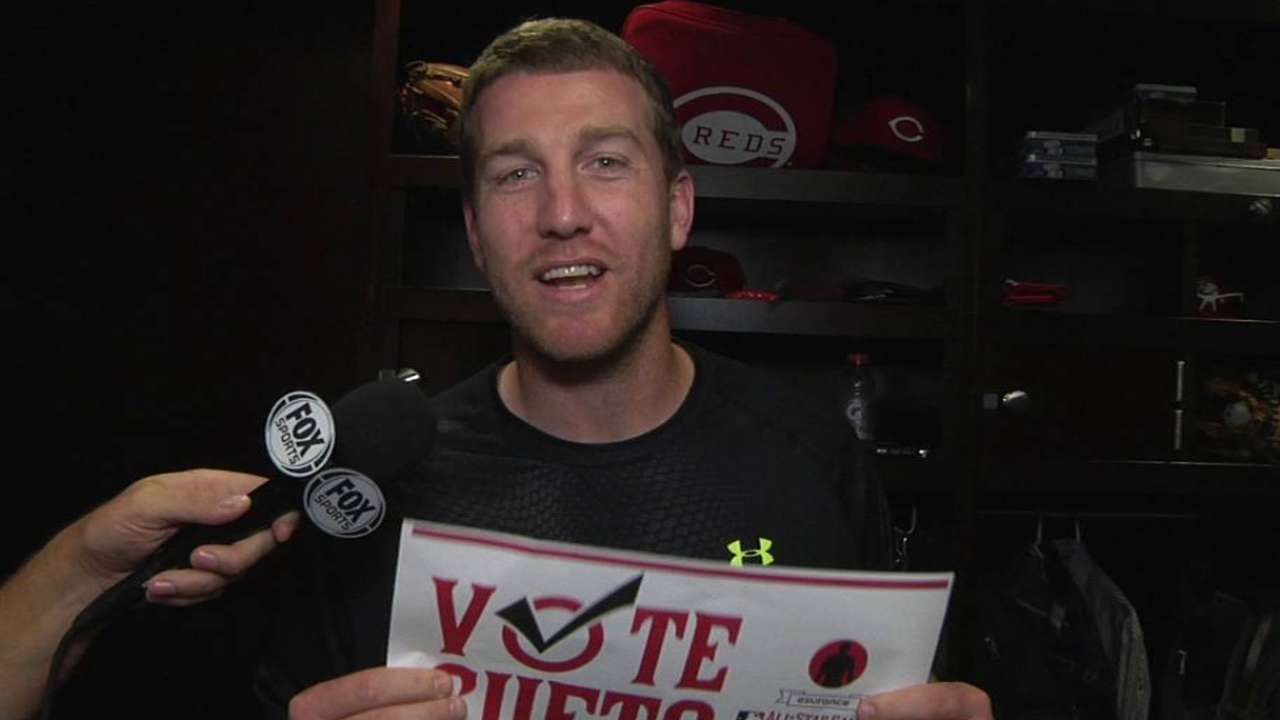 WASHINGTON -- Now that their ace, Johnny Cueto, is one of five National League players selected for the 2015 Esurance MLB All-Star Game Final Vote, the Reds are doing what they can to get their fans to cast their ballots.
Voting is open now at MLB.com to select the final player for each league's 34-man roster via Final Vote. Fans can cast their votes from a list of five players from each league until 4 p.m. ET on Friday.
Reds players, including 2015 NL All-Star starting third baseman Todd Frazier, made videos or took to Twitter to encourage fans to vote for Cueto. Besides Frazier, the players elected closer Aroldis Chapman, who will represent Cincinnati when it hosts the 86th All-Star Game presented by T-Mobile on July 14 at Great American Ball Park.
"Thank you for getting me in. Now it's time to get another guy in. We've got Johnny C," Frazier said on Tuesday. "I tweeted it out today. Let's go. The second time around, we've got this. Start getting on your computers and your iPads and iPhones. My man deserves it. It's in our hometown. Why not get another guy there? Let's go. Me, Aroldis, and now, Johnny. One time, we got it."
Ok #RedsCountry we need to do it one last time. Let's get our boy #JohnnyBeisbol in to our all star game. #VoteCueto we got this cinci

— Todd Frazier (@FlavaFraz21) July 7, 2015
Catcher Brayan Pena was also stumping for votes, citing that Cueto deserved it but also made a personal plea.
"If you don't vote for Johnny, he's going to be mad at me," Pena joked.
Reds fans! Support @JohnnyCueto in the #ASG Final Vote. Let's get him the last slot on the NL roster. #VoteCueto http://t.co/WtBLxQz03L

— billy hamilton (@BillyHamilton) July 7, 2015
Cueto, who is trying to be an All-Star for the second straight year, is competing for votes against pitcher Carlos Martinez (Cardinals), pitcher Clayton Kershaw (Dodgers), pitcher Jeurys Familia (Mets) and shortstop Troy Tulowitzki (Rockies).
Not only are the Reds promoting Cueto, they are also making a push for Tigers outfielder Yoenis Cespedes to win the American League's Final Vote. The two clubs formed an alliance, with Detroit also asking its fans to vote for both Cespedes and Cueto.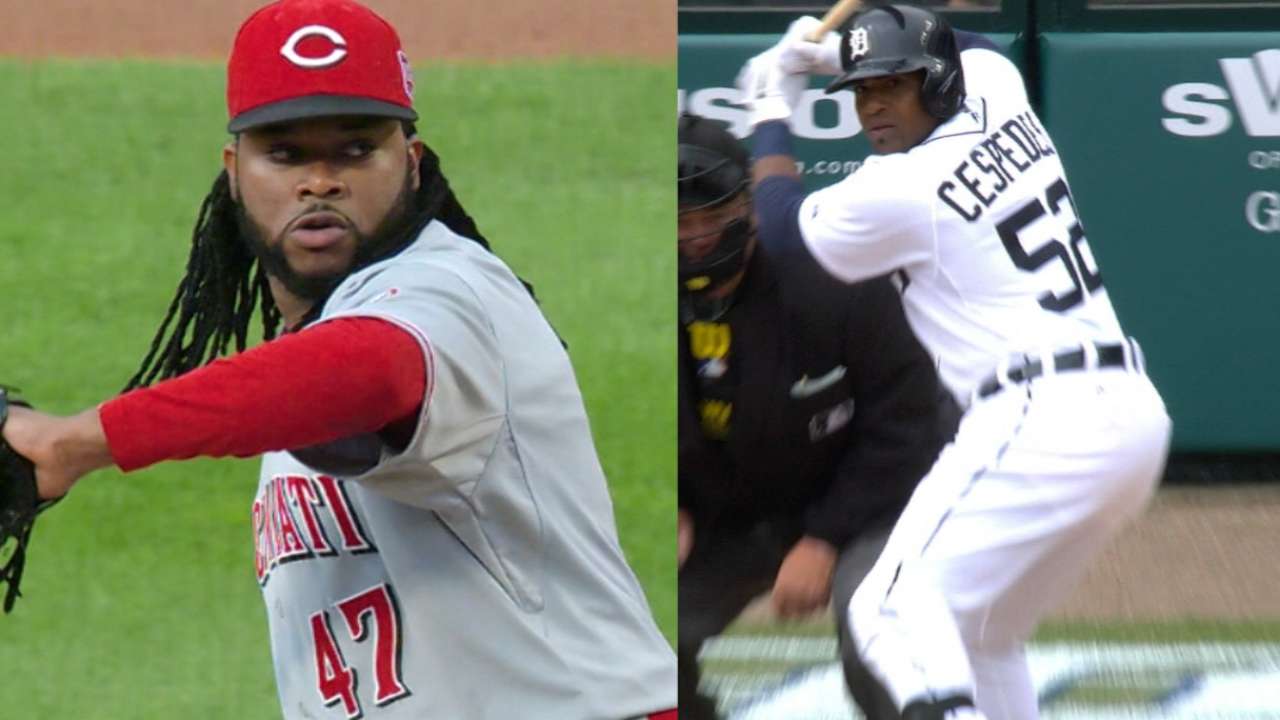 The Reds' social media department has organized a lunch-time voting push at The Holy Grail, across the street from the ballpark, to get Cueto elected. Voting starts at lunch hour Friday and will run until the 4 p.m. deadline. Prizes will be offered to voters.
One thing that remains unclear is if Cueto would pitch in the All-Star Game if he is elected by the fans. He is scheduled to close the first half with a start on Sunday vs. the Marlins. While he is allowed to still pitch on Tuesday under the rules, manager Bryan Price isn't sure if Cueto should pitch. Cueto said after learning he was a Final Vote candidate that the All-Star Game would fall on his normal bullpen day.
"I think it's more organizational policy and what you think is right," Price said on Tuesday. "We're very, very much more conservative with our pitchers today than we were even 25-30 years ago. You put such an investment in your guys -- first of all in their health, and second of all, their salaries. Plus, you're always prioritizing the team more than the individual.
"Anybody that is selected to be an All-Star as a pitcher is going to want to pitch in the game, at least pitch an inning or face a hitter, and I get that. It's just, I think it's almost nearly impossible to balance out where you can actually feel comfortable having a starting pitcher pitch almost two days after he throws 100-plus pitches in a game."
Voting is open now at MLB.com to select the final player for each League's 34-man roster via the 2015 Esurance MLB All-Star Game Final Vote. Fans can cast their votes from a list of five players from each League until 4 p.m. ET on Friday.
And the voting doesn't end there. During the All-Star Game presented by T-Mobile in Cincinnati on Tuesday, July 14, fans can once again visit MLB.com to submit their choice for the Ted Williams Most Valuable Player Award presented by Chevrolet. Voting exclusively at MLB.com, online and via their mobile devices in the 2015 All-Star Game MVP Vote presented by Chevrolet, the fans' collective voice will represent 20 percent of the overall vote that determines the recipient of the Arch Ward Trophy.
MLB.TV Premium subscribers will be able to live stream the All-Star Game via MLB.TV through FOX's participating video providers. Access will be available across more than 400 supported MLB.TV platforms, including the award-winning MLB.com At Bat app. MLB.com will provide extensive online coverage of the All-Star Week festivities, including the 2015 Gillette Home Run Derby presented by Head & Shoulders, part of Gatorade All-Star Workout Day on Monday, July 13. The Derby will feature a new format with brackets and timed rounds and will be broadcast live by ESPN and MLB.com beginning at 8 p.m. ET.
The 86th Midsummer Classic will be televised nationally by FOX Sports (coverage begins 7 p.m. ET), in Canada by Rogers Sportsnet and RDS, and worldwide by partners in more than 160 countries. ESPN Radio and ESPN Radio Deportes will provide exclusive national radio coverage of the All-Star Game. MLB Network and SiriusXM will also provide comprehensive All-Star Week coverage. For more information, please visit allstargame.com.
Mark Sheldon is a reporter for MLB.com. Read his blog, Mark My Word, follow him on Twitter @m_sheldon and Facebook and listen to his podcast. This story was not subject to the approval of Major League Baseball or its clubs.