Boxberger battles with command in key 9th
KANSAS CITY -- Brad Boxberger didn't have his best stuff on Tuesday afternoon against the Royals. Those struggles by the Rays' de facto closer led to a 9-5 walk-off loss at Kauffman Stadium.
The Rays had just tied the score at 5 in the top of the ninth when Boxberger took over for Everett Teaford.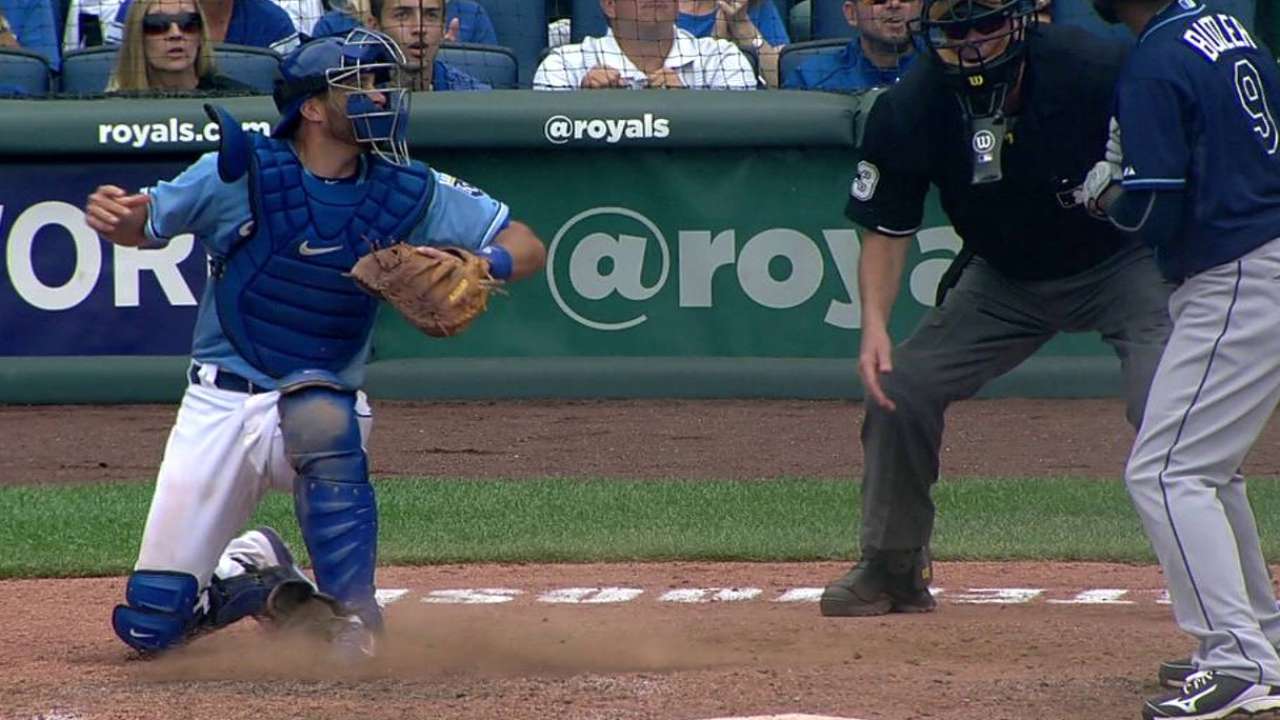 Kendrys Morales grounded out to Boxberger to start the inning. Eric Hosmer then followed with a single through the middle, before Alex Rios blooped a single to right.
Omar Infante then walked on four pitches.
"Hosmer hit a good pitch and then a bloop single. I couldn't get the guy out next, and walked him," Boxberger said. "... There's no reason I should have walked him there. I had no idea where it was going. I was trying to throw the ball to the plate and [I was] pulling everything. Nothing was going where I wanted it to."
The walk set the table for Paulo Orlando, who was recalled from Triple-A Omaha on Monday. Boxberger fell behind, 1-0, then tried a changeup, his money pitch, and Orlando delivered his second home run of the season -- a walk-off grand slam.
"I spiked a fastball the first pitch [to Orlando], then a home run," Boxberger said. "... [The changeup] just ran back into his bat. On a 1-0 count, I wouldn't expect him to be sitting on it, but he kind of was."
Rays manager Kevin Cash allowed that "hits are going to come," but he added "the four-pitch walk, a little surprising."
In taking his fifth loss of the season, Boxberger's ERA swelled from 2.48 to 3.55 on one pitch. He explained that he fought his control the entire outing.
"It was just one of those days when I couldn't make a pitch when I needed to," Boxberger said. "You're always kind of wondering what's going on [while experiencing control problems]. When my stuff's not going where I want it to, I want to try and figure out why."
The Rays' last four road losses have been of the walk-off variety. Boxberger has taken the loss in two of those.
"It's all the little things piling up," said Boxberger of the Rays' recent struggles. "We're playing all close games. So the little things get escalated.
"We have to go out there as a bullpen and kind of be perfect every day. When we don't, it shows. It's kind of been that way from the beginning. That's just part of it this year. We just have to keep going."
Bill Chastain is a reporter for MLB.com. This story was not subject to the approval of Major League Baseball or its clubs.