Braves' 1st-rounder Allard remains unsigned
Left-hander, selected 14th overall, has until July 17 to reach pact with Atlanta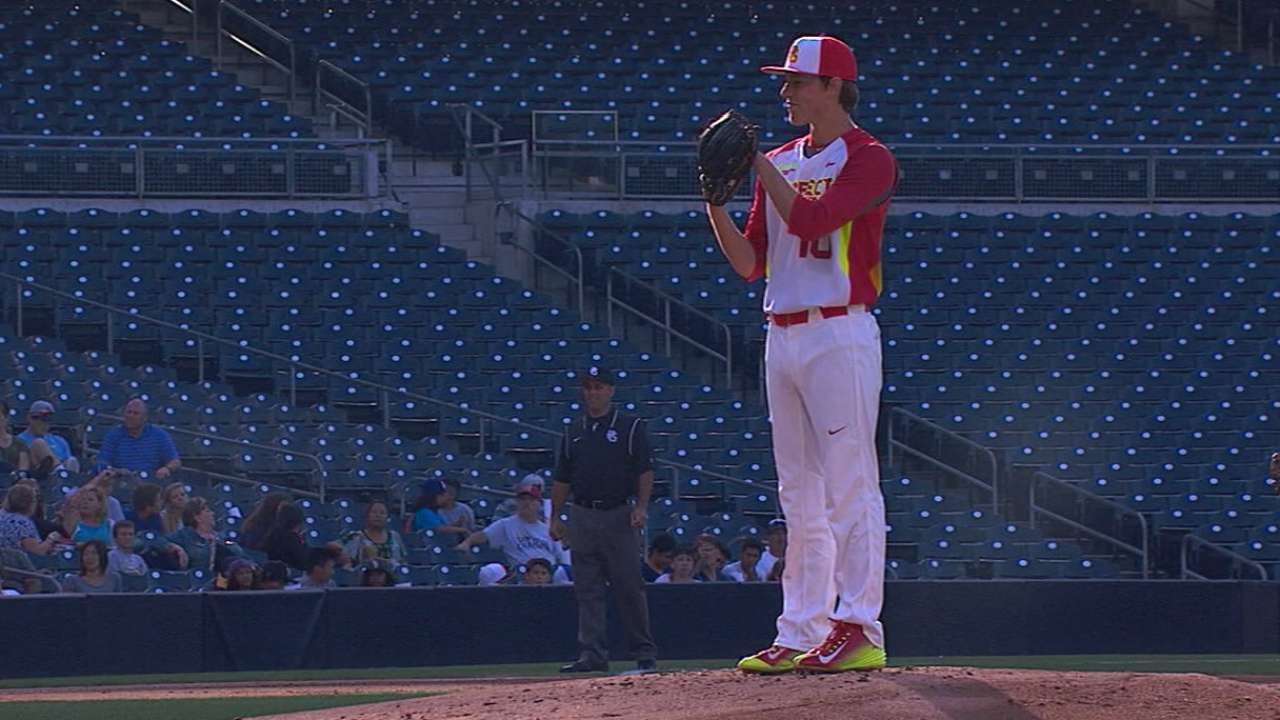 MILWAUKEE -- After being selected by the Braves with the 14th overall selection in the 2015 Draft, left-handed pitcher Kolby Allard responded to a question about his willingness to sign by saying, "I don't think that will be much of a problem."
But one month later, Allard stands as the only of the Braves' first 25 selections who has not signed.
Every player selected in this year's Draft has until July 17 to sign. If an agreement is not reached by this time, the Braves would receive the 15th overall selection in next year's Draft and Allard would have the choice to either honor his commitment to UCLA or extend his amateur career elsewhere.
"We think highly of Kolby Allard and have great respect for [his representatives] Casey Close and Victor Menocal," Braves assistant general manager John Coppolella said. "We're hopeful to sign to Kolby and we're respectful of the process."
While the Braves still remain hopeful to sign Allard, their motivation to do so is lessened by their impressive stable of young pitchers. They added to this crop by taking pitchers with 12 of their first 14 selections this year. More importantly, they recently acquired highly regarded prospect Touki Toussaint, who was taken by the D-backs with the 16th overall selection in the 2014 Draft.
Allard was heralded as one of this year's top available pitchers until he suffered a back injury that forced him to miss almost all of his senior season at San Clemente (Calif.) High School. The injury was a primary reason he was still available when the Braves made their first selection.
Major League Baseball assessed $2,842,000 as the slot value for this year's 14th selection. History has proven that the Braves are not a club that is willing to go too far above the recommended slot values. But Close has proven he is willing to advise his clients to extend their amateur career if they do not receive the offer that they wanted.
Close represents Brady Aiken, who opted not to sign with the Astros after being the top overall selection in the 2014 Draft. This decision was made after the Astros reportedly dropped their signing bonus offer from $6.5 million to approximately $5 million because of a concern they gained regarding the young pitcher's elbow.
Aiken enrolled at IMG Academy this past school year and later underwent Tommy John surgery. The Indians took him with the 17th overall selection in this year's Draft and provided him a $2,513,280 signing bonus, approximately $120,000 over the recommended slot value.
Mark Bowman is a reporter for MLB.com. This story was not subject to the approval of Major League Baseball or its clubs.