Offense hits the skids as starting pitching gets hot
Padres 4-6 over last 10 games despite ERA of 2.85 by starting pitchers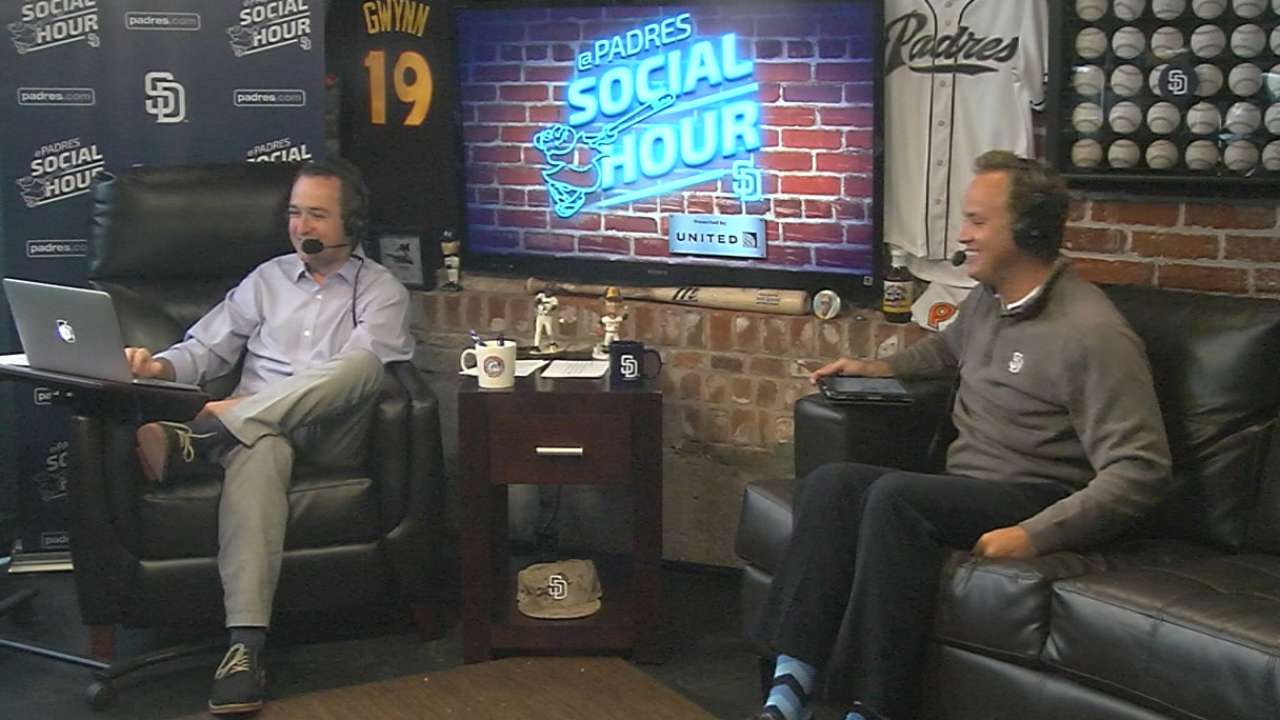 Bill Center, longtime sportswriter for U-T San Diego, is an employee of the Padres.
As Saturday Night Live character Roseanne Roseannadanna liked to say, "Well, it's always something."
Those words perfectly sum up the Padres season to date.
When they were getting hitting, they weren't getting pitching and defense. Now they're getting pitching and the hitting has gone south... while the defense remains a problem.
The Padres have lost three in a row, while scoring three runs, and while hitting .175 as a team in six of their last eight games. Still, three of those six losses can be linked directly to errors and unearned runs.
Currently, the Padres are 2-3 on a tough 10-game road trip -- although they could be 5-0. During five games in St. Louis and Pittsburgh, the Padres have allowed 11 runs. The starting pitchers have an earned run average of 2.40. But the hitters have batted .213 while scoring 10 runs.
Over the past 10 games, the Padres' starting pitchers have allowed 41 hits and 20 walks with 50 strikeouts in 60 innings -- an earned run average of 2.85.
But the Padres are only 4-6. Why? Padres hitters are batting .175 and have scored 25 runs in those 10 games.
Going back farther, the Padres are 8-15 since getting back to .500 at 31-31. They have fallen seven games below .500 for the first time this season. And if it takes 90 wins to reach the playoffs as a wildcard this season, it means the Padres would have to go 51-26 over the final 77 games.
The Padres have only 11 extra-base hits in the past eight games. Six are by Yangervis Solarte, who has been starting at third in the absence of Will Middlebrooks, and one was the first homer of pitcher Tyson Ross's career.
Over the last seven games, the Padres "big three" of outfielders Matt Kemp, All-Star Game presented by T-Mobile pick Justin Upton and catcher Derek Norris are a combined 9-for-68 (.132) with a solo homer by Kemp.
Norris is 4-for-23 with no RBIs. Upton is 3-for-22 with 11 strikeouts and no RBIs. Kemp is 2-for-23 with seven strikeouts with his lone RBI coming on a solo homer.
From the scorecard
• While playing third base, Solarte has put together a seven-game hitting streak, going 7-for-24 with two doubles, a triple and two homers. Over his last 10 games, Solarte is 12-for-35 (.314) with four doubles, a triple and two homers, with three RBIs and five runs scored.
• Second baseman Jedd Gyorko was 2-for-4 Monday night and is hitting .346 (9-for-26) with a double, a homer and two RBIs since returning from Triple-A El Paso on June 30.
• Shortstop Alexi Amarista is 1-for-16 (with Monday's sacrifice fly) with three errors since June 27.
• Melvin Upton Jr., has been thrown out trying to steal twice and picked off once the last three times he has been on base.