Devers, Chavis among 10 top prospect performers Monday
Red Sox Nos. 4 and 10 prospects both launch two-run homers for Class A Greenville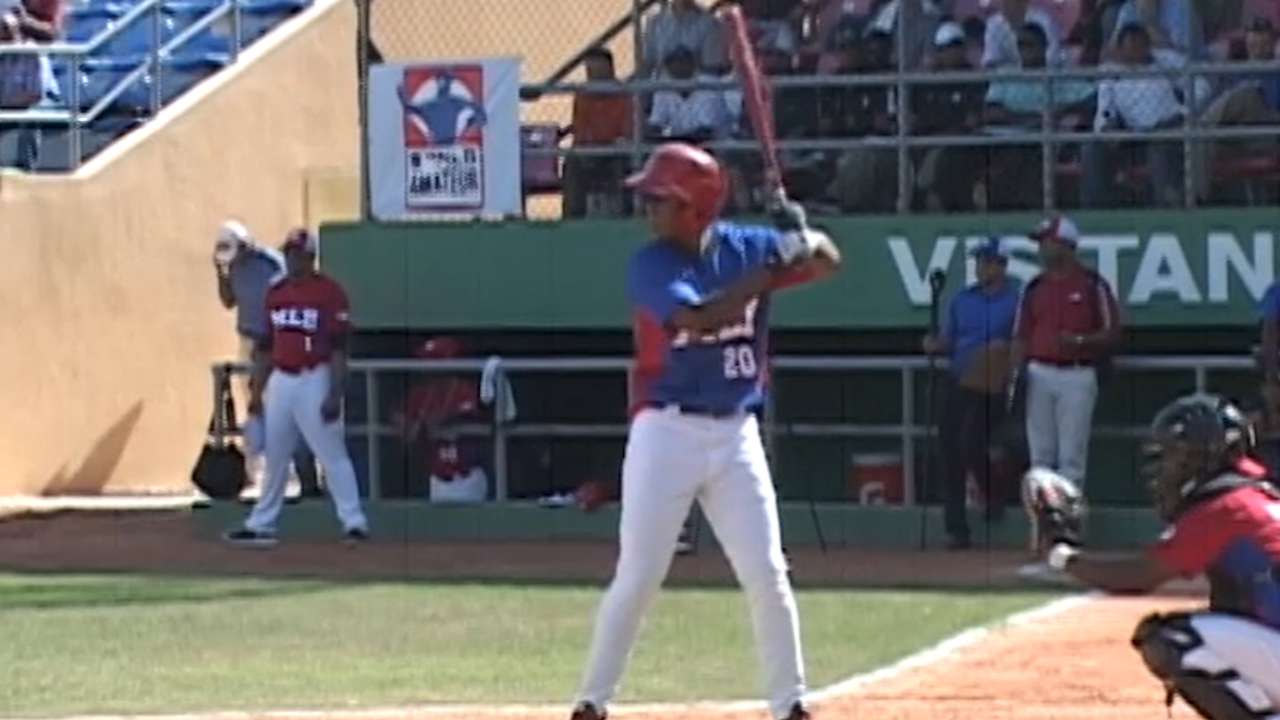 A couple of Top 10 Red Sox prospects helped Class A Greenville to an 8-7 win over Savannah on Monday.
The players in question -- No. 4 prospect (No. 80 overall) Rafael Devers and No. 10 prospect Michael Chavis -- broke out of a combined 0-for-26 drought with a pair of two-run homers and five total RBIs.
Chavis struck first, launching a first-inning shot that tied the game, 2-2. He finished 2-for-5 with two runs. Devers' blast wasn't far behind as he went yard in the third inning to give the Drive a 5-3 lead and finished the game 2-for-4 with three RBIs.
Neither player had collected a hit in the previous three games. Chavis, Boston's 2014 first-round pick, stands at .202/.266/.351 with seven dingers and 25 RBIs on the year. Devers has been more consistent at the plate, hitting .291/.320/.444 with seven homers and 41 RBIs. He's also collected 19 doubles.
Devers, who is just 18 years old, made his professional debut last summer for the DSL Red Sox, and hit .322/.404/.506 with seven homers and 57 RBIs in 70 games across two levels.
The rest of the 10 best performances from top Minor Leaguers
• Astros No. 12 prospect A.J. Reed clubbed his 21st home run of the season as part of a 3-for-3 night for Class A Advanced Lancaster. The blast ensured he'll likely be second on the Minor League homer list for at least a little while. He's still chasing Twins No. 12 prospect Adam Brett Walker (23), but he now has a two homer lead over Rays No. 20 prospect Richie Shaffer. Reed has six dingers since June 16 and sports a .334/.440/.609 line with 75 RBIs on the season, which is the most in the Minors.
• D-backs No. 17 prospect Cody Reed posted his best performance of the year Monday, scattering three hits and notching a career-high 10 strikeouts in six shutout innings as Class A Short Season Hillsboro took down Everett, 2-1. His outing was the first time he'd pitched more than four innings without allowing a run at the professional level and the 19-year-old southpaw stands at 2-1 with a 2.11 ERA after four starts with the Hops. Just 18 appearances into his career, Reed has 65 strikeouts against 31 hits and 18 walks. He went 0-2 with a 2.20 ERA in 11 starts across two levels last season and made his first start this year with Hillsboro on June 20.
• Mariners No. 6 prospect Edwin Diaz put an end to his two-game losing streak with a dominant performance for Double-A Jackson. The righty moved to 3-6 with a 4.69 ERA after allowing just one hit and one walk against seven strikeouts in six shutout innings. Monday marked the first time in 10 tries for the Generals that Diaz blanked his opponent and just the second time he collected seven Ks. The 21-year-old Puerto Rican has now won three of his past five starts.
• Nationals No. 1 prospect (No. 4 overall) Lucas Giolito made his second straight "relief" appearance for rehabbing starter Aaron Barrett, who struck out the side in the first inning of Class A Advanced Potomac's 2-1 loss to Wilmington. Giolito, who entered in the second inning, kept the K parade going, striking out 10 Wilmington Blue Rocks while allowing just three hits, one walk and one run in six innings of work. A rain delay halted the game in the eighth inning with the scored tied at 1, knocking Giolito out of the game. Potomac lost 2-1 in 10 innings, but Giolito has not dropped a decision since June 7, during which time he's allowed just two earned runs in 25 1/3 innings while striking out 30 batters. Giolito stands at 3-4 with a 2.76 ERA in 11 appearances since leaving extended Spring Training.
• Nationals No. 5 prospect Joe Ross just keeps getting better for Triple-A Syracuse. He's now gone five innings in all three of his starts since he was sent to Syracuse after making three starts with the big league club, but Monday was his best outing. The 6-foot-4 right-hander scattered two hits and struck out four while guiding the Chiefs to a 3-2 win over Pawtucket. He stands at 2-1 with a 2.40 ERA after going 2-2 with a 2.81 ERA in 9 starts for Double-A Harrisburg earlier this season.
• Rays No. 4 prospect (No. 100 overall) Blake Snell's epic scoreless inning streak is over, but he's still spinning excellent starts. The Double-A Montgomery southpaw gave up three hits and one run while striking out six in five innings of work on Monday, picking up his second straight win in the process. Snell has only allowed more than two runs once this year -- four earned in five IP against Jacksonville on June 4 -- and has 72 strikeouts against 43 hits and 28 walks in 2015.
• Tigers No. 1 prospect (No. 84 overall) Steven Moya went 2-for-4 and hit two solo home runs in Triple-A Toledo's 3-2 win over Columbus and has four homers in the past three games and six in his past 8 contests. The 6-foot-7 outfielder led Double-A Erie and the rest of the Eastern League with 35 homers last season and currently boasts a .432 slugging percentage to go with 12 homers and 46 RBIs with Toledo this year. "Things are going really good right now," Moya told MiLB.com. "I'm just enjoying the game. That's pretty much all I want right now. I'm not trying to think too much about anything else."
• Twins No. 10 prospect Stephen Gonsalves is still undefeated for Class A Advanced Fort Myers. In his fifth start since an early June promotion, the 20-year-old San Diego native scattered three hits and walked two while striking out seven in seven shutout innings. He hasn't allowed a run in his past two starts (12 total innings) and stands at 3-0 with a 2.77 ERA for the Miracle.
Alex M. Smith is a reporter for MLB.com. This story was not subject to the approval of Major League Baseball or its clubs.