Castellanos isn't overthinking his hot stretch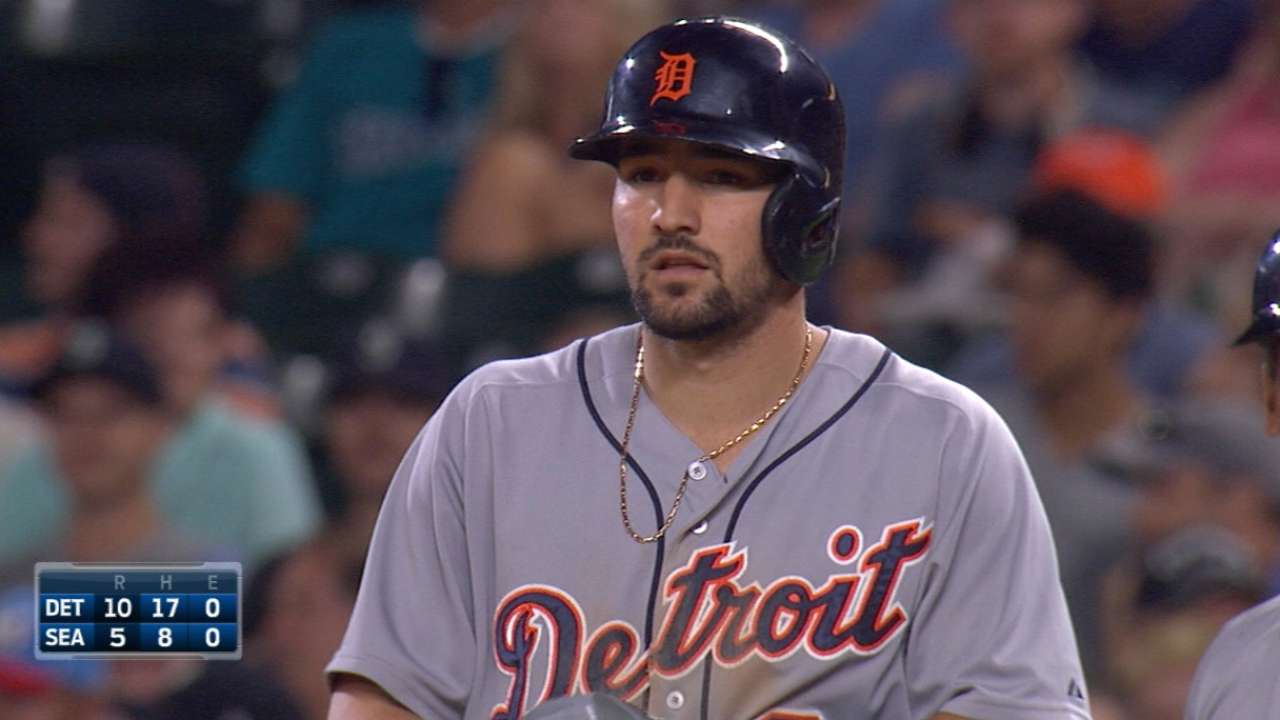 SEATTLE -- Nick Castellanos is enjoying the art of the interview right now. After weeks of questions about his hitting when he was slumping, he's probably earned that right.
"That was 'get a good pitch and hit it,'" he said of his approach at the plate during the at-bat the led to his go-ahead two-run single in Monday night's 12-5 win over the Mariners at Safeco Field.
Asked about his approach on his solo homer earlier in the game, Castellanos said, "Get a good pitch and hit it."
Asked about the supposed importance of relaxing during big at-bats, Castellanos said, "Get a good pitch and hit it. I'm a pretty relaxed guy. I've got that down. Now it's getting good pitches to hit and swinging at them."
There's no epiphany, he said, no big adjustment behind his turnaround over the last two weeks, including his first career four-hit game Monday. There's no moment when things seemed to click for him and he expected his recent tear to follow.
"I have no idea," he said. "I'm just digging in and hitting. … I don't have an answer. It's just hitting. It is what it is. It's a funny thing. I have no explanation for the run that I've gone on. I feel good. That's all I can really say."
It would be easier if he could pinpoint something. Then he'd know what to repeat when things go right, and maybe what to change when things go south again. He has tendencies, such as pulling the ball a little more, or centering pitches like he did Monday to send them back up the middle as opposed to opposite-field hits, but nothing that suggests a dramatic adjustment.
He's 18-for-47 over his last 12 games, covering a two-week stretch. He has improved his batting average on the season from .217 to .245, taken back his regular role at third base and quieted talk of any potential demotion to Triple-A Toledo.
"There's very few players who don't go through some type of slump in their career," manager Brad Ausmus said. "I've seen much deeper holes dug by players than what Nick went through."
What Castellanos didn't do in that stretch until Monday was hit for power. His second-inning solo homer was his first since May 21 against the Astros, 38 games ago. And it came at a place known more as a pitcher's park.
"Today it wasn't," said Castellanos, noting the Tigers' four-homer barrage that included back-to-back shots from Victor Martinez and J.D. Martinez. "I don't know if we were just hitting balls that hard today or what. We had fun today as a lineup."
Most of Castellanos' turnaround had come about quietly. The way Miguel Cabrera and J.D. Martinez had been hitting, Castellanos' hits were overshadowed. With Cabrera out, though, the Tigers need Castellanos to keep it going as long as he can.
Jason Beck is a reporter for MLB.com. Read Beck's Blog, follow him on Twitter @beckjason and listen to his podcast. This story was not subject to the approval of Major League Baseball or its clubs.