Bogaerts hits rare 3-run 1B on nasty pitch
Final Vote candidate hammers pitch with perceived velocity of 104.96 mph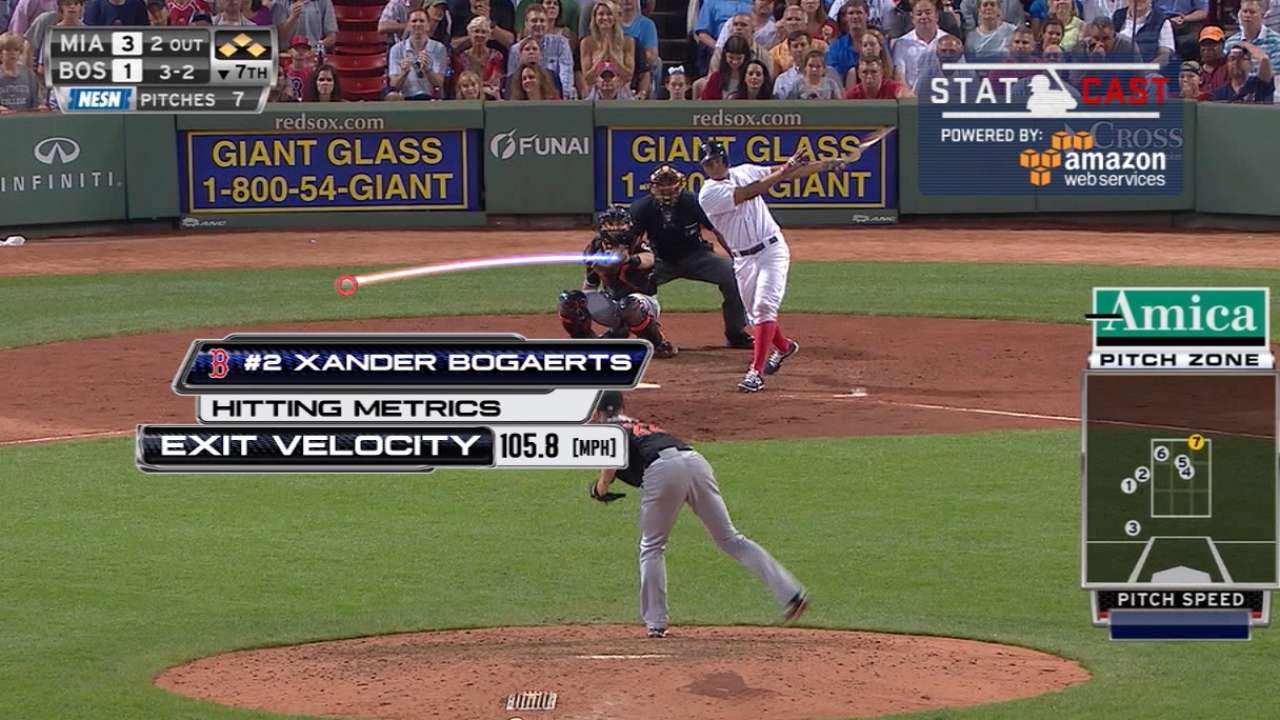 BOSTON -- The pitch from Carter Capps that wound up deciding Tuesday night's game between the Red Sox and Marlins came in to Xander Bogaerts -- an Esurance MLB All-Star Game Final Vote candidate who needs support after the first ballot update, which has him in fifth place among American League hopefuls -- at 99 mph. At least that's what the radar gun reading was on the offering Bogaerts ripped into right-center for a rare three-run single that led the Red Sox to a 4-3 victory over the Marlins.
But the reality is that the 3-2 pitch with two outs and the bases loaded in the bottom of the seventh looked far speedier than that. Bogaerts experienced first-hand what hitters in the National League have experienced all season with the unorthodox follow-through from Capps, who sort of hops toward the plate after he finishes his pitches.
Bogaerts hung in on a pitch that had a perceived velocity of 104.96 mph, the fourth-highest number of any pitch in the Major Leagues this season, according to Statcast™. The pitch looked that fast to Bogaerts, thanks to an extension of 9.5 feet by Capps.
Meanwhile, the baseball had an exit velocity of 105.8 mph off the bat of Bogaerts.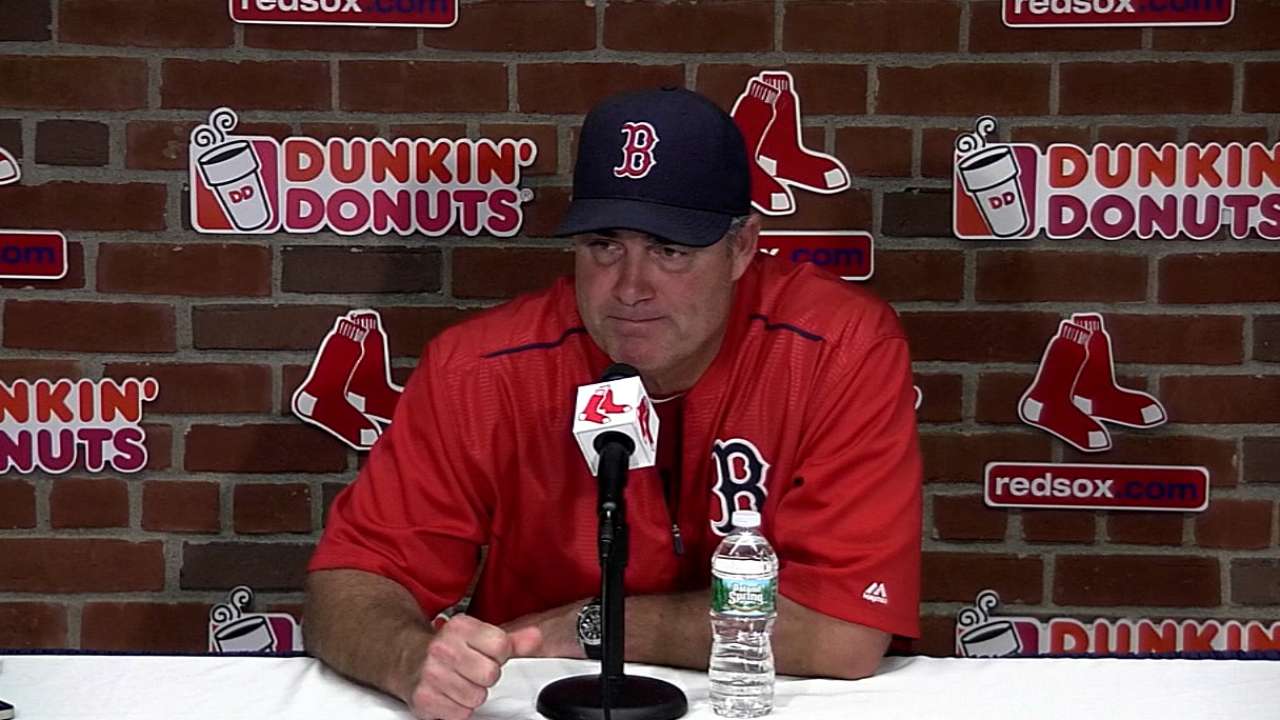 "I've faced a few guys that throw really hard like [Trevor] Rosenthal, who I faced a couple of times," said Bogaerts, "but they have normal deliveries. This guy has a weird thing going on right there. I was just hoping he wasn't throwing a slider right there, because I hadn't seen one that whole at-bat so I didn't even know what it was going to look like. He threw a fastball."
Fortunately for the Red Sox, they had their fastest runner at first in Mookie Betts, and he was off and running on the full count, enabling him to roar all the way around for the go-ahead run.
• Bogaerts thrilled to be part of Final Vote
It was the first three-run single by the Red Sox in the regular season since Gary Allenson on Sept. 11, 1982, against the Tigers. The feat has been accomplished two other times this season, as Joe Mauer did it May 19 vs. the Pirates and Jordan Zimmermann on April 29 vs. the Braves.
"Oh, I'm just sprinting," said Betts. "Luckily I got out of the way of the line drive Bogey hit. Just saw [third-base coach Brian Butterfield] waving me, so I pushed full speed."
If the delivery of Capps makes him more challenging to hit, it actually helped Betts with his jump.
"Actually got a pretty good [jump], because he's kind of slow [with his delivery] and he jumped as well," Betts said. "I took it to my advantage and tried to get to second before he threw the ball. I figured on a single I was going to try to score."
For the Red Sox, it was a perfect storm of events. For Capps, who has a 1.54 ERA, it marks one of the few times he hasn't come through all season.
"That's his job right there to put the ball in play, and it's my job to make him put it in play at somebody," Capps said. "I wasn't going to change anything I was doing. I'm not going to walk him to face Big Papi. Obviously I know who's on deck right there, so I'm going to challenge him. Got behind early. I think if I start him off with a strike on a fastball it might've been a different at-bat. I just got in the hole early."
During the Midsummer Classic in Cincinnati on Tuesday, fans can once again visit MLB.com to submit their choice for the Ted Williams Most Valuable Player Award presented by Chevrolet. Voting exclusively at MLB.com, online and via their mobile devices in the 2015 All-Star Game MVP Vote presented by Chevrolet, the fans' collective voice will represent 20 percent of the overall vote that determines the recipient of the Arch Ward Trophy.
MLB.TV Premium subscribers will be able to live stream the All-Star Game via MLB.TV through FOX's participating video providers. Access will be available across more than 400 supported MLB.TV platforms, including the award-winning MLB.com At Bat app. MLB.com will provide extensive online coverage of the All-Star Week festivities, including the 2015 Gillette Home Run Derby presented by Head & Shoulders, part of Gatorade All-Star Workout Day on Monday. The Derby will feature a new format with brackets and timed rounds and will be broadcast live by ESPN and MLB.com beginning at 8 p.m. ET.
The 86th All-Star Game presented by T-Mobile will be televised nationally by FOX Sports (7 p.m. ET air time, 8:15 first pitch), in Canada by Rogers Sportsnet and RDS, and worldwide by partners in more than 160 countries. ESPN Radio and ESPN Radio Deportes will provide exclusive national radio coverage of the All-Star Game. MLB Network and SiriusXM will also provide comprehensive All-Star Week coverage. For more information, please visit allstargame.com.
Ian Browne is a reporter for MLB.com. Read his blog, Brownie Points, follow him on Twitter @IanMBrowne and listen to his podcast. This story was not subject to the approval of Major League Baseball or its clubs.