MLB.com Columnist
Lyle Spencer
Calhoun back to punishing opposing pitchers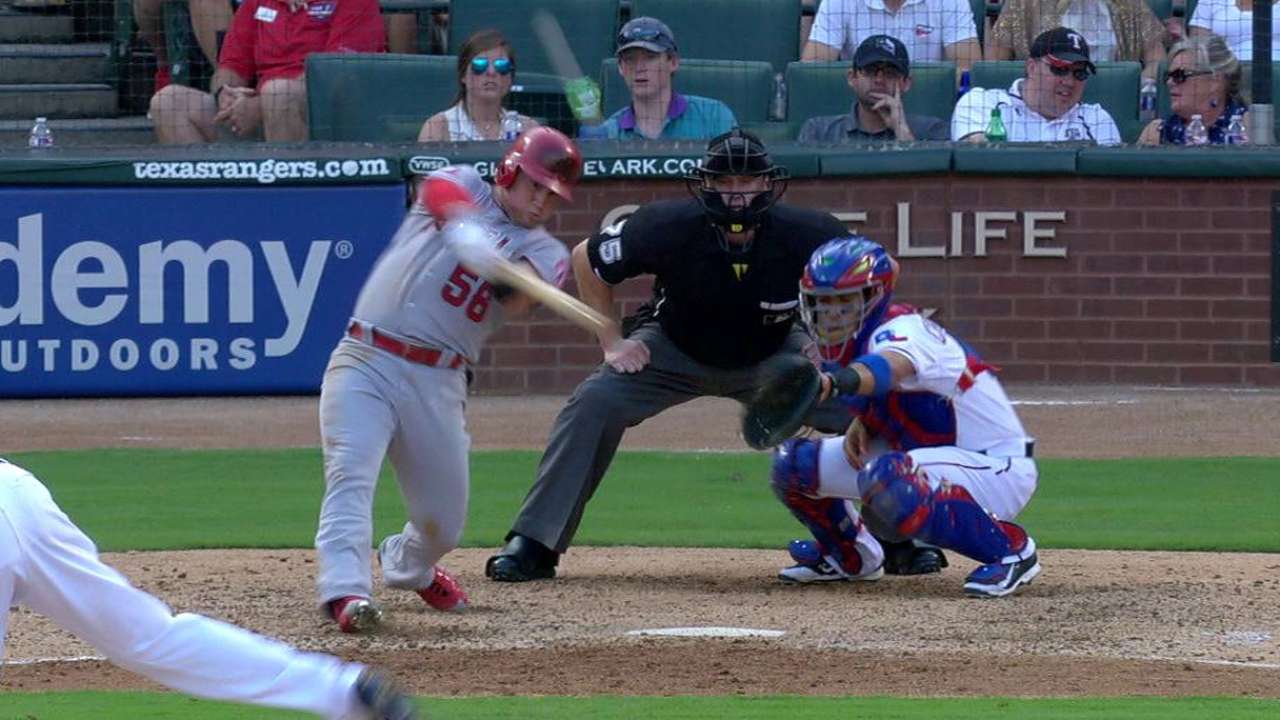 Kole Calhoun was not a happy camper last Wednesday as the Angels right fielder packed for a road trip. He'd gone 0-for-4 with three strikeouts in a loss to the Yankees that afternoon, and he was scuffling, his slash line having slipped to .258/.314/.375.
"I'm going to go out and hit," said Calhoun, a leadoff catalyst in 2014 when the Angels led the Majors with 98 wins. "I've got to get on base more in front of [Mike] Trout and [Albert] Pujols. I'm an aggressive hitter, but I've got to be smart. I've got to start clicking, doing my part."
Three games in Texas have Calhoun feeling more like himself, the guy who punished pitchers a year ago. He scored five of the Halos' 33 runs in a sweep of the Rangers, racking up 10 RBIs with two doubles, two homers and two singles in 14 at-bats.
Calhoun's .266/.320/.403 line suddenly looks more respectable as the Angels get ready for a series against the Rockies in Denver, a place hitters love to visit.
The first half, which technically ended at the 81-game mark on Sunday, belonged to the young and dynamic Astros. But the Halos, 3 1/2 games off Houston's division pace, have taken four series in a row and are having fun again. It should be another Wild West ride to the finish.
"We've got a nice little roll going," Calhoun said. "We're throwing the ball extremely well. Once we start to get on base consistently in front of Trout, it'll be special. He can do a lot of things."
After batting second all last season and for 61 games this year, Trout was moved into the No. 3 hole three weeks ago, with Pujols cleaning up. Both have flourished. Pujols claimed the AL Player of the Month Award for June with his 13 homers and 26 RBIs.
Trout has raised all of his numbers hitting third. His .333/.462/.597 slash line is a significant upgrade to his .288/.369/.568 line batting second. Oddly, however, Trout has driven home only six runs in 21 games in the No. 3 hole while scoring 17 times.
This brings us to one of the statistical anomalies of the season. Trout is batting .354 and slugging .688 with runners in scoring position, but 183 players -- roughly six per team -- have had more at-bats in those situations than the best all-around player in the game.
"That's crazy," Calhoun said. "We've got to take advantage of what Mike can do."
Trout seemed surprised, but characteristically unfazed, when informed of his lack of run-producing opportunities.
"I love hitting in those situations," he said. "It's always fun to try to do some damage."
After leading the league last year with 111 RBIs, Trout has 45, even though his 21 homers have him on pace for a career high.
Dividing his time fairly equally between first, second and fourth in the order, Calhoun, at .359, has hit even better than his buddy with men in scoring position.
Calhoun has had 64 opportunities compared to Trout's 48. Trout has been walked intentionally 11 times in those situations, third in the Majors behind Paul Goldschmidt (19) and Miguel Cabrera (12).
Angels manager Mike Scioscia has tried every conceivable lineup combination in an effort to more effectively set the table in front of Trout and Pujols. Lately, Johnny Giavotella and Calhoun have hit first and second, and Scioscia figures to roll with it as long as they click.
Giavotella was 5-for-15 in Texas, raising his batting average to .271 and his on-base percentage to .320.
Since moving down from the top two spots to fifth, behind Pujols, Erick Aybar has caught fire. The shortstop raised his average from .261 to .280 with a 9-for-13 series in Texas, scoring six times while driving in four runs.
"Mike and Albert have carried us all year," Scioscia said. "We've been searching for a deeper, more balanced lineup."
With Jered Weaver due back to fortify a rotation that has been top flight and an excellent bullpen anchored by Joe Smith and Huston Street, the Halos have the arms to apply serious pressure on the Astros.
The three-game binge in Texas was encouraging, but it remains to be seen if the offense will deliver over the long haul.
The Angels are 10th in the league in runs scored, averaging 4.1 per game. Last year, with departed Howie Kendrick hitting behind Trout and Pujols, they led the Majors at 4.78.
Lyle Spencer is a national reporter and columnist for MLB.com. Follow him on Twitter @LyleMSpencer. This story was not subject to the approval of Major League Baseball or its clubs.