Reyes' error opens window of opportunity
Miscue leads to game-winning rally in eighth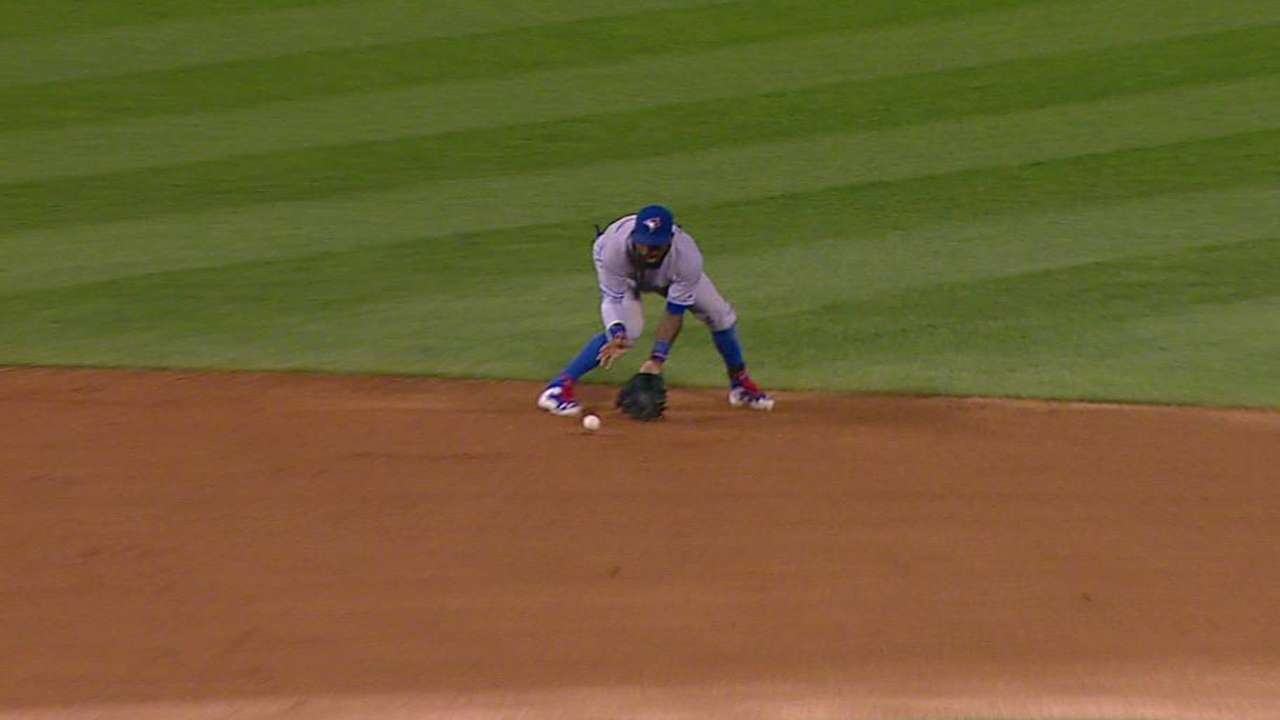 CHICAGO -- Jose Reyes' defense up the middle has been an ongoing concern this season, and on Monday night, it was a fielding error that proved to be the turning point in a 4-2 loss to the White Sox.
Toronto was clinging to a 2-1 lead when Gordon Beckham started the bottom of the eighth with a sharp grounder to shortstop. Reyes was in position to make a play and the ball didn't take a bad bounce, but it still somehow snuck through Reyes' legs.
The mistake appeared to be Reyes bringing his glove up too soon, and the end result was his seventh error of the season. Chicago eventually used that extra baserunner as a springboard for a two-out rally that included a pair of singles and the eventual go-ahead double by Melky Cabrera.
"Right through my legs," an accountable Reyes said. "That had to be an out there. That's why we lost the game.
"Ninety-nine percent of the time I make that play. That's a routine ground ball. In the big leagues, you can't give extra outs to the opponent or they are going to score some runs."
Reyes entered the game with -4 in defensive runs saved, which ranks 10th out of 13 shortstops in the American League with at least 450 innings played this season. His ultimate zone rating sits eighth at 0.6, and while there haven't been as many issues since his cracked rib healed, it has still been an overall concern.
The 32-year-old has the ability to make up for some of that lack of range with his bat, but that wasn't the talking point after Monday's loss. It was the error that cost left-hander Mark Buehrle a shot at his 10th victory of the season.
Buehrle was cruising through his former ballclub until the problematic eighth. He was quick to provide his support to Reyes after the error, and the southpaw also made sure to take accountability over not picking up his teammate.
"To me, whenever a guy makes an error, you try even harder to try and get out of a jam, because these guys are out there diving, making plays for you the whole game," Buehrle said.
"So when a mistake like that happens, he obviously didn't try to do it, so you just go up to him and say, 'Hey, I know you didn't mean to and I try to pick you up,' and it's more my fault, because I didn't make pitches to get the final outs of the inning."
Gregor Chisholm is a reporter for MLB.com. Read his blog, North of the Border, follow him on Twitter @gregorMLB and Facebook, and listen to his podcast. This story was not subject to the approval of Major League Baseball or its clubs.