Yost stacks AL roster with elite talent, versatility
Royals skipper opts for Teixeira over Hosmer, includes Moustakas in Final Vote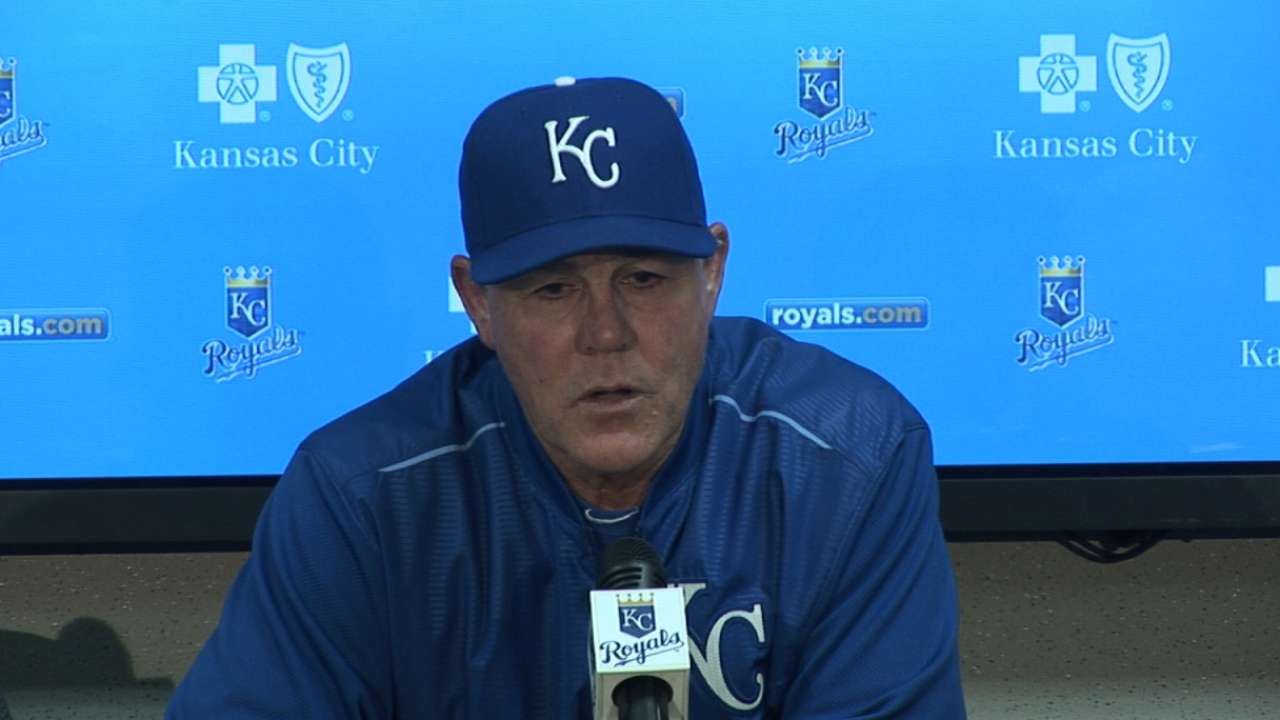 KANSAS CITY -- Royals manager Ned Yost, who will be the American League's manager at next Tuesday's All-Star Game, said he had been sleeping really well until the last three or four days.
And not so coincidentally, that's the time period when Yost started to make some tough decisions regarding this year's team.
Yost wound up with seven manager picks. The five pitchers he chose were Brad Boxberger of the Rays, Zach Britton of the Orioles, Felix Hernandez of the Mariners, Kelvin Herrera of the Royals and Darren O'Day of the Orioles. His two position player picks were infielder Brock Holt of the Red Sox and catcher Russell Martin of the Blue Jays. Also, first baseman Mark Teixeira of the Yankees will take the place of injured Tigers star Miguel Cabrera.
"That was a combination of the player votes and stats," Yost said. "Those guys were next in line in the player votes, pretty much."
Yost also selected the players for the 2015 Esurance MLB All-Star Game Final Vote: third baseman Mike Moustakas of the Royals, shortstop Xander Bogaerts of the Red Sox, outfielder Yoenis Cespedes of the Tigers, second baseman Brian Dozier of the Twins and outfielder Brett Gardner of the Yankees.
And the voting won't end there. During the Midsummer Classic in Cincinnati on Tuesday, July 14, fans can once again visit MLB.com to submit their choice for the Ted Williams Most Valuable Player Award presented by Chevrolet. Voting exclusively at MLB.com, online and via their mobile devices in the 2015 All-Star Game MVP Vote presented by Chevrolet, the fans' collective voice will represent 20 percent of the overall vote that determines the recipient of the Arch Ward Trophy.
Yost agonized over many of the selections, including the players he had to leave off the team. He wanted to give Minnesota's Torii Hunter a shot at the final vote but Dozier's numbers "were too good."
"I wanted to take [Royals first baseman Eric Hosmer to replace Cabrera], but Teixeira is having such a big season," Yost said. "We wanted to find a way to get Alex Rodriguez on the team, but we just couldn't. We agonized over Russell Martin and [Brian] McCann in New York. That was one you could just flip a coin."
As for the five on the Final Five vote, Yost said, "Whoever wins, they are going to have the numbers to validate it. ... We looked at what Moose was able to do this year, changing his whole style. We thought it was important to give fans the opportunity to vote for him. He's hitting .300 and he's worthy."
Yost also indicated that choosing Holt for the team met two goals: It got Boston its lone representative so far, and it gives the AL squad versatility.
"He's the best super-utility guy in the American League," Yost said of Holt. "And that way, no matter who wins the final vote -- I've got three infielders and two outfielders -- I'm covered, because I've got Holt, who has played, like, seven positions this year."
MLB.TV Premium subscribers will be able to live stream the All-Star Game via MLB.TV through FOX's participating video providers. Access will be available across more than 400 supported MLB.TV platforms, including the award-winning MLB.com At Bat app. MLB.com will provide extensive online coverage of the All-Star Week festivities, including the 2015 Gillette Home Run Derby presented by Head & Shoulders, part of Gatorade All-Star Workout Day on Monday, July 13. The Derby will feature a new format with brackets and timed rounds and will be broadcast live by ESPN and MLB.com beginning at 7 p.m. CT.
The 86th All-Star Game will be televised nationally by FOX Sports (6 p.m. CT air time, 7:15 first pitch), in Canada by Rogers Sportsnet and RDS, and worldwide by partners in more than 160 countries. ESPN Radio and ESPN Radio Deportes will provide exclusive national radio coverage of the All-Star Game. MLB Network and SiriusXM will also provide comprehensive All-Star Week coverage. For more information, please visit allstargame.com.
Jeffrey Flanagan is a reporter for MLB.com. Follow him on Twitter at @FlannyMLB. This story was not subject to the approval of Major League Baseball or its clubs.