Garza on DL with right shoulder tendinitis
Knebel called up from Triple-A; Cravy to start Tuesday
MILWAUKEE -- In a cautionary move to get him some rest without missing multiple starts, Brewers starter Matt Garza was placed on the 15-day disabled list due to right shoulder tendinitis Monday. Right-hander Corey Knebel was recalled from Triple-A Colorado Springs and rookie Tyler Cravy will start in Garza's spot Tuesday against the Braves.
Garza, whose 5.55 ERA would be the highest since his rookie season, has dealt with the issue for a while and hopes the rest over the All-Star break will allow him to miss just one start.
"It's been [bothering me] for a while, but it wasn't a huge, huge issue," Garza said before Monday's series opener against the Braves. "This was just a good spot for the doctor to have his say. He wanted me to skip a start a while back and I didn't want to, and he thought it was a good time just step back and give it a rest since the last couple of years I missed not weeks, but months.
"I only miss one [start], then we have the All-Star break and then I believe I'll be at the back of the rotation after that."
Garza hadn't dealt with shoulder problems before in his 10-year career. However, issues with his right oblique have caused him to miss extended time in the past. The timing will give him nearly 20 days off, due to the All-Star break next week.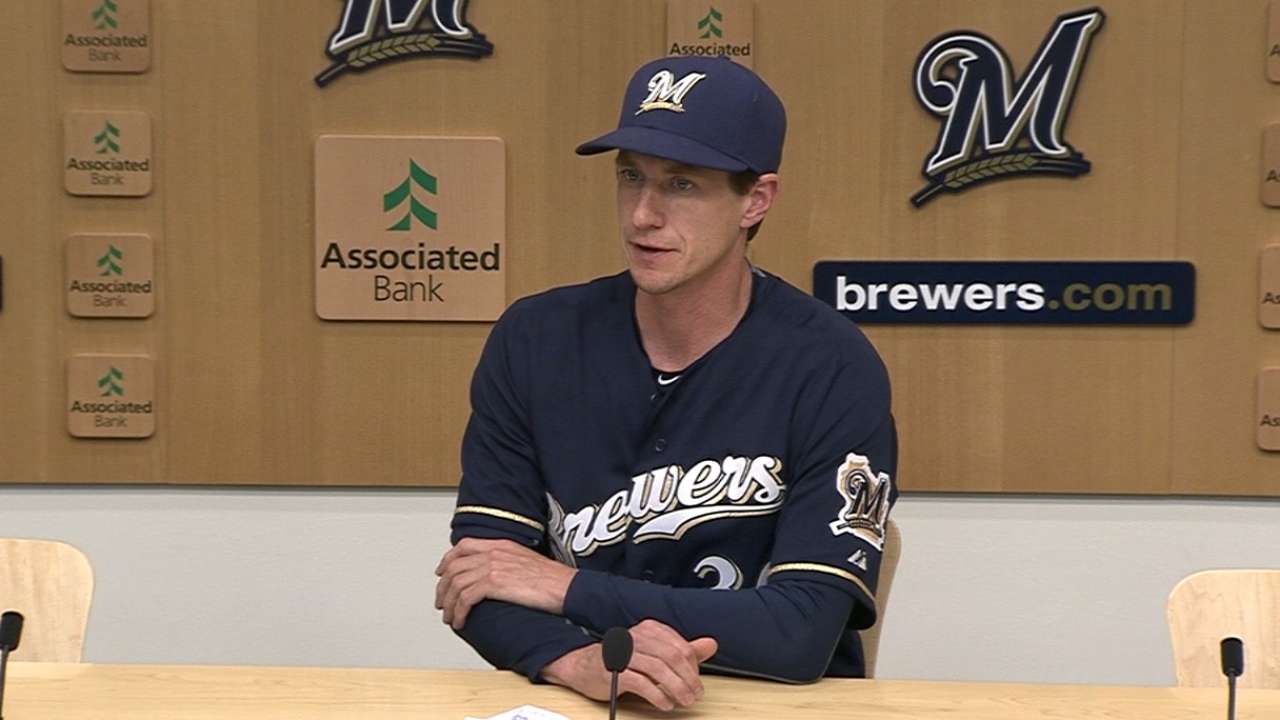 "[The doctor] felt the workload I've been under, it's kind of right where I've been, but over the last two years I haven't pitched a full season, so let's nip it now," Garza said of his innings this season. "We're still going to get my normal work in; it's more of a controlled work now."
Cravy made his Major League debut in a spot start June 2 against the Cardinals. The right-hander was thrust into action after the Brewers were coming off a 17-inning marathon game where Garza picked up the win in five innings of relief. Cravy allowed just one run on four hits in seven innings, while striking out six in St. Louis.
"He pitched one of the better starts of the year really, the game he pitched in St. Louis, against the best team in the game," Brewers manager Craig Counsell said about Cravy. "I feel good about putting him out there, for sure."
Cravy pitched two innings out of the bullpen Thursday against the Reds. Counsell said the Brewers didn't necessarily consider any other pitcher to take Garza's spot as Cravy was with the team and ready to go.
"It works," Counsell said. "He's got a lot of composure. I don't expect anything differently this time around. It's a nice trait that he has, too. He doesn't feel like he's a very emotional guy, so he just kind of sticks to his game plan. That will be the plan again [Tuesday]."
Brandon Curry is an associate reporter for MLB.com. This story was not subject to the approval of Major League Baseball or its clubs.