Pujols gets start at 1B on AL All-Star team
Veteran will replace injured Miggy in starting lineup
DENVER -- Albert Pujols has officially surged back into the collective conscience.
On the heels of a dominant run reminiscent of his heyday in St. Louis, Pujols was chosen for his 10th All-Star Game on Monday, ending a four-year hiatus. The Angels' cleanup hitter was selected as a reserve but will start at first base, replacing the injured Miguel Cabrera and joining teammate Mike Trout in the American League starting lineup.
Pujols, the AL Player of the Month for June, took Cabrera's place because he had the next-highest vote total on the Player Ballot at his position.
Angels pitchers Hector Santiago (fourth among AL starters with a 2.40 ERA) and Huston Street (tied for second with 23 saves) weren't chosen, but can still make the All-Star team if others drop out due to injury. If A's right-hander Sonny Gray starts Sunday, as scheduled, Santiago could make his way onto the roster.
Pujols leads the AL with 25 home runs, while slashing .265/.337/.557 and posting a FanGraphs Wins Above Replacement of 2.4. The 35-year-old compiled fewer fan votes than at least 72 players, but he was deemed an All-Star by 298 of his peers. Only Cabrera, with 753 player votes, had more among AL first basemen.
"Albert's an All-Star," Angels manager Mike Scioscia said recently. "Whether he gets selected for the team or not, he's one of the top players in baseball. I don't know how you leave him off the team."
Pujols previously said he'd like to partake in the Gillette Home Run Derby presented by Head & Shoulders one last time -- he's done so three other times -- if picked for the All-Star Game, which will take place at Great American Ball Park in Cincinnati on Tuesday, July 14.
"If that happens, I think I'm all for it," Pujols said of competing in the Home Run Derby a week ago. "I'll give it a shot."
Trout is still undecided about taking part in his first Derby, saying Sunday: "I haven't really thought about it too much. Maybe after this weekend cools down I'll make a decision."
Trout and Pujols give the Angels two All-Star Game starters for the ninth time in franchise history and the first time since 2003, when Troy Glaus and Garret Anderson made up the same lineup from U.S. Cellular Field in Chicago.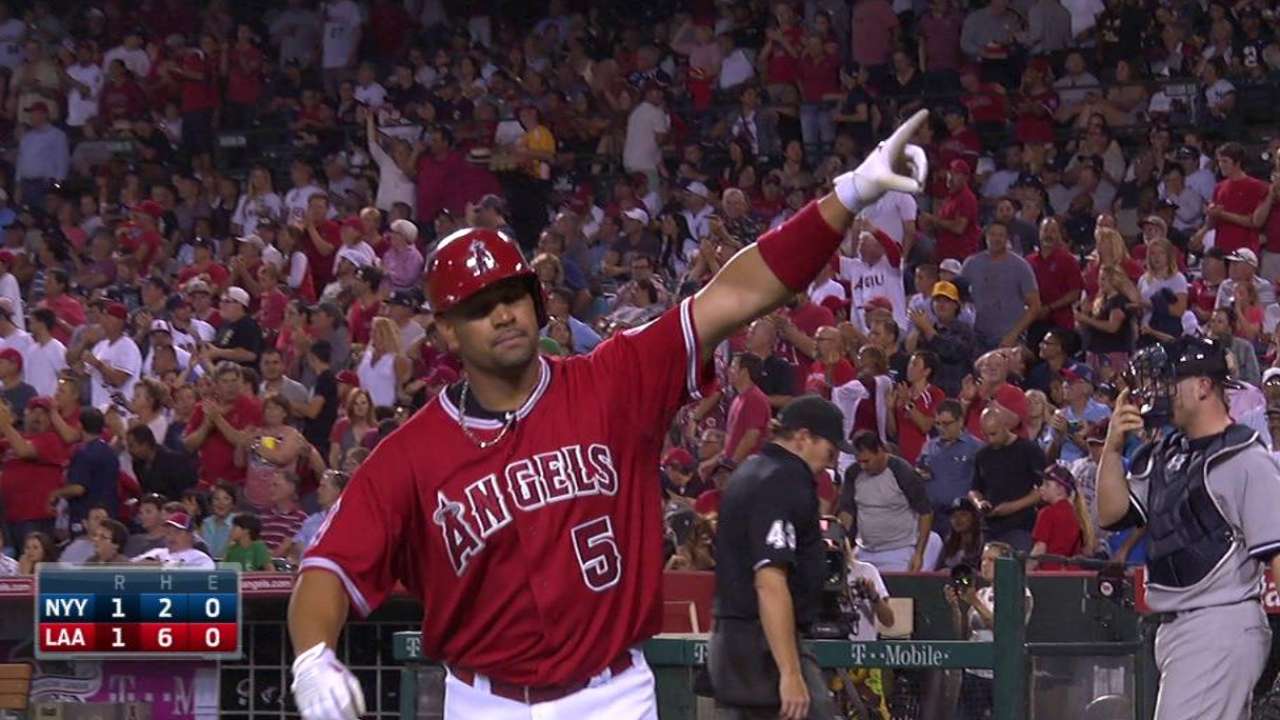 Pujols is the 34th player to start the All-Star Game at least eight times and just the seventh to make five starts at first base. Trout, who led AL outfielders in fan votes and was named on more player ballots than anyone, is the eighth player to make three All-Star Game starts before his 24th birthday.
Asked Sunday about making his fourth All-Star Game, Trout pushed for his teammate.
"He deserves to be there," Trout said of Pujols. "His bat has been unbelievable."
Voting is open now at MLB.com to select the final player for each league's 34-man roster via the 2015 Esurance MLB All-Star Game Final Vote. Fans can cast their votes from a list of five players from each league until 1 p.m. PT on Friday.
During the Midsummer Classic, fans can once again visit MLB.com to submit their choice for the Ted Williams Most Valuable Player Award presented by Chevrolet. Voting exclusively at MLB.com, online and via their mobile devices in the 2015 All-Star Game MVP Vote presented by Chevrolet, the fans' collective voice will represent 20 percent of the overall vote that determines the recipient of the Arch Ward Trophy.
MLB.TV Premium subscribers will be able to live stream the All-Star Game via MLB.TV through FOX's participating video providers. Access will be available across more than 400 supported MLB.TV platforms, including the award-winning MLB.com At Bat app. MLB.com will provide extensive online coverage of the All-Star Week festivities, including the 2015 Gillette Home Run Derby presented by Head & Shoulders, part of Gatorade All-Star Workout Day on Monday, July 13. The Derby will feature a new format with brackets and timed rounds and will be broadcast live by ESPN and MLB.com beginning at 5 p.m. PT.
The 86th All-Star Game will be televised nationally by FOX Sports (4 p.m. PT air time, 5:15 first pitch), in Canada by Rogers Sportsnet and RDS, and worldwide by partners in more than 160 countries. ESPN Radio and ESPN Radio Deportes will provide exclusive national radio coverage of the All-Star Game. MLB Network and SiriusXM will also provide comprehensive All-Star Week coverage. For more information, please visit allstargame.com.
Pujols has cracked the All-Star team for the first time since 2010 and the first time since signing a 10-year, $240 million contract with the Angels in December 2011.
He slumped mightily at the start of his first season in Southern California, going homerless in his first 27 games before a dominant surge allowed him to finish 2012 with above-average numbers. He was hindered by an intense bout with plantar fasciitis in '13, an injury that didn't allow him to play past July. And though his first-half numbers in '14 were solid -- .259 batting average, 20 homers, 64 RBIs -- they weren't deemed All-Star worthy for such an offense-driven position.
Several Angels predicted a big season for Pujols in 2015, though.
His legs were healthy, the ball was jumping off his bat in Spring Training, and the prevailing sentiment was that Pujols could be even better than he was a year ago, even though his age indicated regression. He was batting only .228 as late as May 25, but he was hardly striking out, his line-drive rates looked good and he was the victim of awful luck on balls in play.
"It's the hardest .230 I've ever hit in my life," Pujols said then.
Immediately after that, Pujols went on a 37-game stretch in which he batted .309/.401/.721, belted 17 home runs, struck out only 11 times -- and became an All-Star again.
"He looks healthy, man," Pujols' longtime teammate, David Freese, said recently. "His legs are powerful. He's getting down on his stance and he's ready to go, every pitch."
Alden Gonzalez is a reporter for MLB.com. Read his blog, Gonzo and "The Show", follow him on Twitter @Alden_Gonzalez and listen to his podcast. This story was not subject to the approval of Major League Baseball or its clubs.