Gray, Vogt to represent A's at All-Star Game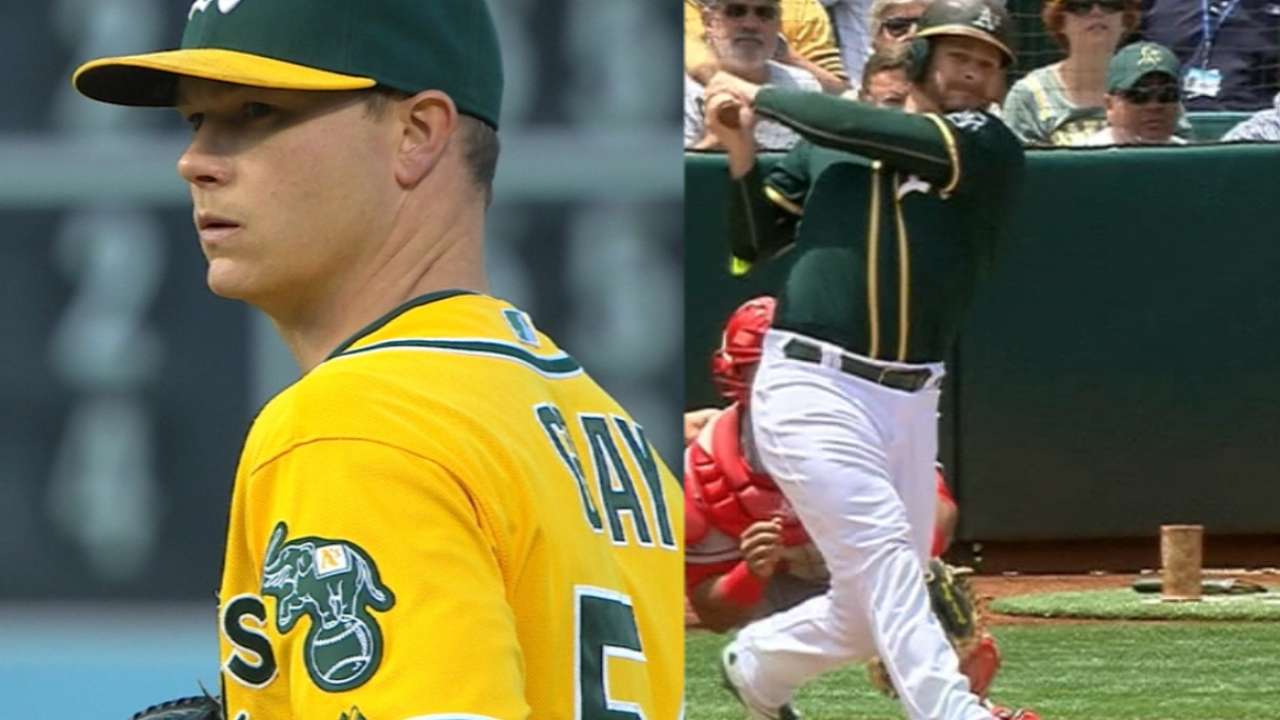 NEW YORK -- Sonny Gray and Stephen Vogt will represent the A's at next week's All Star Game presented by T-Mobile in Cincinnati, a nod to their consistent performance amid a turbulent season in Oakland.
Gray was selected by American League All-Star manager Ned Yost, while Vogt earned his way on the roster by player vote. Both are first-time All-Stars.
"Today's been a pretty cool day," Vogt said. "Bob [Melvin] told me this afternoon and let me know I'd been chosen by the players to be on the All-Star team. For me, that was just unbelievable to be getting that call. When he told me it was a player vote, it made it even more so special."
Gray, pitching in just his second full season, has already earned the distinction as Oakland's ace, and he surely has the numbers to back it up. Entering the day, the right-hander's 2.09 ERA ranked second in the AL only to Houston lefty Dallas Keuchel's 2.03. He also boasts a 0.99 WHIP, which is fourth in the league.
Gray learned of his All-Star nod while teeing up on a golf course during the Monday off-day in New York.
"It's really exciting," Gray said. "It's something you kind of work towards, and not many people get to be part of an All-Star team, and me and Vogty both have worked really hard this year. It's very exciting."
"Anytime you get to catch a guy like Sonny Gray, it's going to help you get some votes I'm sure," Vogt said, laughing. "To share it with him, and what he's done this year is truly special. I think it's only fitting to be going with him."
Opponents are hitting just .205 against Gray, who has allowed one earned run or fewer in nine of his 16 starts. Still just 25, he's staking claim as one of the best in the game.
Batterymate Vogt, meanwhile, is one of the best stories of the season. He ranks first among AL catchers in average (.290), RBIs (53) and on-base (.380) and slugging percentage (.502), and his 13 home runs are tied for most.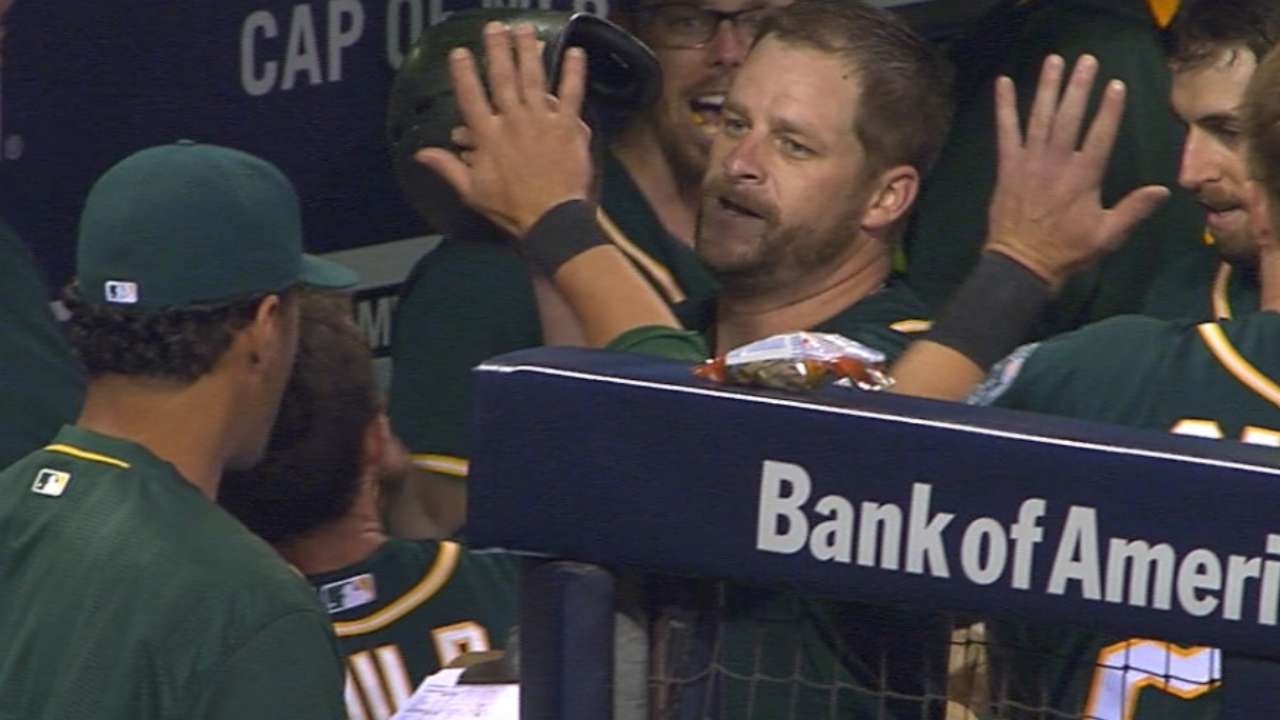 Vogt didn't make his big league debut until age 27 with the Rays in 2012, and, now 30, he's enjoying his first year as a full-time catcher and quickly establishing himself as one of the better two-way players in the game.
"Just to be recognized at the Major League level by your peers that you're an All-Star, holy cow," Vogt said. "I mean, you put that into perspective, it's just been quite the ride, and I'm truly honored."
Voting is open now at MLB.com to select the final player for each League's 34-man roster via the 2015 Esurance MLB All-Star Game Final Vote. Fans can cast their votes from a list of five players from each League until 1 p.m. PT on Friday.
And the voting doesn't end there. During the Midsummer Classic in Cincinnati on Tuesday, July 14, fans can once again visit MLB.com to submit their choice for the Ted Williams Most Valuable Player Award presented by Chevrolet. Voting exclusively at MLB.com, online and via their mobile devices in the 2015 All-Star Game MVP Vote presented by Chevrolet, the fans' collective voice will represent 20 percent of the overall vote that determines the recipient of the Arch Ward Trophy.
MLB.TV Premium subscribers will be able to live stream the All-Star Game via MLB.TV through FOX's participating video providers. Access will be available across more than 400 supported MLB.TV platforms, including the award-winning MLB.com At Bat app. MLB.com will provide extensive online coverage of the All-Star Week festivities, including the 2015 Gillette Home Run Derby presented by Head & Shoulders, part of Gatorade All-Star Workout Day on Monday, July 13. The Derby will feature a new format with brackets and timed rounds and will be broadcast live by ESPN and MLB.com beginning at 5 p.m. PT.
The 86th All-Star Game will be televised nationally by FOX Sports (4 p.m. PT air time, 5:15 first pitch), in Canada by Rogers Sportsnet and RDS, and worldwide by partners in more than 160 countries. ESPN Radio and ESPN Radio Deportes will provide exclusive national radio coverage of the All-Star Game. MLB Network and SiriusXM will also provide comprehensive All-Star Week coverage. For more information, please visit allstargame.com.
Jane Lee is a reporter for MLB.com. This story was not subject to the approval of Major League Baseball or its clubs.