MadBum, Crawford, Panik named All-Stars
Giants ace, pair of first-timers join Posey at Midsummer Classic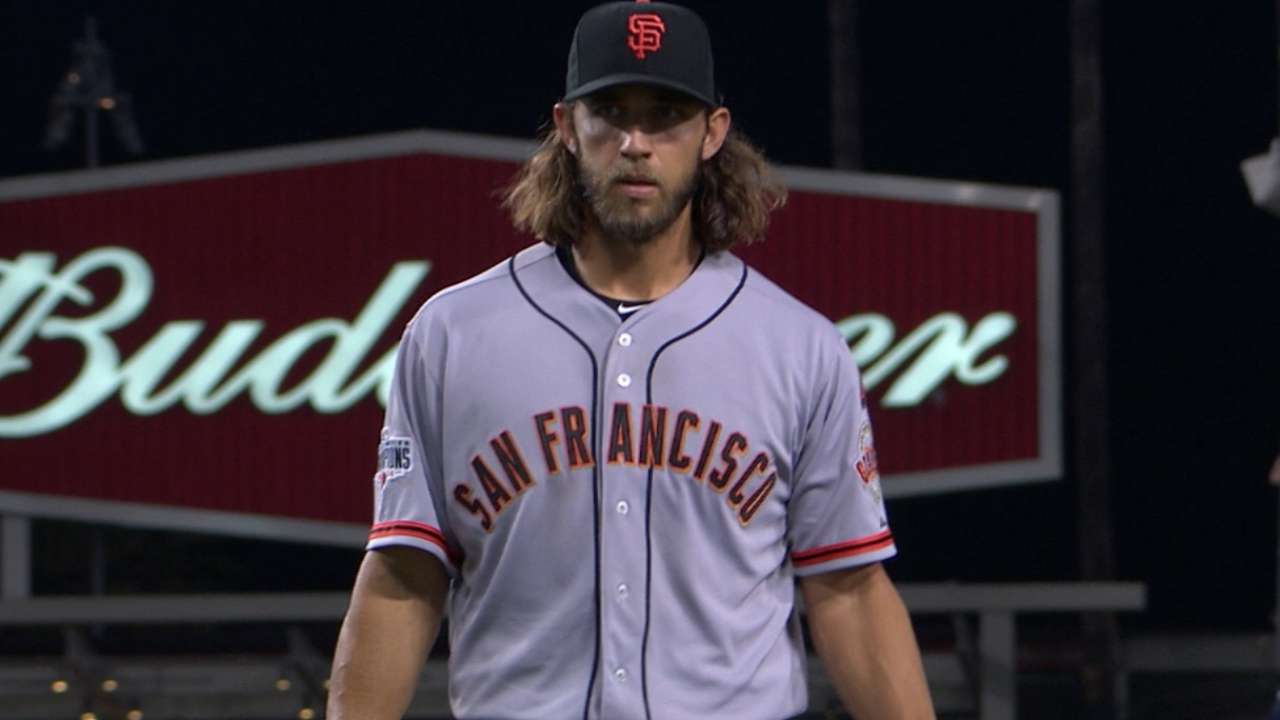 SAN FRANCISCO -- The 2015 All-Star Game presented by T-Mobile promises to be a memorable one for the Giants.
That's not just because the Giants have an ample contingent of four players. Left-hander Madison Bumgarner, shortstop Brandon Crawford and second baseman Joe Panik were named Monday to join starting catcher Buster Posey on the National League squad -- which, of course, will be led by San Francisco manager Bruce Bochy.
What's intriguing besides the number of Giants is the group's makeup. First-time All-Stars Crawford and Panik could find themselves forming their keystone combination on a big stage other than last year's World Series.
"Just to be able to say we went together, double-play partners up the middle, it's pretty cool," Crawford said.
Also, Bumgarner might find himself throwing to Posey, his regular batterymate.
Moreover, each Giants All-Star was drafted and developed within the organization. The last time the Giants had as many as four homegrown All-Stars was 2011, when Matt Cain, Tim Lincecum, Pablo Sandoval, Brian Wilson and Ryan Vogelsong (who began his career in the Giants system, left, then returned) represented the club. Before that, this hadn't happened since 1971, when San Francisco's All-Stars consisted of a formidable quartet of organizational products: Willie Mays, Willie McCovey, Bobby Bonds and Juan Marichal.
Panik considered it a triumph for the franchise: "It's pretty cool. We're all Giants from the beginning, kind of raised as Giants and have a Giants way about us. So it's kind of cool all four of us come through the system and all go through the same thing."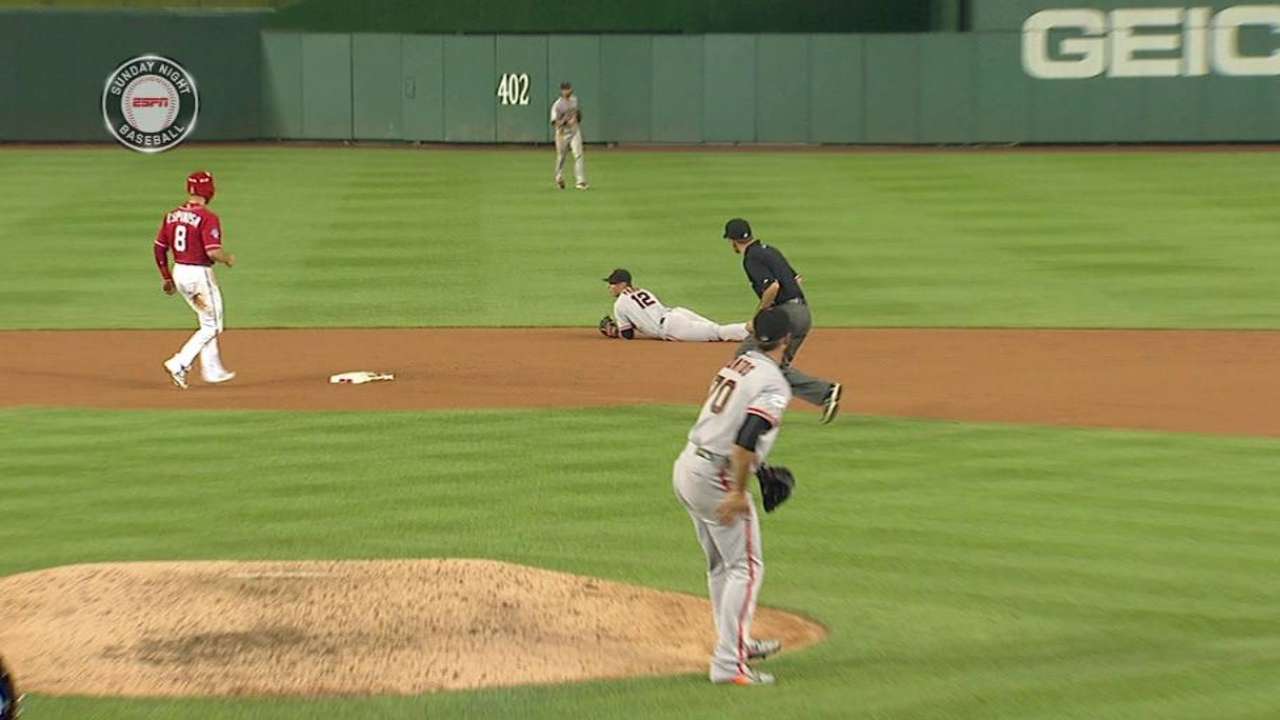 Voting is open now at MLB.com to select the final player for each League's 34-man roster via the 2015 Esurance MLB All-Star Game Final Vote. Fans can cast their votes from a list of five players from each League until 1 p.m. PT on Friday.
And the voting doesn't end there. During the Midsummer Classic in Cincinnati on Tuesday, July 14, fans can once again visit MLB.com to submit their choice for the Ted Williams Most Valuable Player Award presented by Chevrolet. Voting exclusively at MLB.com, online and via their mobile devices in the 2015 All-Star Game MVP Vote presented by Chevrolet, the fans' collective voice will represent 20 percent of the overall vote that determines the recipient of the Arch Ward Trophy.
MLB.TV Premium subscribers will be able to live stream the All-Star Game via MLB.TV through FOX's participating video providers. Access will be available across more than 400 supported MLB.TV platforms, including the award-winning MLB.com At Bat app. MLB.com will provide extensive online coverage of the All-Star Week festivities, including the 2015 Gillette Home Run Derby presented by Head & Shoulders, part of Gatorade All-Star Workout Day on Monday, July 13. The Derby will feature a new format with brackets and timed rounds and will be broadcast live by ESPN and MLB.com beginning at 5 p.m. PT.
The 86th All-Star Game will be televised nationally by FOX Sports (4 p.m. PT air time, 5:15 first pitch), in Canada by Rogers Sportsnet and RDS, and worldwide by partners in more than 160 countries. ESPN Radio and ESPN Radio Deportes will provide exclusive national radio coverage of the All-Star Game. MLB Network and SiriusXM will also provide comprehensive All-Star Week coverage. For more information, please visit allstargame.com.
If there was a surprise among the Giants' All-Star choices, it was Panik, the converted shortstop who entered Monday with a .304 batting average and an .814 OPS, the highest among regular NL second basemen. Panik himself even said, "I don't know how an All-Star is supposed to feel."
But Panik received an ironclad endorsement from Bochy, who personally added him to the All-Star team.
"He's earned it," Bochy said. "The numbers speak for themselves. This is not a case where I'm just taking my guy to take him. He should be there. He needs to be there with the first half he's had."
Panik and Crawford became the Giants' first double-play combination to be selected for the Midsummer Classic since 2001, when second baseman Jeff Kent and shortstop Rich Aurilia were thus honored. Interestingly, both have significant ties to Aurilia. Panik, like Aurilia, attended St. John's University; Crawford said he has frequently consulted Aurilia for advice in recent years.
Aurilia's 2001 All-Star appearance also happened to mark the last time a Giants shortstop made it to the All-Star Game. Until now.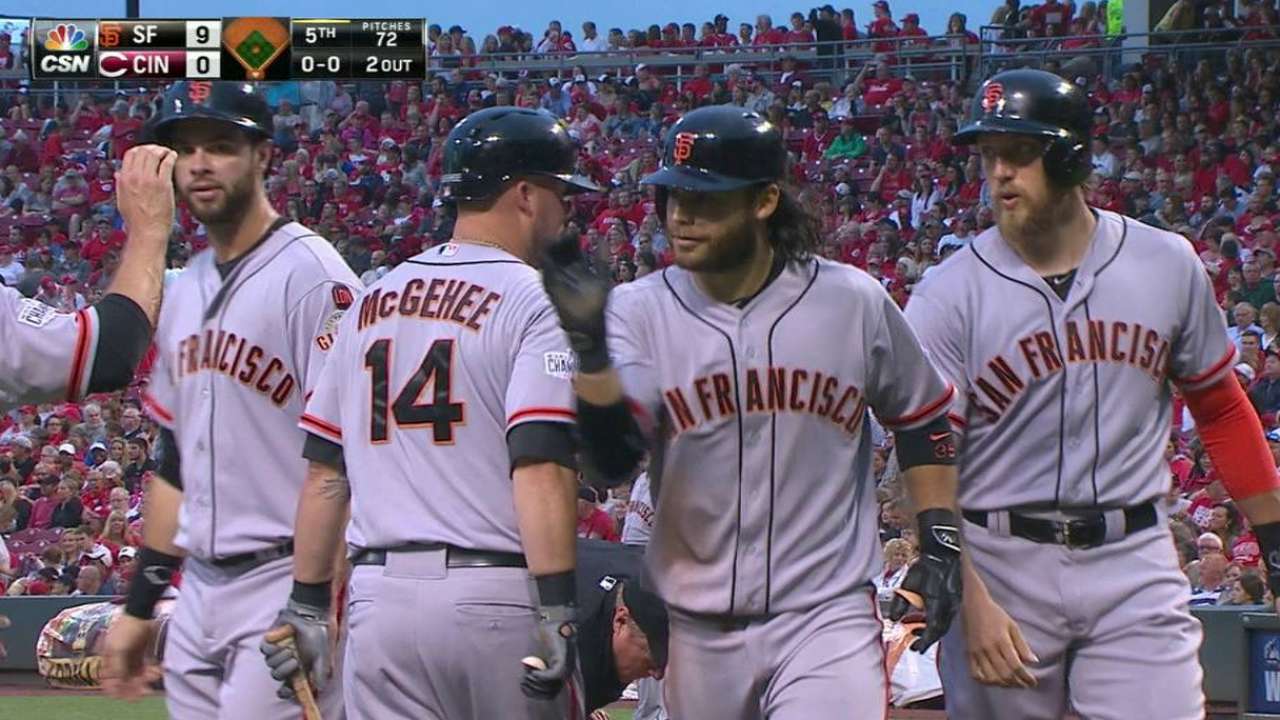 Crawford savored earning All-Star status through a vote of Major Leaguers.
"I think it's a huge honor to be selected by your peers and by the other coaches in the league," he said. "To be selected that way is pretty cool."
Crawford's batting average has suffered lately, but he entered Monday with impressive offensive credentials overall, including a career-high 12 home runs and a .473 slugging percentage.
"The last couple of years, he got off to good starts and tailed off a month or so before the All-Star Game. That probably cost him making the team," Bochy said. "This year it didn't happen. He kept going."
Bochy informed Crawford last Wednesday that he would be Cincinnati-bound. But that didn't diminish his satisfaction Monday.
"It's still pretty cool, seeing it on TV," Crawford said.
Bumgarner, one of Bochy's nine manager selections, not only made his third All-Star squad in a row but also might have a chance to start against the AL. Due to start Friday against Philadelphia, he'll have had three days' rest before the All-Star Game -- one fewer than usual, but more than enough for a one- or two-inning stint. Bumgarner did not participate in the game after his previous All-Star selections, but Bochy might consider the assignment a fitting, final reward for Bumgarner following his record-setting postseason performance last October.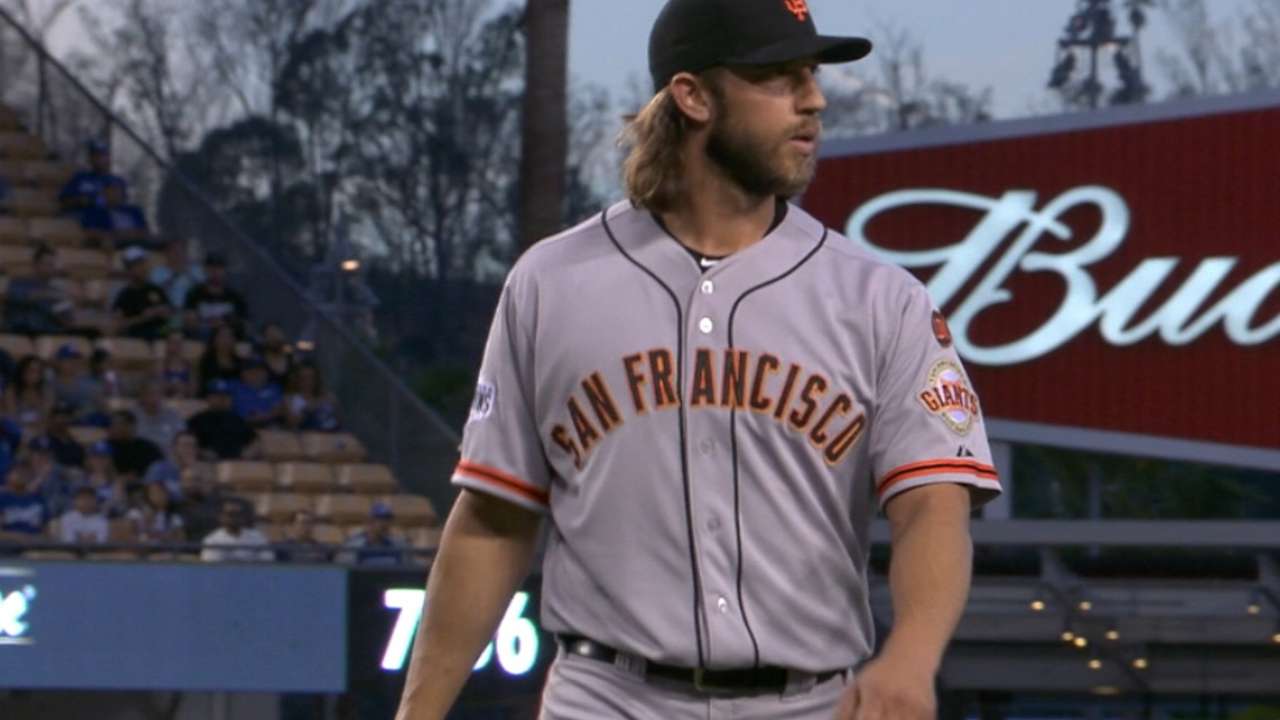 "Trust me, I'm going to do all I can to make sure he pitches," Bochy said of Bumgarner, who's 8-5 with a 3.34 ERA and 114 strikeouts in 113 1/3 innings.
"Just being named an All-Star is more than enough," Bumgarner said, "but it'd definitely be fun to get out there and compete."
Chris Haft is a reporter for MLB.com. Read his blog, Haft-Baked Ideas, follow him on Twitter at @sfgiantsbeat and listen to his podcast. This story was not subject to the approval of Major League Baseball or its clubs.