Rizzo, Bryant named All-Star reserves
CHICAGO -- The Cubs' youth will be recognized at the All-Star Game, as Anthony Rizzo and Kris Bryant were named to the National League team on Monday.
The 25-year-old Rizzo, who will be making his second trip to the All-Star Game presented by T-Mobile, was selected by the players, whereas Bryant was picked by Giants manager Bruce Bochy. Bryant is the first Cubs rookie to get the honor since Geovany Soto and Kosuke Fukudome in 2008.
"It's all happened so quick," said Bryant, the second player taken overall in the 2013 Draft. "I've had so much fun so far -- the people I've met, the relationships I've formed. All of that plays a big part in where I am now. I'm so thankful for the opportunity I've been given, to play for a team like this, and I'll go out there and help them win any way I can. Right now it's pretty special."
Rizzo is fourth in the NL in OPS, behind the Nationals' Bryce Harper, the D-backs' Paul Goldschmidt and the Marlins' Giancarlo Stanton. He also ranks among the NL leaders in extra-base hits (41), doubles (24) and on-base percentage (.405).
"It's just awesome," he said. "It's a great honor to get that from the players. ... For the players to vote me in is really special."
He won MLB.com's Final Vote last season to secure his spot on the squad.
"I've been impressed with the whole body of work," manager Joe Maddon said of Rizzo. "He does not give up an at-bat. [He has the] ability to adjust in counts, the ability to hit better pitching, the ability to hit for average and power. Baserunning has really been taken to another level this year, he's done a great job on the bases. I've always known he's a good defender, and I get to see that in person. He's kind of fearless on defense. He's a complete baseball player.
"He does everything that needs to be done on the bases, and then get him in the clubhouse and on the bench, and he's a big part of the moment. He's real loose in the most positive way. He's smart enough to leave the game here and go home, I like that a lot. He enjoys what he's doing. That's why I think it can be sustained for a long period of time. he can get down on himself, but he's able to process that and move along pretty well from what I've seen."
Bryant, 23, played in the All-Star Futures Game last year and has been selected to Minor League All-Star teams, so he is a little familiar with the hoopla involved.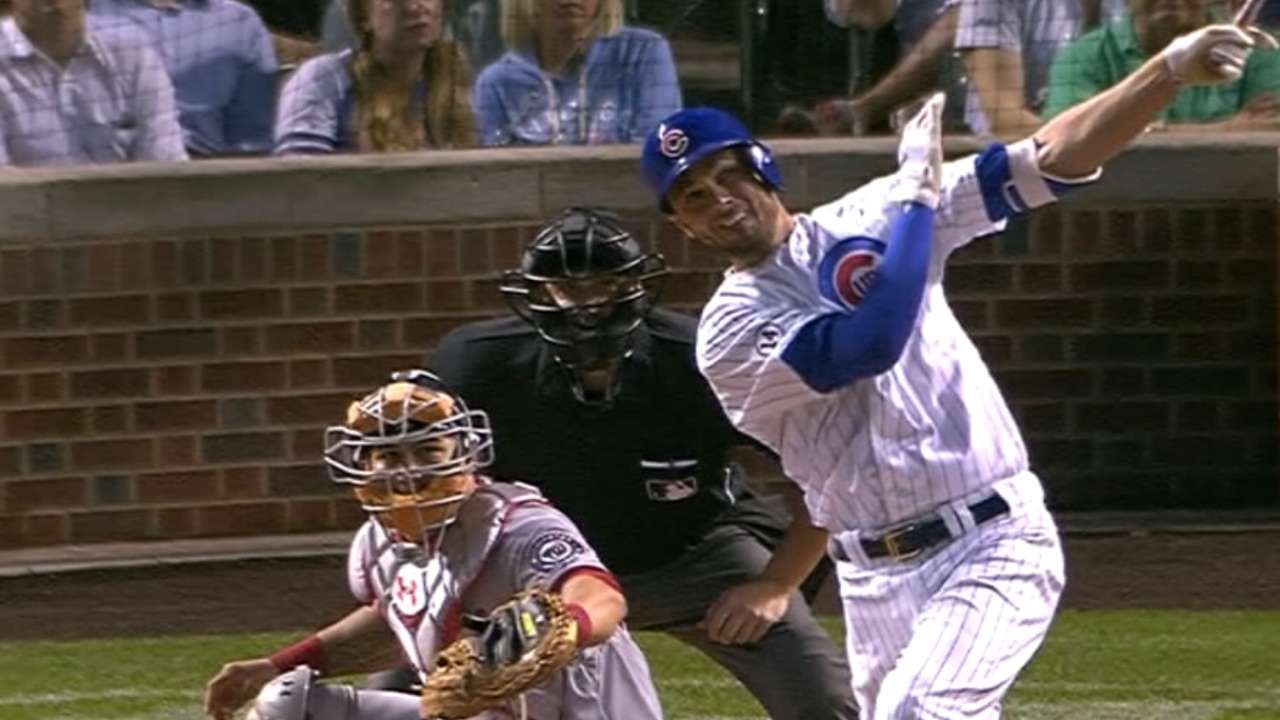 "It is exciting, especially to be on a stage like this in Major League Baseball and, obviously, I've been in some all-star games, but I don't think anything can compare to making the Major League All-Star team," said Bryant, who has already has made a mark in the record books. He's the first Cubs rookie with two grand slams in a single season since Hall of Famer Billy Williams in 1961. He also won NL Rookie of the Month honors in May, when he batted .265, hit seven home runs and drove in 22 runs in 28 games.
"He's come up with all the hype and all the pressure that people try to put on him, he's never fazed, not one bit," Rizzo said of Bryant. "He's very deserving. This is going to be unbelievable for him to experience. It will be an unbelievable experience for us together."
Bryant said that Rizzo has taken him under his wing, and he expects to get some guidance from him during the event.
"He's definitely very deserving, and I couldn't be more happy for him," Bryant said.
Bryant remembers seeing lots of smiles on the field during past All-Star Games -- his favorite moment was when Torii Hunter robbed Barry Bonds of a home run.
"This will be just like my debut," he said. "I'll just enjoy everything and take it all in. I hope to play in many of these games, but it might be the only time I get to do that. You only have one debut, and I'm going to treat it as if it's my only one. I'm going to have fun with it."
Bryant is also open to taking part in the Gillette Home Run Derby presented by Head & Shoulders.
"Homers are fun," he said.
Major League Baseball has yet to name the Derby participants.
Last year the Cubs had three representatives at the game, as Starlin Castro, Rizzo and Jeff Samardzija were all named to the NL team.
Voting is open now at MLB.com to select the final player for each League's 34-man roster via the 2015 Esurance MLB All-Star Game Final Vote. Fans can cast their votes from a list of five players from each League until 3 p.m. CT on Friday.
During the Midsummer Classic in Cincinnati on Tuesday, July 14, fans can once again visit MLB.com to submit their choice for the Ted Williams Most Valuable Player Award presented by Chevrolet. Voting exclusively at MLB.com, online and via their mobile devices in the 2015 All-Star Game MVP Vote presented by Chevrolet, the fans' collective voice will represent 20 percent of the overall vote that determines the recipient of the Arch Ward Trophy.
MLB.TV Premium subscribers will be able to live stream the All-Star Game via MLB.TV through FOX's participating video providers. Access will be available across more than 400 supported MLB.TV platforms, including the award-winning MLB.com At Bat app. MLB.com will provide extensive online coverage of the All-Star Week festivities, including the 2015 Gillette Home Run Derby presented by Head & Shoulders, part of Gatorade All-Star Workout Day on Monday, July 13. The Derby will feature a new format with brackets and timed rounds and will be broadcast live by ESPN and MLB.com beginning at 7 p.m. CT.
The 86th All-Star Game will be televised nationally by FOX Sports (6 p.m. CT air time, 7:15 first pitch), in Canada by Rogers Sportsnet and RDS, and worldwide by partners in more than 160 countries. ESPN Radio and ESPN Radio Deportes will provide exclusive national radio coverage of the All-Star Game. MLB Network and SiriusXM will also provide comprehensive All-Star Week coverage. For more information, please visit allstargame.com.
Carrie Muskat is a reporter for MLB.com. She writes a blog, Muskat Ramblings. You can follow her on Twitter @CarrieMuskat and listen to her podcast. This story was not subject to the approval of Major League Baseball or its clubs.