Jones among four O's to make All-Star squad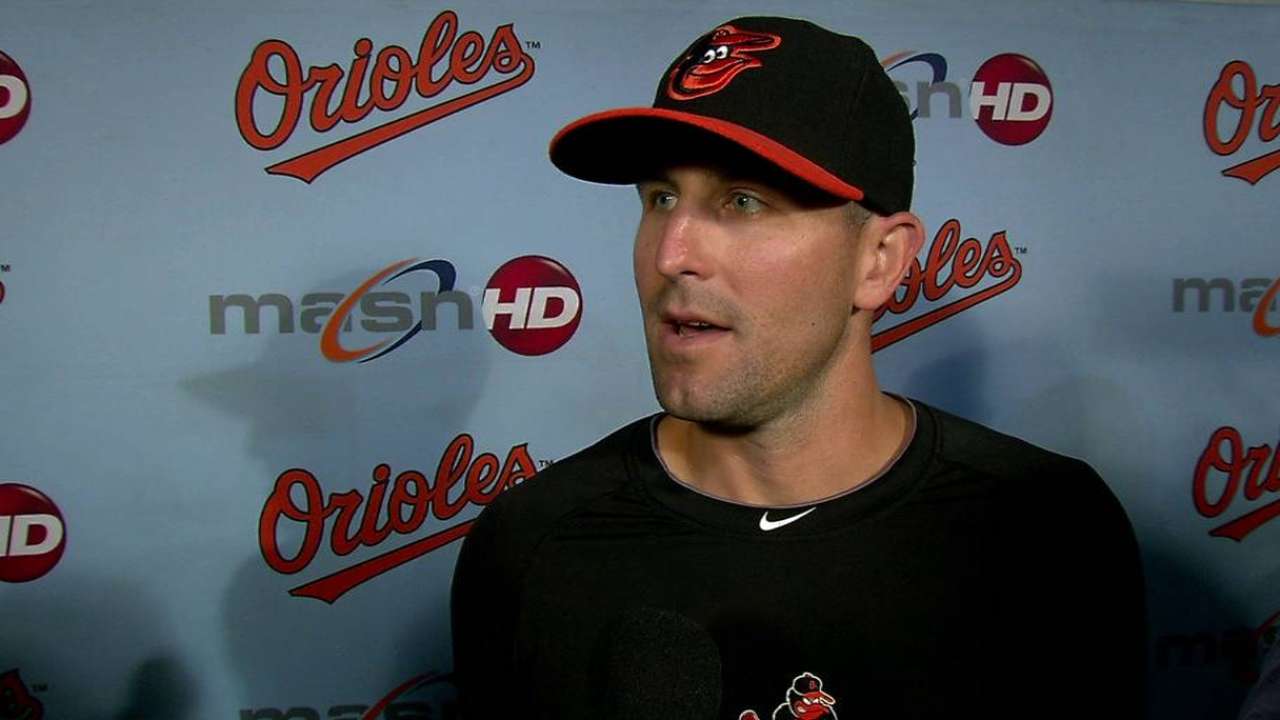 The Orioles will be very well represented at this year's All-Star Game presented by T-Mobile as Adam Jones, Manny Machado, Darren O'Day and Zach Britton were selected on Monday night as members of the American League team.
It marks the first All-Star selections for both Britton and O'Day, who were both chosen by AL manager Ned Yost, have helped keep Baltimore's back end of the bullpen one of baseball's best.
"I was shocked, overwhelmed really. I thought if I had a chance, I thought it would be as a late replacement for somebody who couldn't pitch. To be a manager's selection, it means a lot to me and I appreciate Ned Yost picking me and picking Zach," O'Day said. "To have two guys in one bullpen is something to be proud of for our unit down there. Personally, I couldn't be more excited."
The 27-year-old Britton is among the AL leaders with 23 saves and has converted a career-high 19 consecutive opportunities. O'Day is 5-0 with a 1.14 ERA in 33 games. Over 31 2/3 innings, the siderarmer has allowed just four earned runs with eight walks against 42 strikeouts.
"I didn't expect it," said Britton, who went from trying to make the Orioles last spring to being the closer. "I was just trying to focus on the games and stuff, but it was definitely very excited and I'm honored to represent the Orioles and the American League."
Of the group, Jones, who was selected via the players' ballot, is the veteran as this marks his fifth All-Star selection and it comes despite some injuries this season. After missing just five games over the previous three years, Jones was sidelined with both ankle and shoulder injuries, but he managed to avoid the disabled list. He was batting .286 with 10 homers and 38 RBIs entering Monday's game against the Twins.
"I'm truly humbled that the players selected me," Jones said. "I think it's humbling because I just go out and play every day. I don't play for accolades except the [World Series] ring and it's humbling that the players around the league see that I play every day and I play hard every day, and they see what I mean to this team and what the team means to me ... I just do it for my teammates and the name across my chest so it's humbling that the players around the league they see that."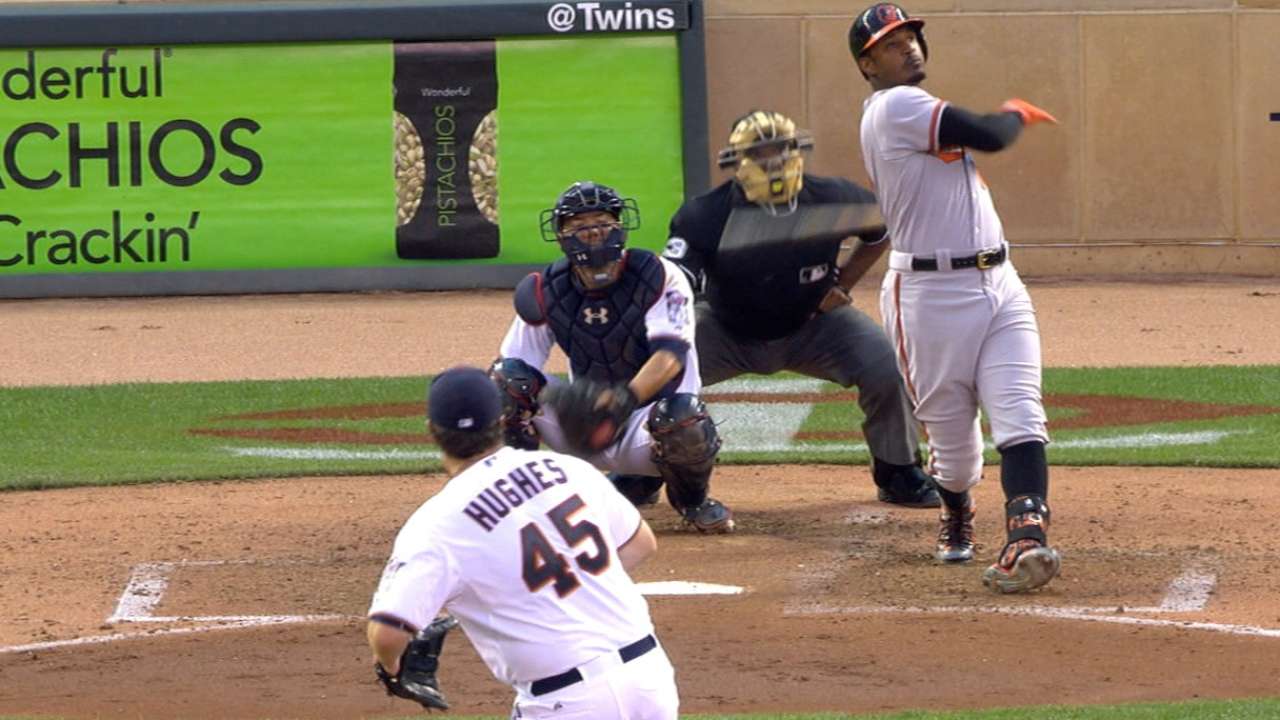 Machado, also chosen by the players, is having a fantastic first half and has already hit a career-high 17 home runs. He has 46 RBIs and, despite a rocky start, is playing sensational defense at third base. This marks his second All-Star selection.
"It's been a great year," said Machado, who is coming off of two consecutive season-ending knee surgeries. "I'm just blessed to be healthy and being out there, being able to perform every day. I think that's the biggest key. There was a lot of rumors and things going around about my knees that I wasn't going to be able to be the same player or anything, but I've got two brand new knees and I just need to be back on the field and play. I just wanted to be back out there and have fun. I think that's the only thing you can take away from this -- go out there and enjoy yourself."
Machado -- who turned 23 on Monday -- has a team-high 13 steals and also leads the O's in on-base percentage (.356), runs scored and doubles from the leadoff spot.
"We've got four players going. On top of that, it's a great honor that the players were the ones that voted for it and you're just very humbled, very humbled to be selected and it's just a great honor," Machado said. "I'm going to enjoy it and looking forward to spending it with my teammates."
Added manager Buck Showalter: "Our guys looked at it as a team thing. ... It's a great recognition, especially how they got picked by the players and by the manager [Yost]."
Voting is open now at MLB.com to select the final player for each League's 34-man roster via the 2015 Esurance MLB All-Star Game Final Vote. Fans can cast their votes from a list of five players from each League until 4 p.m. ET on Friday.
During the Midsummer Classic in Cincinnati on Tuesday, July 14, fans can once again visit MLB.com to submit their choice for the Ted Williams Most Valuable Player Award presented by Chevrolet. Voting exclusively at MLB.com, online and via their mobile devices in the 2015 All-Star Game MVP Vote presented by Chevrolet, the fans' collective voice will represent 20 percent of the overall vote that determines the recipient of the Arch Ward Trophy.
MLB.TV Premium subscribers will be able to live stream the All-Star Game via MLB.TV through FOX's participating video providers. Access will be available across more than 400 supported MLB.TV platforms, including the award-winning MLB.com At Bat app. MLB.com will provide extensive online coverage of the All-Star Week festivities, including the 2015 Gillette Home Run Derby presented by Head & Shoulders, part of Gatorade All-Star Workout Day on Monday, July 13. The Derby will feature a new format with brackets and timed rounds and will be broadcast live by ESPN and MLB.com beginning at 8 p.m. ET.
The 86th All-Star Game will be televised nationally by FOX Sports (7 p.m. ET air time, 8:15 first pitch), in Canada by Rogers Sportsnet and RDS, and worldwide by partners in more than 160 countries. ESPN Radio and ESPN Radio Deportes will provide exclusive national radio coverage of the All-Star Game. MLB Network and SiriusXM will also provide comprehensive All-Star Week coverage. For more information, please visit allstargame.com.
Brittany Ghiroli is a reporter for MLB.com. Read her blog, Britt's Bird Watch, follow her on Facebook and Twitter @britt_ghiroli, and listen to her podcast. This story was not subject to the approval of Major League Baseball or its clubs.