Suarez's homer gives Reds final word in D.C.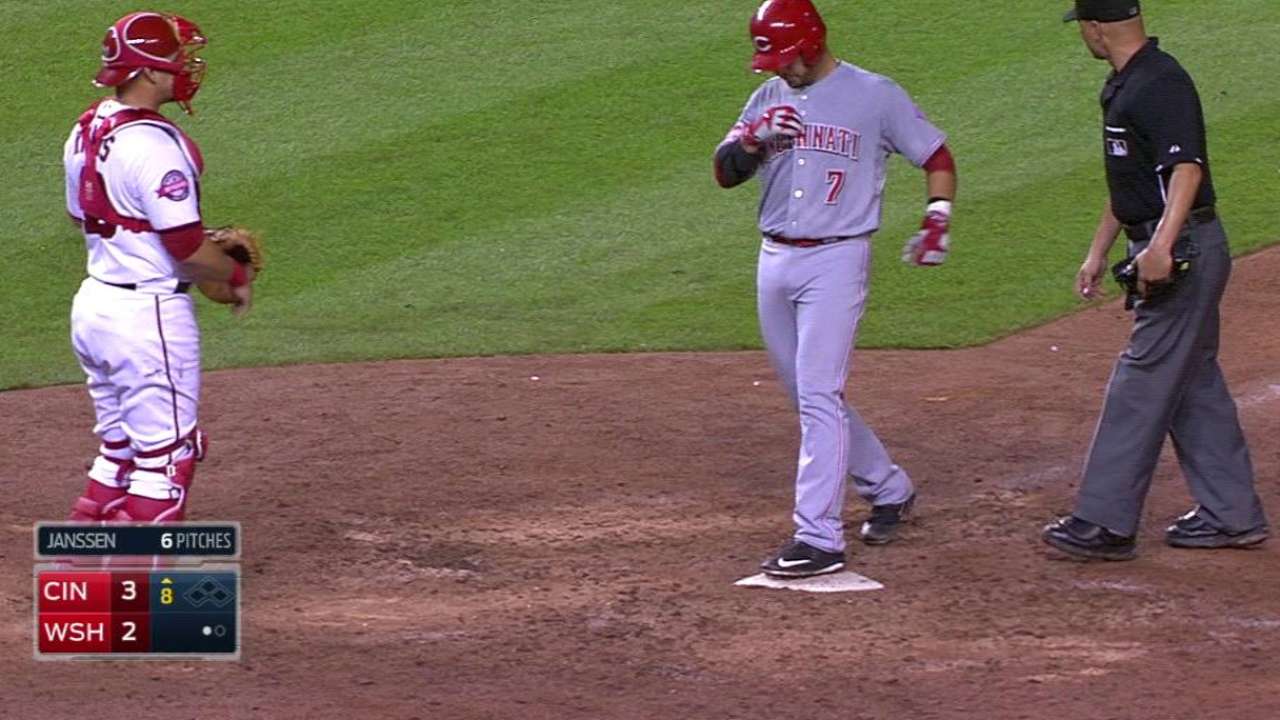 WASHINGTON -- Eugenio Suarez's third home run of the season, a high fly ball down the left-field line in the eighth inning that just kept carrying, was all that separated the Reds and Nationals on Monday in Cincinnati's 3-2 series-opening win at Nationals Park.
"He got it enough," Nationals manager Matt Williams said. "When it's humid and warm like this, the ball carries pretty well, and he hit it in the perfect spot. Just got it over, inside the pole."
Four Reds relievers -- Ryan Mattheus, Manny Parra, J.J. Hoover and Aroldis Chapman, who was selected to his fourth consecutive All-Star Game earlier -- combined to pitch 3 1/3 innings, allowing only one walk, in relief of Anthony DeSclafani, who allowed two earned runs over 5 2/3 innings. DeSclafani drove in the Reds' first run in the second with his first career double. Nationals starter Doug Fister allowed one earned run on eight hits over six innings in a no-decision.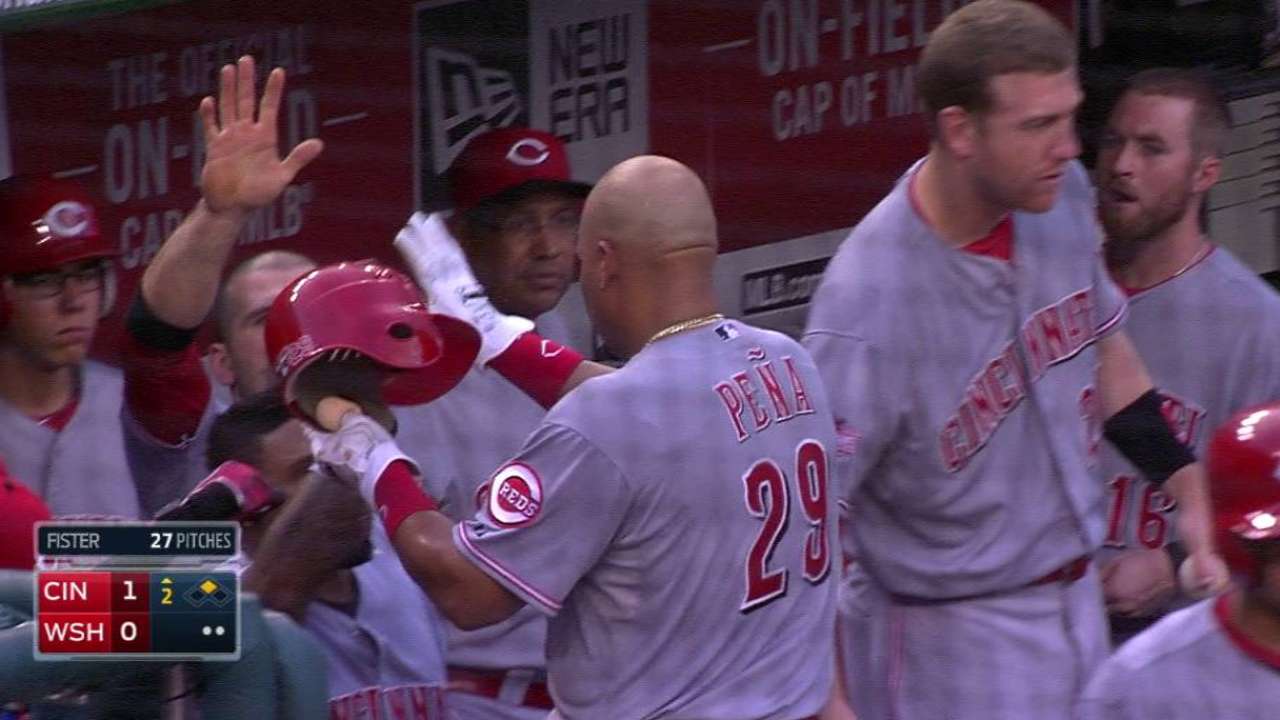 "[Suarez has] been a run producer, not just getting hits but timely hits, driving in runs," Reds manager Bryan Price said. "He's shown a little bit of power. That was a big one there off of [Casey] Janssen to give us a lead. There's nothing like being able to take a lead in the late innings knowing that Mattheus, Parra, Hoover and Chapman in that mix ends up finishing a lot of our wins."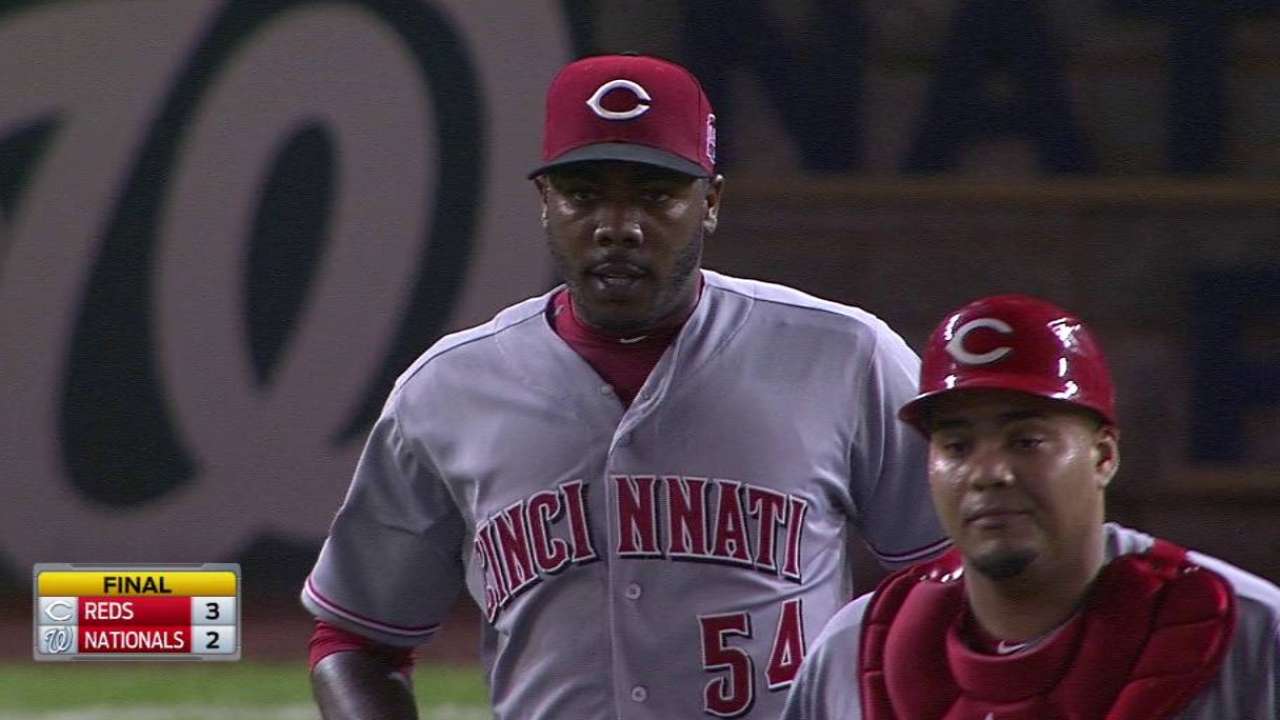 The win improved Cincinnati to 4-0 on the season against Washington. The Reds swept all three games between the two clubs in late May.
MOMENTS THAT MATTERED
Suarez comes through, twice: Shortly after a potential Marlon Byrd home run was overturned and ruled a double upon crew chief review to start the sixth, Suarez delivered by slashing an RBI single to left field that broke up the 1-1 tie. With one out in the eighth inning, Suarez delivered an even bigger hit -- driving an 0-2 pitch to left field that landed just inside the foul pole.
"I feel really good right now with the game," said Suarez, who is batting .329 in 21 games since he came up from Triple-A Louisville when Zack Cozart went out for the season with a knee injury. "I'm excited, because I helped my team. I helped myself. I hit really good tonight in the game. We got a win."
Punch, counterpunch: After the Reds snatched a 2-1 lead in the top of the sixth inning, the Nationals answered with a run of their own in the bottom of the frame courtesy of Danny Espinosa. Espinosa, who has performed admirably as an everyday starter this season in the absence of Anthony Rendon, smashed his ninth home run into the right-center-field seats.
Two-out trouble: DeSclafani gave up both of his runs when he was unable to close out an inning. With two outs in the third inning, he allowed back-to-back singles and a walk that loaded the bases, leading to a wild pitch to Wilson Ramos that scored Matt den Dekker. Espinosa's homer in the sixth also followed two quick outs by Washington.
"He gutted it out. He had a little bit of stiffness there in his glute," Price said of DeSclafani. "He had to back off and be a little bit more precise, not quite as aggressive with his stuff. He managed a beautiful game. It was unfortunate Espinosa hit the homer and he got into a little bit of trouble."
Getting to Casey: Suarez's eighth-inning blast off Janssen was the first home run Janssen allowed since Sept. 17, 2014. It was also the first he's ever allowed in his nine-year career on an 0-2 count, a situation when batters were hitting .125.
"I was trying to bounce [the curve ball] to set up the next pitch and just didn't get to where I wanted to," Janssen said. "I had him 0-2 and was in a pretty good position right there."
INJURY PLAGUED
Before the third inning began, den Dekker entered the game, replacing Denard Span who experienced back spasms. Span has been suffering from sporadic back spasms for much of the past month. In the bottom of the fifth, Yunel Escobar was pinch-hit for by Dan Uggla. Escobar experienced tightness in his left hamstring while running out an infield single in the third inning.
After both exited, the Nationals, who have been hit hard by the injury bug, were left with three full-time starters in the lineup. More >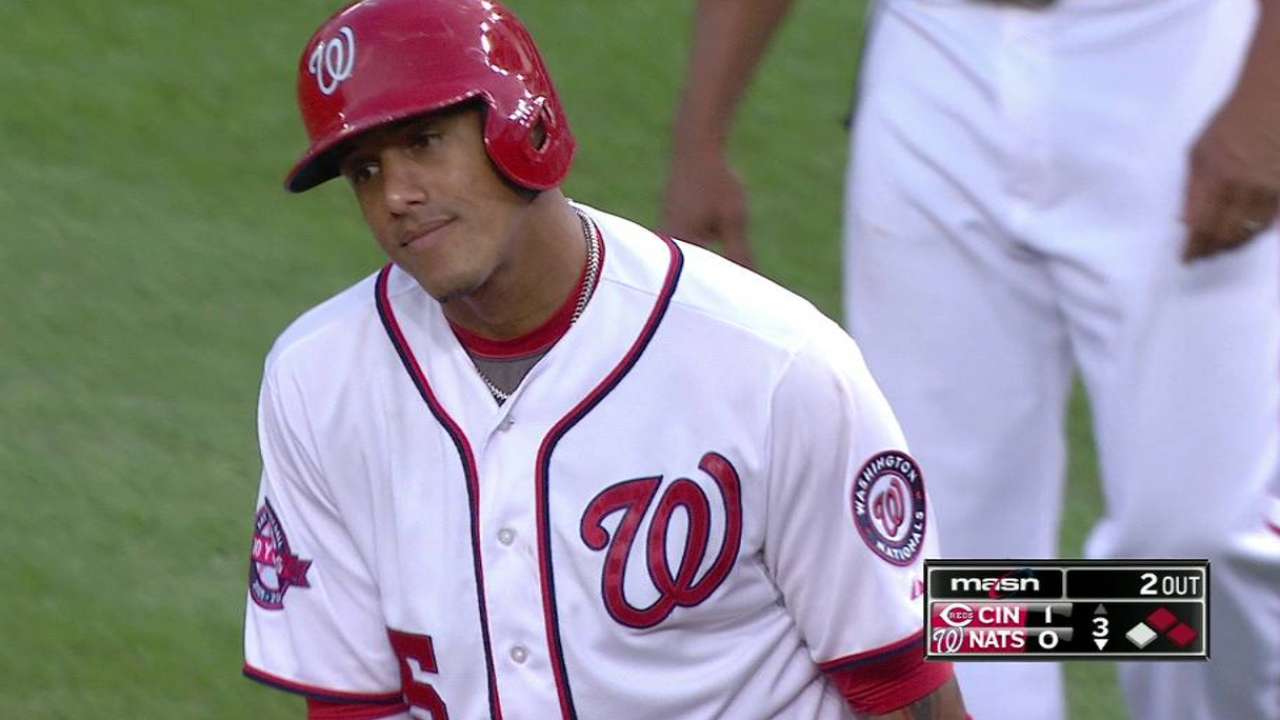 UPON FURTHER REVIEW
Byrd led off the sixth inning with a long double to right field that hit off the very top of the wall. After conferring, the umpires changed the outcome to a home run, which brought Williams out of his dugout to ask for a crew chief review. After two minutes and 42 seconds, replay determined that it was, in fact, a double.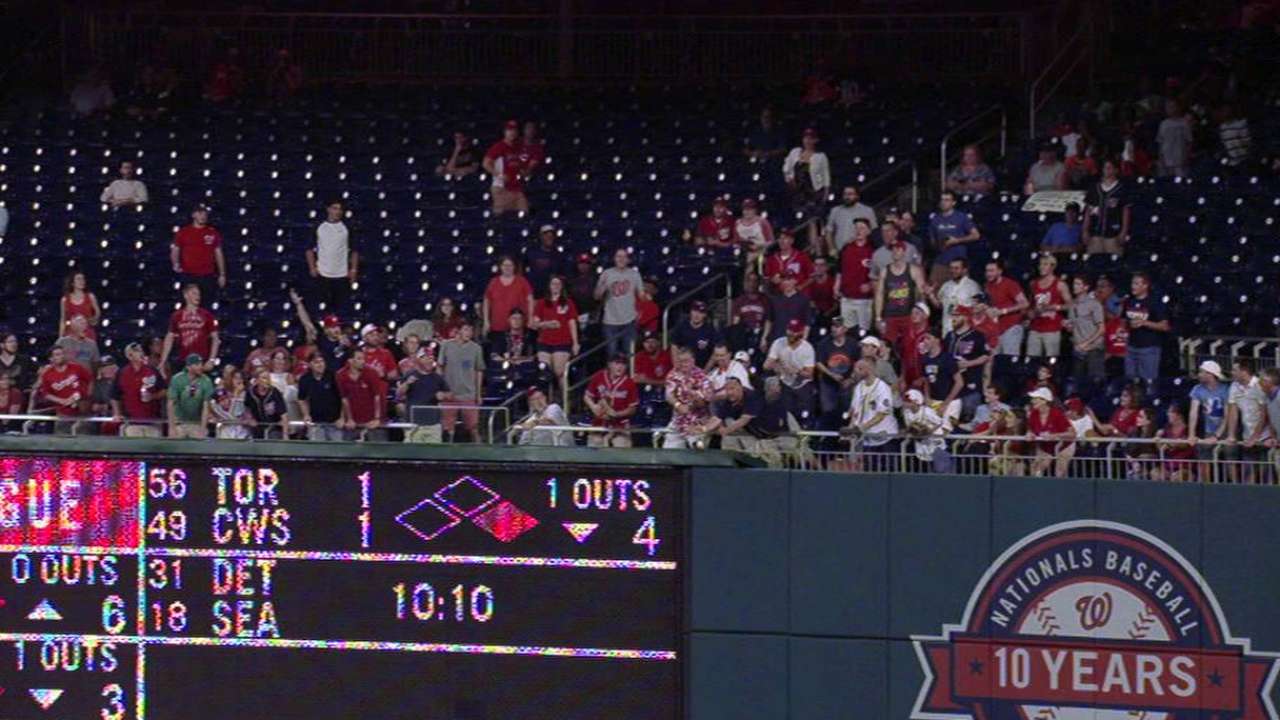 QUOTABLE
"Being from Cincinnati, this isn't like coming from the West Coast, where you get a rain delay once every six-to-10 years. We've been through the drill before. I thought the Nationals did a great job, they made it an all-inclusive decision on when to start the game. We weren't expecting that pop-up shower to hit, but it did. It was a short delay. It didn't affect either team greatly." -- Price, on the 29-minute rain delay that came in the bottom of the first inning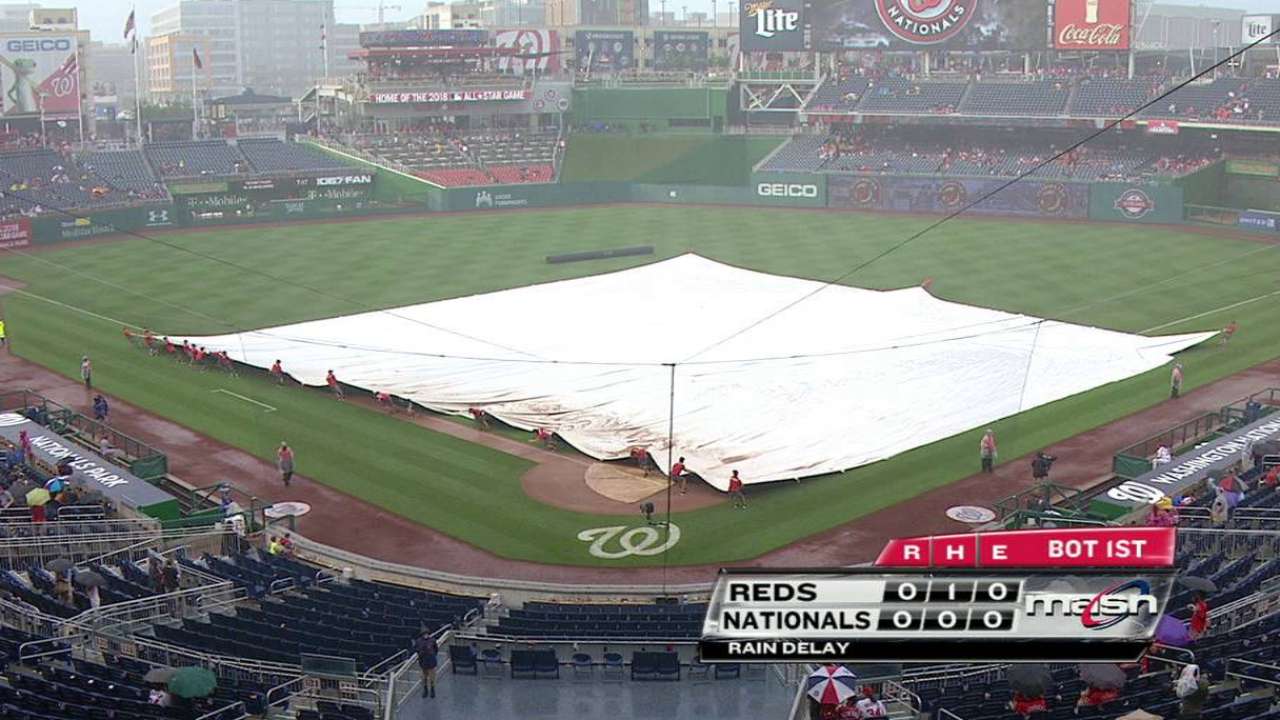 WHAT'S NEXT
Reds: In what should be a fun battle of aces, Johnny Cueto will take the mound for the Reds in Tuesday's 7:05 p.m. ET game at Nationals Park. Cueto, who is trying to make the National League All-Star team via the 2015 Esurance MLB All-Star Game Final Vote, is 2-1 with a 2.52 ERA over his last six starts. More >
Nationals: Max Scherzer (9-6, 1.82 ERA), who was selected to the All-Star roster Monday, will face Cueto trying to help the Nationals even the series. Three of his past four starts have been complete games, including a one-hitter, a no-hitter and a loss. More >
Watch every out-of-market regular season game live on MLB.TV.
Jacob Emert is an associate reporter for MLB.com. Mark Sheldon is a reporter for MLB.com. Read his blog, Mark My Word, follow him on Twitter @m_sheldon and Facebook and listen to his podcast. This story was not subject to the approval of Major League Baseball or its clubs.