Youth served on All-Star Game rosters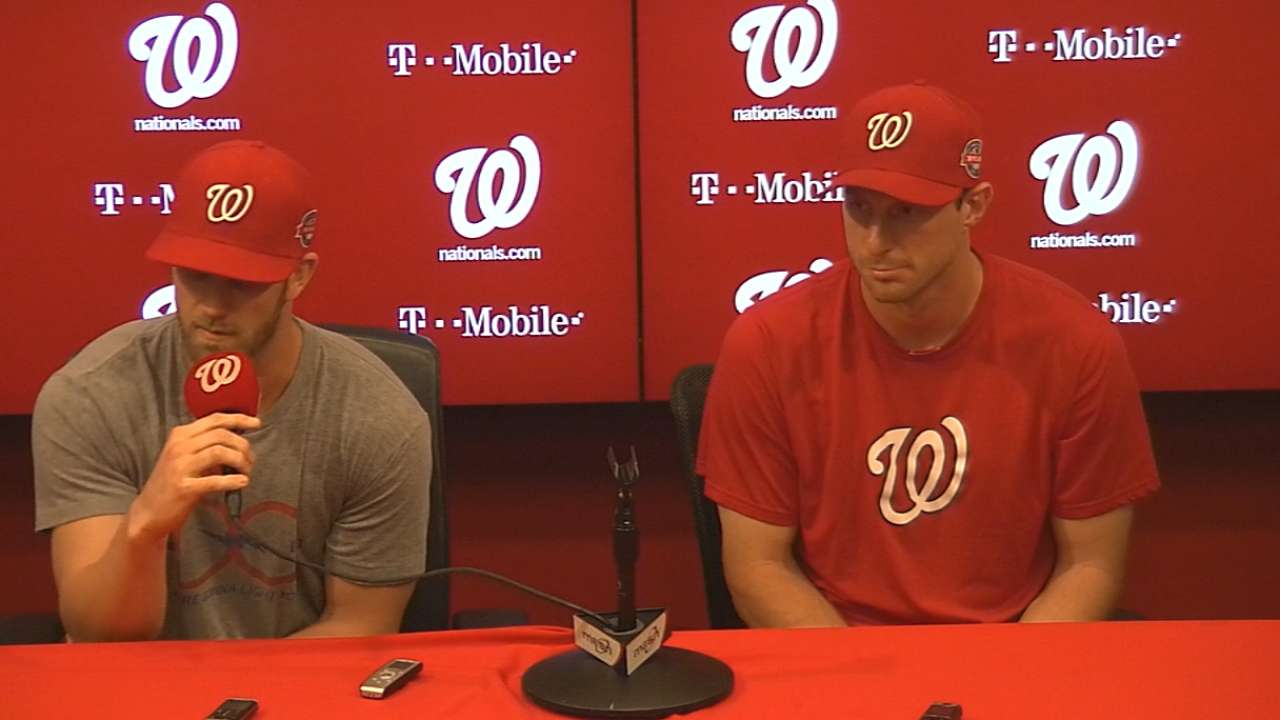 You can't host a rocking party without a guest list full of VIPs, and you can't have a Major League All-Star celebration for the ages without the rest of baseball's A-list.
So fittingly, 24 hours after the starters for the 86th Midsummer Classic at Great American Ball Park in Cincinnati next Tuesday were announced, the reserves -- as well as the 10 contenders for the 2015 Esurance MLB All-Star Game Final Vote -- were revealed.
The marquee names in lights on Monday represent a lot more than a tale of two cities, although Kansas City still shines with six total All-Stars after two backups were named to join the four Royals starters, and St. Louis added three Cardinals reserves to its two starters for an NL-leading total of five. Otherwise, the game that will be played in Cincinnati would also be fitting in the Ohio city of Youngstown. Thirty-five players aged 27 or younger have been named to the big game and 28 of the players will shine in a Midsummer Classic for the first time.
The reserves, which take each league's roster total to 33 with one more to come in the online Final Vote, were named via the Player Ballot -- a vote of the players, managers and coaches -- and by the All-Star Game managers in conjunction with MLB. In making their selections, the managers have ensured that each of the 30 clubs will be represented in the All-Star Game.
In the AL, the player ballot tabbed first baseman Albert Pujols of the Angels, who will take the place of injured starter Miguel Cabrera in the AL lineup for the beginning of the game. Pujols will be joined by: Indians second baseman Jason Kipnis; Tigers shortstop Jose Iglesias; Orioles third baseman Manny Machado; outfielders Adam Jones (Orioles), Jose Bautista (Blue Jays) and J.D. Martinez (Tigers); designated hitter Prince Fielder (Rangers) and catcher Stephen Vogt (A's).
"It's awesome," Kipnis said of being voted in via the Player Ballot. "I've always held that in high regards, the respect from other players … respect of your peers."
The AL players ballot also tabbed the following pitchers for selection: starters Dallas Keuchel (Astros), Chris Archer (Rays), Sonny Gray (A's), Chris Sale (White Sox) and David Price (Tigers), plus relievers Dellin Betances (Yankees), Wade Davis (Royals) and Glen Perkins (Twins).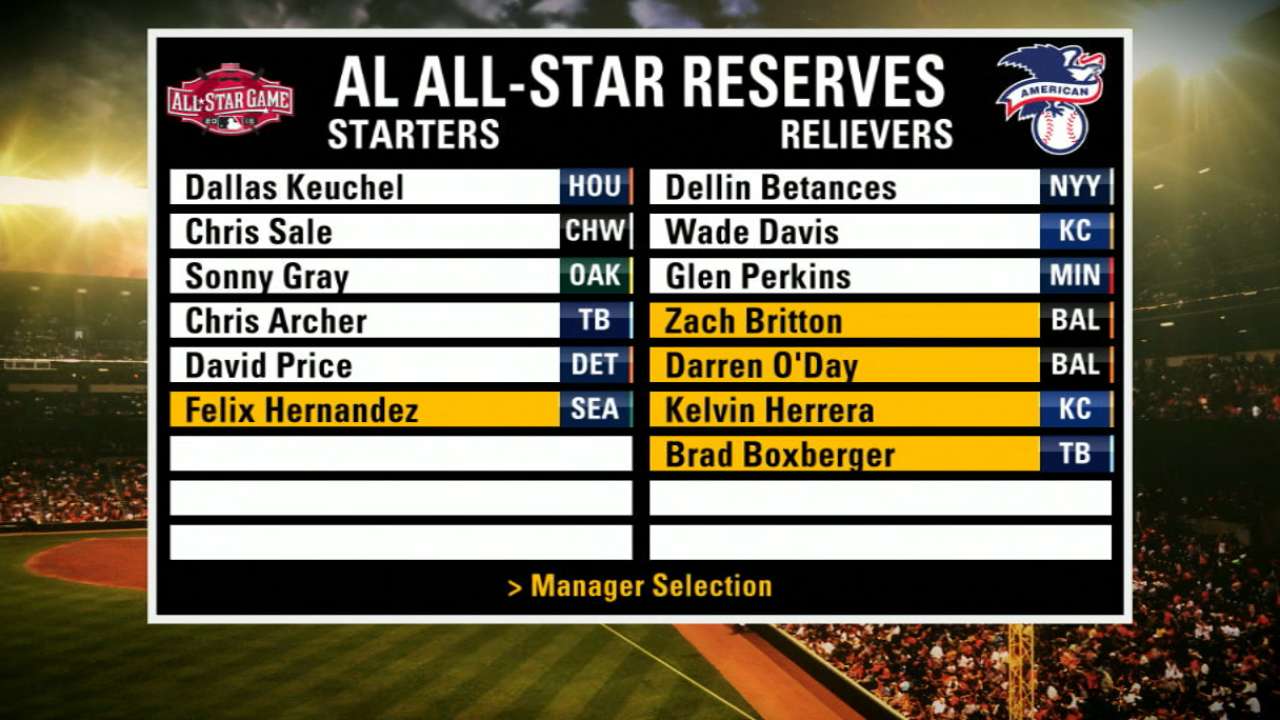 The rest of the AL roster came from Yost's selections, and he not surprisingly picked his own dominant reliever, Kelvin Herrera, to give the Royals six All-Stars for the first time in history. Yost also added starter Felix Hernandez (Mariners), relievers Zach Britton and Darren O'Day (Orioles) and Brad Boxberger (Rays), plus infielder Brock Holt (Red Sox) and catcher Russell Martin (Blue Jays), in addition to first baseman Mark Teixeira (Yankees), who replaces Cabrera on the AL roster.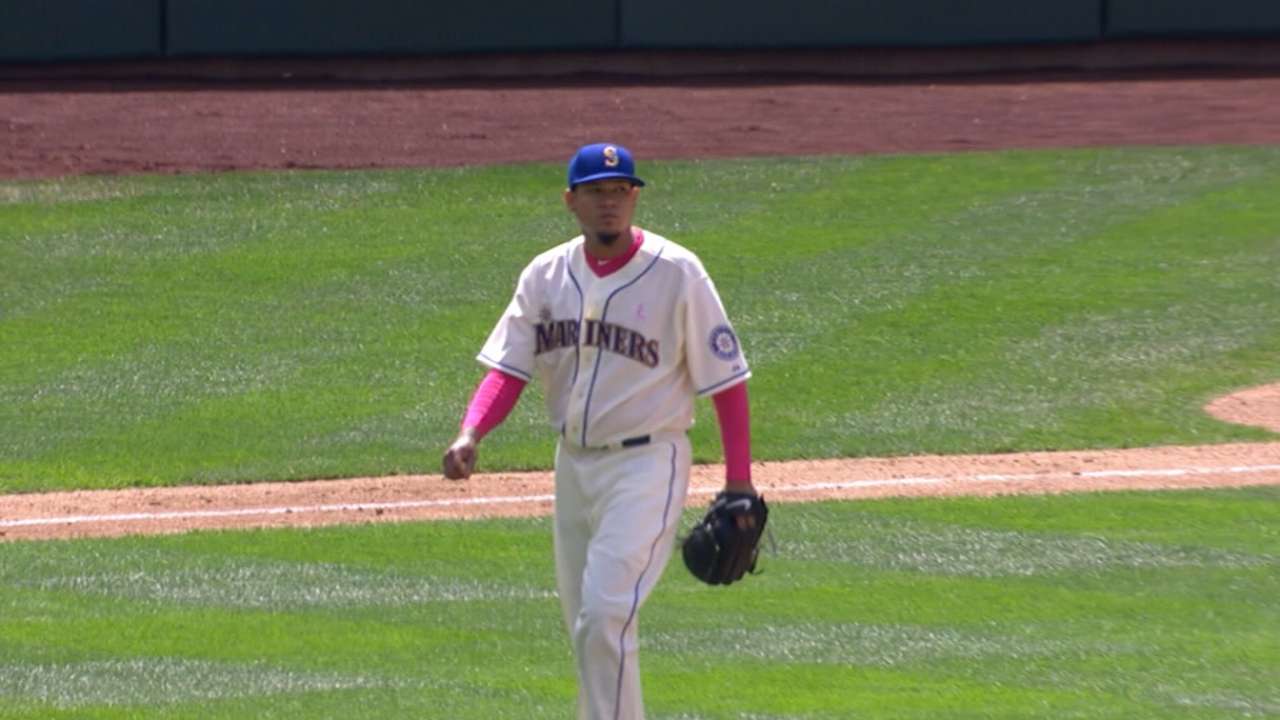 In the NL, dynamic Pirates center fielder Andrew McCutchen was named to replace injured Marlins outfielder -- and voted-in All-Star starter -- Giancarlo Stanton in the starting lineup. McCutchen will be joined by first baseman Anthony Rizzo (Cubs), second baseman DJ LeMahieu (Rockies), shortstop Brandon Crawford (Giants), third baseman Nolan Arenado (Rockies), outfielders A.J. Pollock (D-backs) and Joc Pederson (Dodgers), and catcher Yadier Molina (Cardinals).
The players also selected an astounding group of starting pitchers in Max Scherzer (Nationals), Gerrit Cole (Pirates), Zack Greinke (Dodgers), Shelby Miller (Braves) and Jacob deGrom (Mets) as well as a stellar relief corps, including Cardinals closer Trevor Rosenthal, plus Pirates closer Mark Melancon and hard-throwing ninth-inning specialist Aroldis Chapman of the hometown Reds.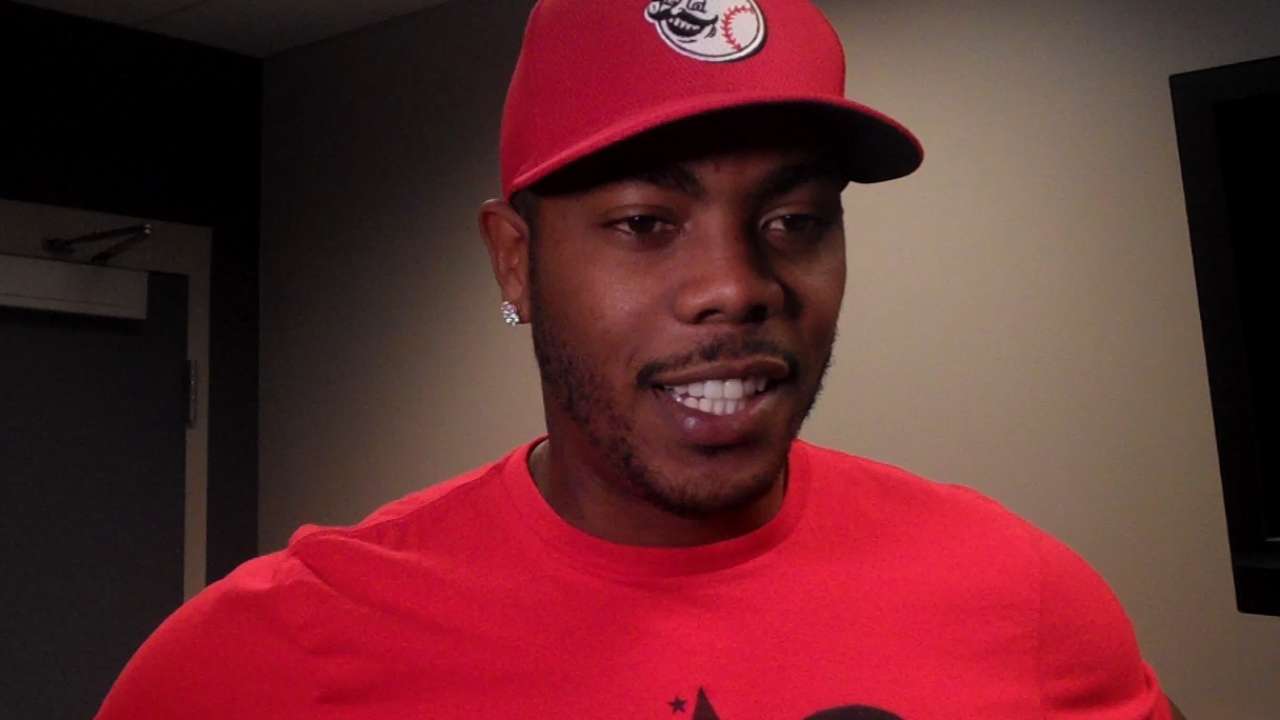 "It's going to be a lot better," Chapman said of his fourth All-Star selection, via translator Tomas Vera. "Even during the regular season, when the door opens and the fans go crazy, it's something special for me. This time, I will be really, really happy. I feel happy, I feel proud to be a part of the Reds."
Greinke, who earned his third All-Star honor and could be a contender to start the Classic for the NL, said he enjoys one thing about the experience more than anything else.
"The best part is getting to talk to the best players in the game," Greinke said, "and learn a little about them and what makes them good."
Rosenthal was proud to be one of the five players from the team with the best record in the Major Leagues as we approach the break.
"It means a lot to have that recognition, and especially from guys who play the game every day, see what it's about and see me play and appreciate the performance that I've had," Rosenthal said. "It means a lot to me. To be a representative of this team and the pitching staff we have, there are probably a few guys in our rotation and bullpen who could be joining us, but to get the representation with what we've done this year is definitely special."
NL skipper Bochy had nine selections and made the most of them, tabbing his own ace, Giants lefty starter Madison Bumgarner, plus veteran starter A.J. Burnett (Pirates), starter Michael Wacha (the fifth Cardinal), plus bullpen arms Jonathan Papelbon (Phillies) and Francisco Rodriguez (Brewers). Bochy's position player picks included first baseman Adrian Gonzalez and catcher Yasmani Grandal of the Dodgers, his own second baseman, Joe Panik, and Padres outfielder Justin Upton. Bochy also named Cubs rookie third baseman Kris Bryant -- one of two rookies in the ASG along with Pederson -- as the roster replacement for Stanton.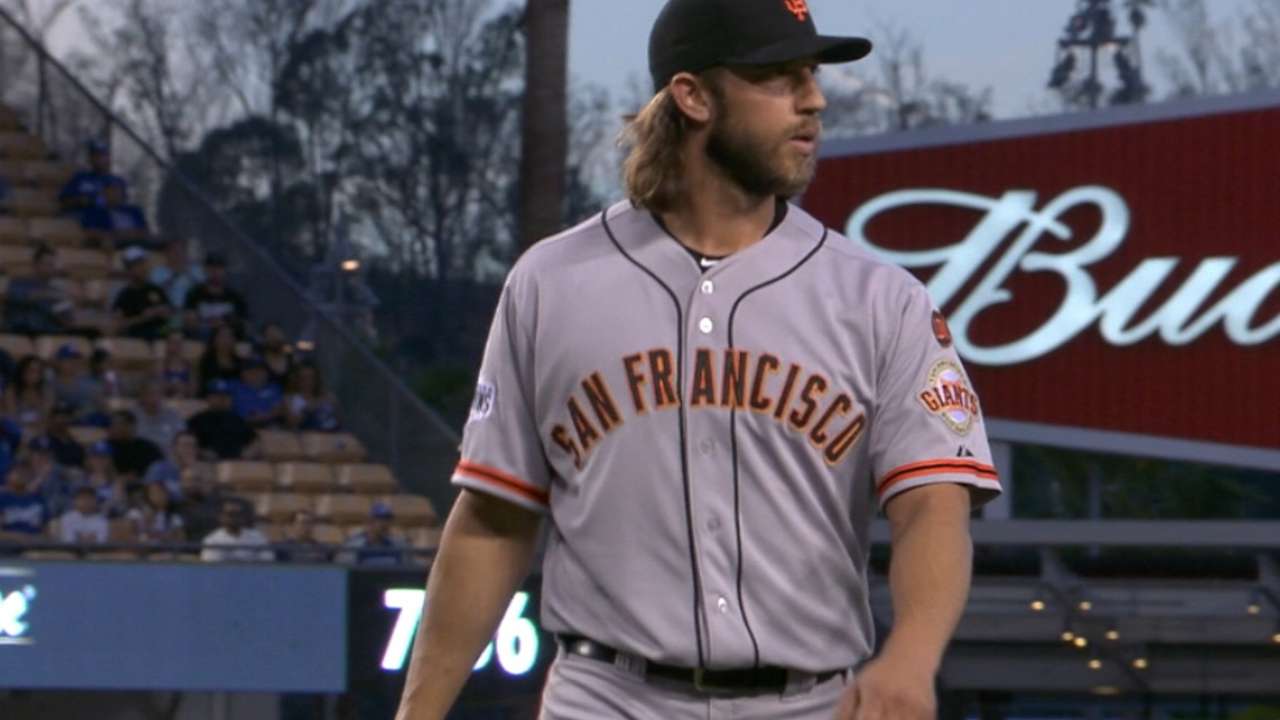 The 2015 Esurance MLB All-Star Game Final Vote will determine the 34th AL roster spot. The candidates are: Red Sox shortstop Xander Bogaerts, Tigers outfielder Yoenis Cespedes, Twins second baseman Brian Dozier, Yankees outfielder Brett Gardner; and Royals third baseman Mike Moustakas. In the NL, a tough Final Vote looms between starting pitcher Johnny Cueto of the Reds, reliever Jeurys Familia of the Mets, southpaw Clayton Kershaw of the Dodgers, righty Carlos Martinez of the Cardinals and shortstop Troy Tulowitzki of the Rockies.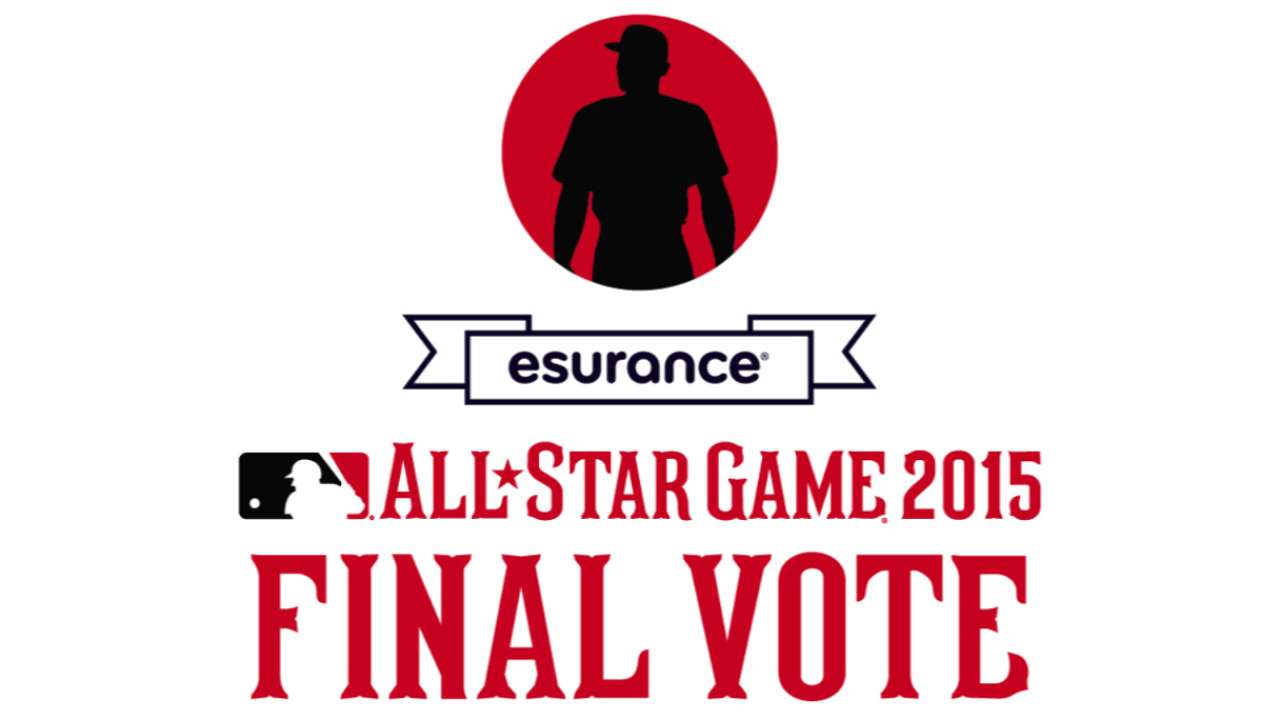 "I could have made a case for a couple more," Yost said of adding Herrera. "I really could. But six [from my team] is nice and if Moose gets in, it's seven. He's up against some tough competition."
Voting is open now at MLB.com to select the final player for each League's 34-man roster via the 2015 Esurance MLB All-Star Game Final Vote. Fans can cast their votes from a list of five players from each League until 4 p.m. ET on Friday.
And the voting doesn't end there. During the Midsummer Classic in Cincinnati on Tuesday, July 14, fans can once again visit MLB.com to submit their choice for the Ted Williams Most Valuable Player Award presented by Chevrolet. Voting exclusively at MLB.com, online and via their mobile devices in the 2015 All-Star Game MVP Vote presented by Chevrolet, the fans' collective voice will represent 20 percent of the overall vote that determines the recipient of the Arch Ward Trophy.
MLB.TV Premium subscribers will be able to live stream the All-Star Game via MLB.TV through FOX's participating video providers. Access will be available across more than 400 supported MLB.TV platforms, including the award-winning MLB.com At Bat app. MLB.com will provide extensive online coverage of the All-Star Week festivities, including the 2015 Gillette Home Run Derby presented by Head & Shoulders, part of Gatorade All-Star Workout Day on Monday, July 13. The Derby will feature a new format with brackets and timed rounds and will be broadcast live by ESPN and MLB.com beginning at 8 p.m. ET.
The 86th All-Star Game will be televised nationally by FOX Sports (7 p.m. ET air time, 8:15 first pitch), in Canada by Rogers Sportsnet and RDS, and worldwide by partners in more than 160 countries. ESPN Radio and ESPN Radio Deportes will provide exclusive national radio coverage of the All-Star Game. MLB Network and SiriusXM will also provide comprehensive All-Star Week coverage. For more information, please visit allstargame.com.
AMERICAN LEAGUE
Pitchers
RHP: Chris Archer, Rays
RHP: Dellin Betances, Yankees
RHP: Brad Boxberger, Rays
LHP: Zach Britton, Orioles
RHP: Wade Davis, Royals
RHP: Sonny Gray: Athletics
RHP: Kelvin Herrera, Royals
RHP: Felix Hernandez, Mariners
LHP: Dallas Keuchel, Astros
RHP: Darren O'Day, Orioles
LHP: Glen Perkins, Twins
LHP: David Price, Tigers
LHP: Chris Sale, White Sox
Reserves
C: Russell Martin, Blue Jays
C: Stephen Vogt, Athletics
1B: Albert Pujols, Angels
1B: Mark Teixeira, Yankees
2B: Jason Kipnis, Indians
3B: Manny Machado, Orioles
SS: Jose Iglesias, Tigers
IF/OF: Brock Holt, Red Sox
OF: Jose Bautista, Blue Jays
OF: Adam Jones, Orioles
OF: J.D. Martinez, Tigers
DH: Prince Fielder, Rangers
Final Vote candidates
SS: Xander Bogaerts, Red Sox
OF: Yoenis Cespedes, Tigers
2B: Brian Dozier, Twins
OF: Brett Gardner, Yankees
3B: Mike Moustakas, Royals
Starters
C: Salvador Perez, Royals
1B: Miguel Cabrera, Tigers
2B: Jose Altuve, Astros
3B: Josh Donaldson, Blue Jays
SS: Alcides Escobar, Royals
OF: Mike Trout, Angels
OF: Lorenzo Cain, Royals
OF: Alex Gordon, Royals
DH: Nelson Cruz, Mariners
NATIONAL LEAGUE
Pitchers
LHP: Madison Bumgarner, Giants
RHP: A.J. Burnett, Pirates
LHP: Aroldis Chapman, Reds
RHP: Gerrit Cole, Pirates
RHP: Jacob deGrom, Mets
RHP: Zack Greinke, Dodgers
RHP: Mark Melancon, Pirates
RHP: Shelby Miller, Braves
RHP: Jonathan Papelbon, Phillies
RHP: Francisco Rodriguez, Brewers
RHP: Trevor Rosenthal, Cardinals
RHP: Max Scherzer, Nationals
RHP: Michael Wacha, Cardinals
Reserves
C: Yasmani Grandal, Dodgers
C: Yadier Molina, Cardinals
1B: Adrian Gonzalez, Dodgers
1B: Anthony Rizzo, Cubs
2B: DJ LeMahieu, Rockies
2B: Joe Panik, Giants
3B: Nolan Arenado, Rockies
3B: Kris Bryant, Cubs
SS: Brandon Crawford, Giants
OF: Andrew McCutchen, Pirates
OF: Joc Pederson, Dodgers
OF: A.J. Pollock, D-backs
OF: Justin Upton, Padres
Final Vote candidates
RHP: Johnny Cueto, Reds
RHP: Jeurys Familia, Mets
LHP: Clayton Kershaw, Dodgers
RHP: Carlos Martinez, Cardinals
SS: Troy Tulowitzki, Rockies
Starters
C: Buster Posey, Giants
1B: Paul Goldschmidt, D-backs
2B: Dee Gordon, Marlins
3B: Todd Frazier, Reds
SS: Jhonny Peralta, Cardinals
OF: Bryce Harper, Nationals
OF: Matt Holliday, Cardinals
OF: Giancarlo Stanton, Marlins
Doug Miller is a reporter for MLB.com. Follow him on Twitter @DougMillerMLB. This story was not subject to the approval of Major League Baseball or its clubs.