Tigers claim first baseman Krauss from Rays
Miggy's calf injury leaves big hole as Detroit explores other options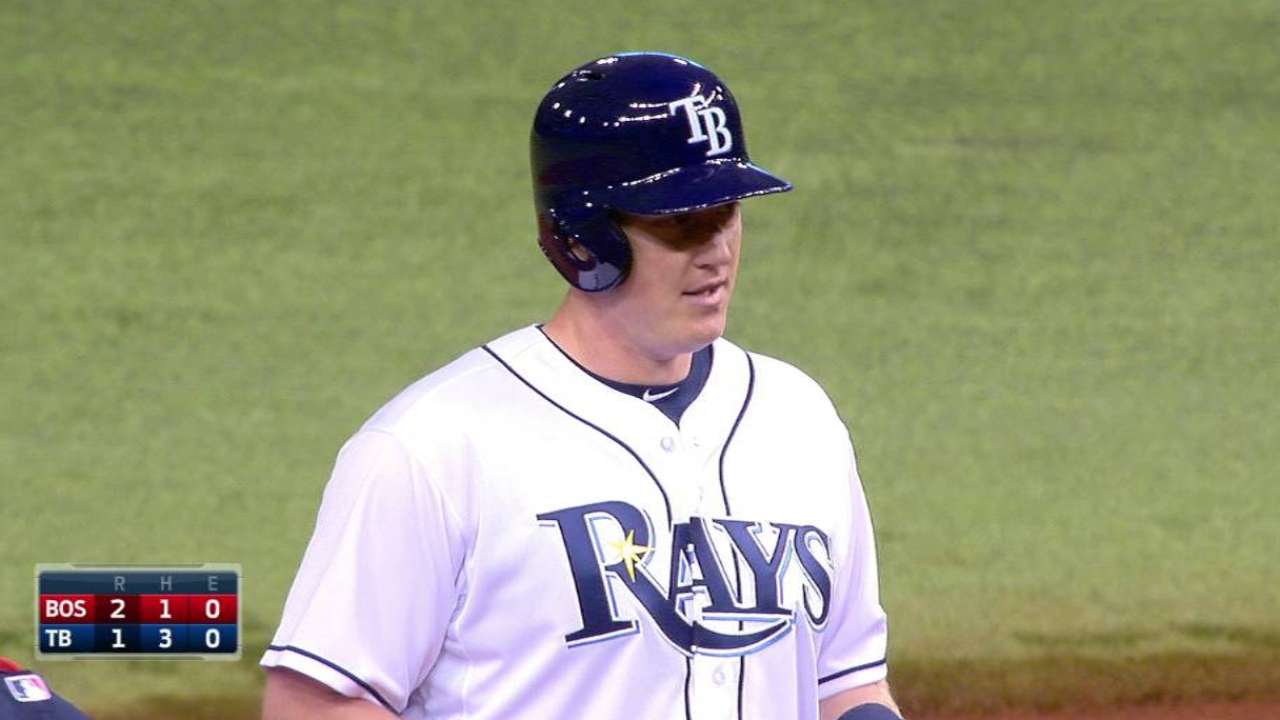 SEATTLE -- The Tigers aren't expecting Marc Krauss to replace Miguel Cabrera. They're not expecting anybody to fill the All-Star's void. But they're hoping Krauss can help produce something out of the first-base spot for the next six weeks while Cabrera is out.
It was a coincidence of circumstances, the Tigers scrambling for first-base options after Cabrera strained his left calf around the same time Krauss was designated for assignment by the Rays a few days ago. It was enough of a fit that the Tigers put in a claim.
"Dave [Dombrowski] and Al [Avila] started compiling names immediately, trying to figure out what would be the best way to solve the first-base issue during Miguel's absence," manager Brad Ausmus said. "Krauss' name had come up, and it just so happened he was designated."
Krauss spent Monday flying cross-country and is expected to join the Tigers on Tuesday, at which point the club will have to make a move to create a roster spot.
Krauss, a Northwest Ohio native and former Ohio University standout, has played 134 games in the big leagues over the last three years with three organizations, batting .192 (70-for-365) with 18 doubles, 11 home runs, 40 RBIs, 34 walks and 117 strikeouts. After batting .289 with four homers and 29 RBIs in 47 games at Triple-A Salt Lake, he played 11 games this season with the Angels, who traded him to the Rays on June 25.
The 27-year-old Krauss went 1-for-10 with a double for Tampa Bay before being designated for assignment over the weekend. That was around the same time Detroit learned the extent of Cabrera's injury, which is expected to keep him out until mid-August.
Krauss broke into the big leagues with the Astros organization, where current Tigers third-base coach Dave Clark was on the coaching staff at the time.
"He's a hitter with some power," Clark said. "He's one of those kids that you always wanted to see get some consistent at-bats and see what he can do. He showed you a little something when he did play. I know he's put up some pretty good numbers in the minor leagues when he was playing every day, so now it's just a matter of him getting here and hopefully some consistent at-bats and helping this ballclub."
With Cabrera out, the Tigers started catcher Alex Avila at first base the past two games. Like Avila, Krauss is a left-handed hitter. The Tigers also called up third baseman Jefry Marte, a right-handed hitter, from Toledo on Saturday when Cabrera went on the disabled list.
"A lot of it will depend on how well he's playing," Ausmus said of Krauss' expected playing time, "but initially my thought would be to play him against some right-handed pitchers, maybe Marte against left-handed pitchers, sprinkle in [Andrew] Romine. But that could change based on their performances."
Jason Beck is a reporter for MLB.com. Read Beck's Blog, follow him on Twitter @beckjason and listen to his podcast. This story was not subject to the approval of Major League Baseball or its clubs.