Moustakas on bereavement list; Frasor designated
Cuthbert called up to help at third; reliever out as Orlando recalled to bolster outfield depth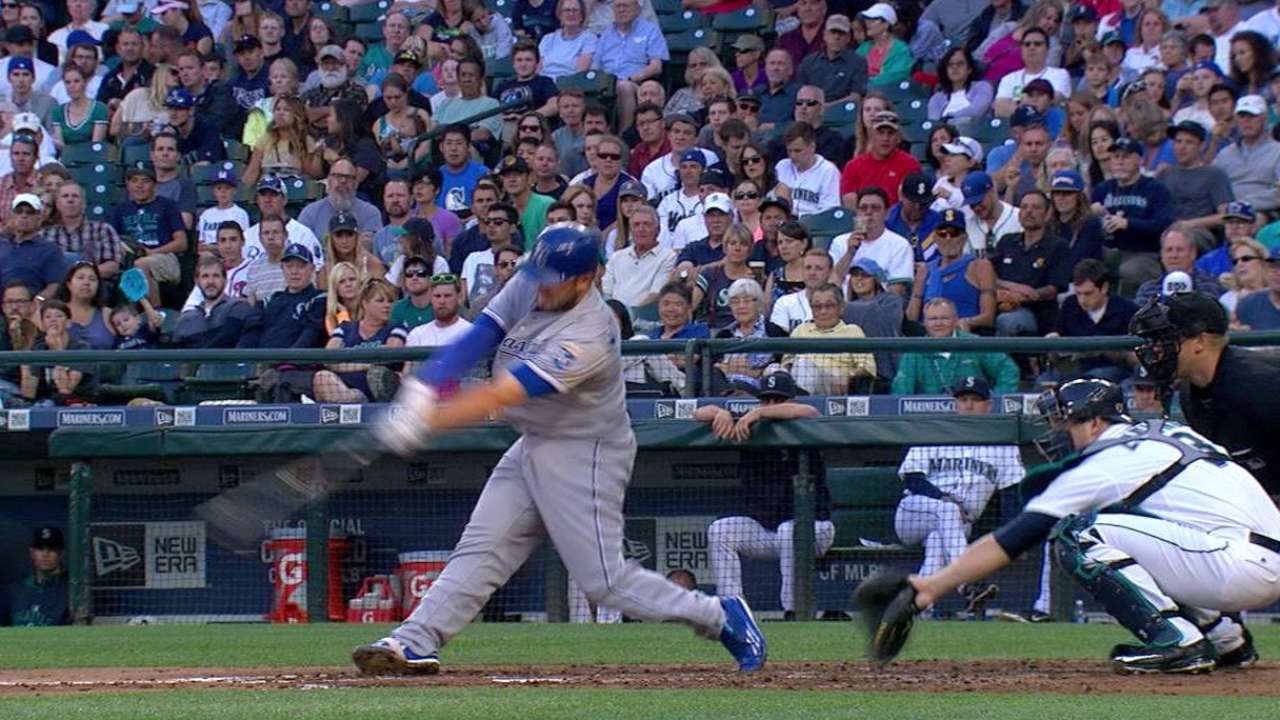 KANSAS CITY -- With an incoming storm that eventually postponed Monday's game against the Rays, and more 2015 All-Star Game announcements to follow, Royals manager Ned Yost's day continued to get busier with two roster moves.
The Royals recalled Cheslor Cuthbert and Paulo Orlando from Triple-A Omaha on Monday afternoon, placing third baseman Mike Moustakas on the bereavement/family medical emergency list and designating right-handed reliever Jason Frasor for assignment.
Cuthbert, who was recently selected for the 2015 SiriusXM All-Star Futures Game, was listed to start in place of Moustakas on Monday night. He hit .268 with eight homers and 32 RBIs in 68 games in the Minors this season.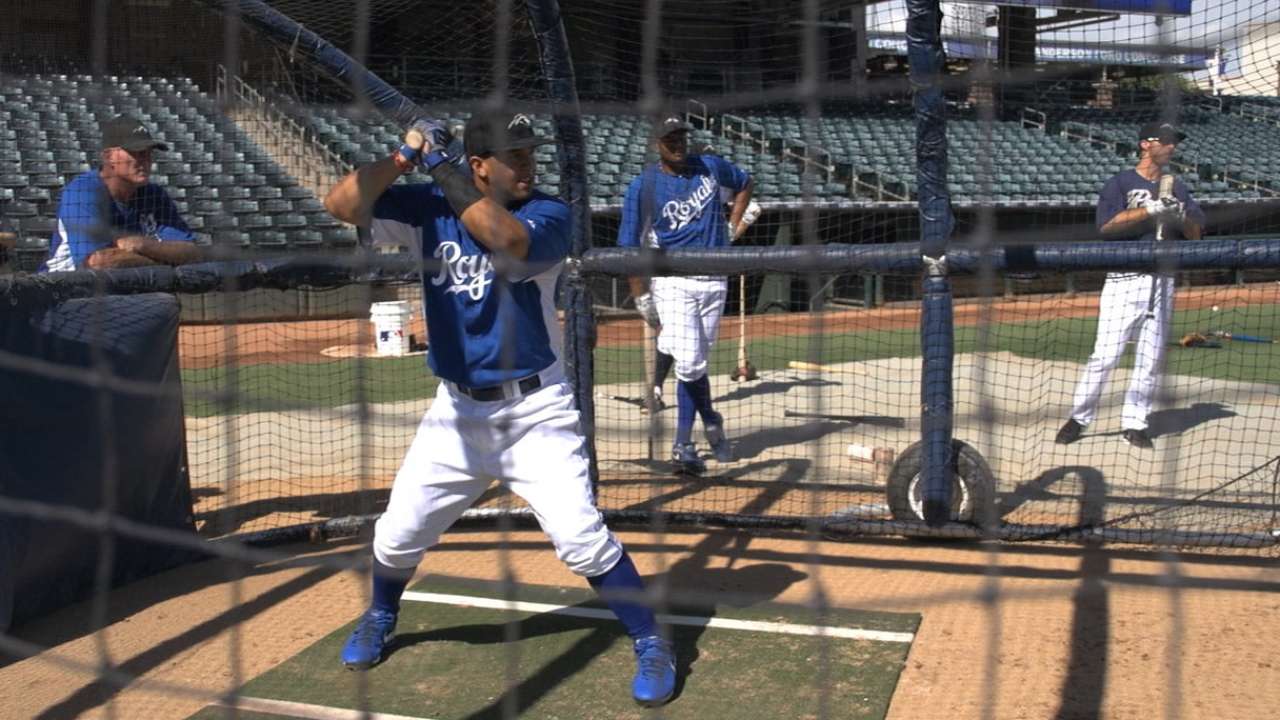 "We've had a chance to look at him the past couple years in Spring Training," Yost said of Cuthbert. "He's a very solid defender at third, a natural third baseman. For a young hitter, he's got some pop and has handled Triple-A quite nicely."
Yost said the decision to recall Cuthbert instead of Christian Colon -- who has played 29 games with the Royals this season -- was to stick to the original plan of sending Colon to Triple-A Omaha to receive more regular at-bats.
Yost did not say when he expects Moustakas to return.
The move to designate Frasor came as more of a surprise, especially to Frasor, who cleaned some stuff from his locker and said goodbye to his teammates several hours before the original scheduled start to Monday night's game.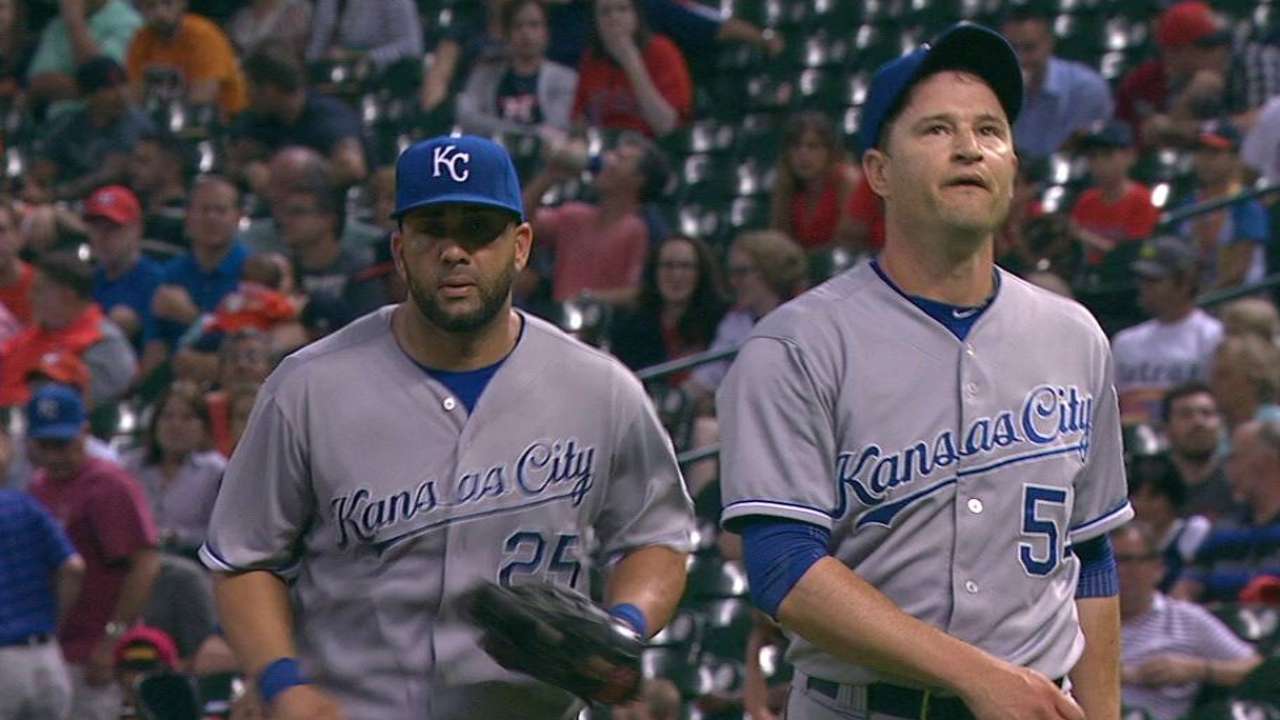 "You know, there's a lot of good pitchers here," Frasor said. "I didn't pitch a whole lot the last three weeks or so, and I had an inkling, I guess, and I was right. Even when the phone call comes, you're still surprised.
"I didn't feel needed down there. I was pitching once a week and they needed help in some other ways, so I understand, I really do. I'm not just saying that. That's the way it goes."
Yost added the Frasor decision also came from needing more in the outfield with Lorenzo Cain still day-to-day with a leg injury that came up after Sunday's 3-2 win.
"With Moose being gone, we made the move with Cuthbert, who is a natural third baseman," Yost. "But we needed another outfielder. Our outfielders have played every single day. Cain is still dealing with leg issues, so we needed that protection with Paulo Orlando.
"What's important to us ... is multiple-inning guys. Frasor was a real real good one-inning guy, but [Franklin] Morales, [Brandon] Finnegan, [Luke Hochevar] even is getting built up to the point where he could be a two-inning guy."
Royals sign international catcher
The Royals have signed catcher Sebastian Rivero (Venezuela) for $450,000, a source told Jesse Sanchez of MLB.com.
Jordan Wilson is an associate reporter for MLB.com. This story was not subject to the approval of Major League Baseball or its clubs.