White Sox lookback, Part 3: Konerko's slam
Slugger's blast lifts Chicago to comeback win in Game 2 of '05 World Series
CHICAGO -- The White Sox will be honoring the 10-year-anniversary of the team's 2005 World Series championship during the weekend of July 17-19 at U.S. Cellular Field. And this latest celebration presents a chance to look back at key moments from that postseason run, with a special focus on the World Series, with the words coming primarily from the participants themselves.
Here is Part 3 of this oral history series, focusing on Chicago's 7-6 victory in Game 2.
Game 2 of the 2005 World Series: Paul Konerko's grand slam
With the White Sox trailing the Astros, 4-2, in the seventh inning, Houston's Chad Qualls relieved Dan Wheeler, who had replaced starter Andy Pettitte to begin the frame. The bases were loaded with two outs, and Konerko was at the plate.
The Captain launched the first offering from Qualls into the left-field stands, raising his hands as he hit first base, and the U.S. Cellular crowd reacted in a raucous frenzy never seen before.
• White Sox lookback, Part 1: Dropped 3rd strike
White Sox chairman Jerry Reinsdorf: "There wasn't even time to think. So years later -- not years later, sometime later -- somebody told me that we had Qualls' pitches, and that [Konerko] knew he was getting a fastball. Makes for a good story."
Konerko: "I don't remember too much after hitting it and rounding the bases."
Carl Everett singled on the next pitch, but he was thrown out trying to steal second with Aaron Rowand at the plate. So before Konerko knew it, he was back out on the field, rolling ground balls to infielders between innings.
Konerko: "I remember looking around. Obviously, it was a cold night -- drizzling, sleet, winter-like. Just looking around the stadium, and I had played a good amount of games in that stadium, maybe seven years' worth. I just remember looking around, the place was like, it looked like a festival concert, with people that are like, moving up and down.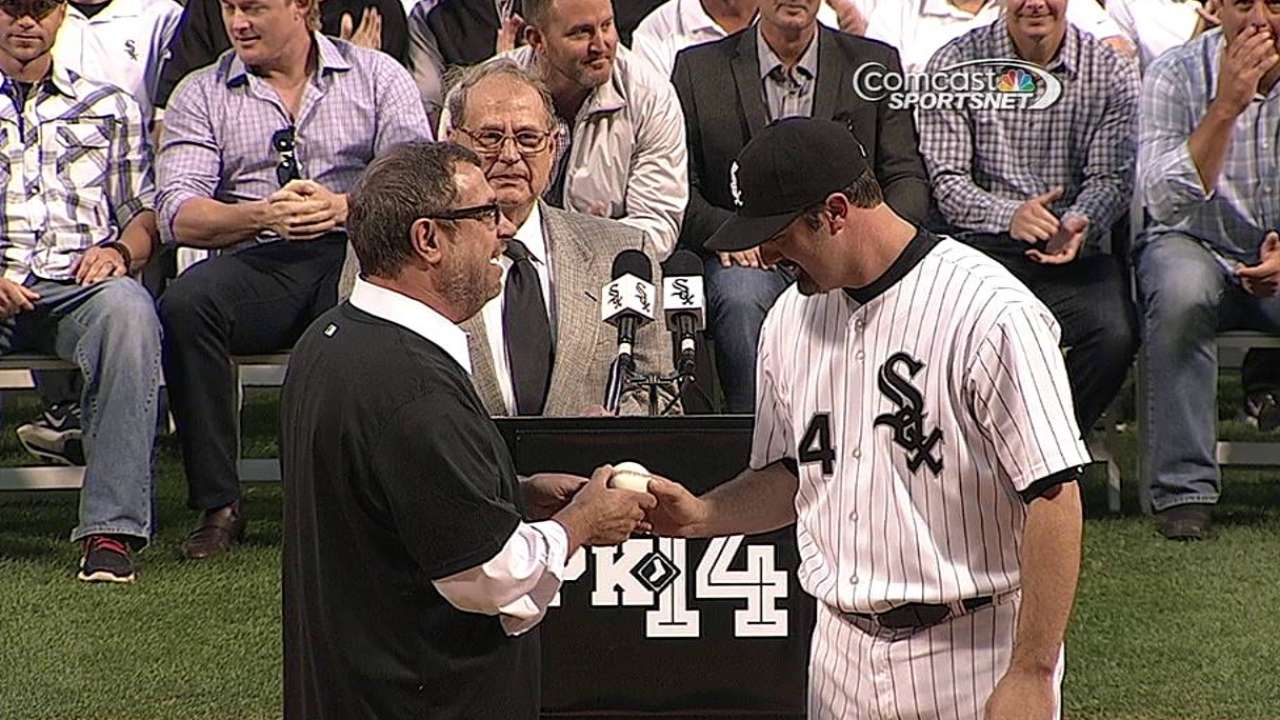 Konerko: "It was something I hadn't seen. I thought, 'The World Series was everything it's cracked up to be. This is pretty amazing.' Not from a standpoint of, 'Wow, I hit the home run.' More just like, 'This is crazy. Just like absolute electric right now.'"
Scott Podsednik, White Sox left fielder and leadoff man: "That entire inning after, my eyes were locked in on Konerko. That's the loudest I've ever heard it in a ballpark, when he hit the grand slam in the World Series. He put the team up, and I was thinking, 'What is that man feeling like now?' So I was watching his mannerisms, and I could tell there was an electricity flowing through him."
• White Sox lookback, Part 2: WS Game 1
Podsednik: "So I watched the pitch, then my eyes would go back to him, all the time thinking, 'What is that man feeling like?' It's as good as it gets."
It didn't take long for things to get even better for Podsednik.
Next up: Podsednik's walk-off.
Scott Merkin is a reporter for MLB.com. Read his blog, Merk's Works, follow him on Twitter @scottmerkin and listen to his podcast. This story was not subject to the approval of Major League Baseball or its clubs.