MLB.com Columnist
Alyson Footer
Power Rankings: Huge jump for Angels, Cards remain steady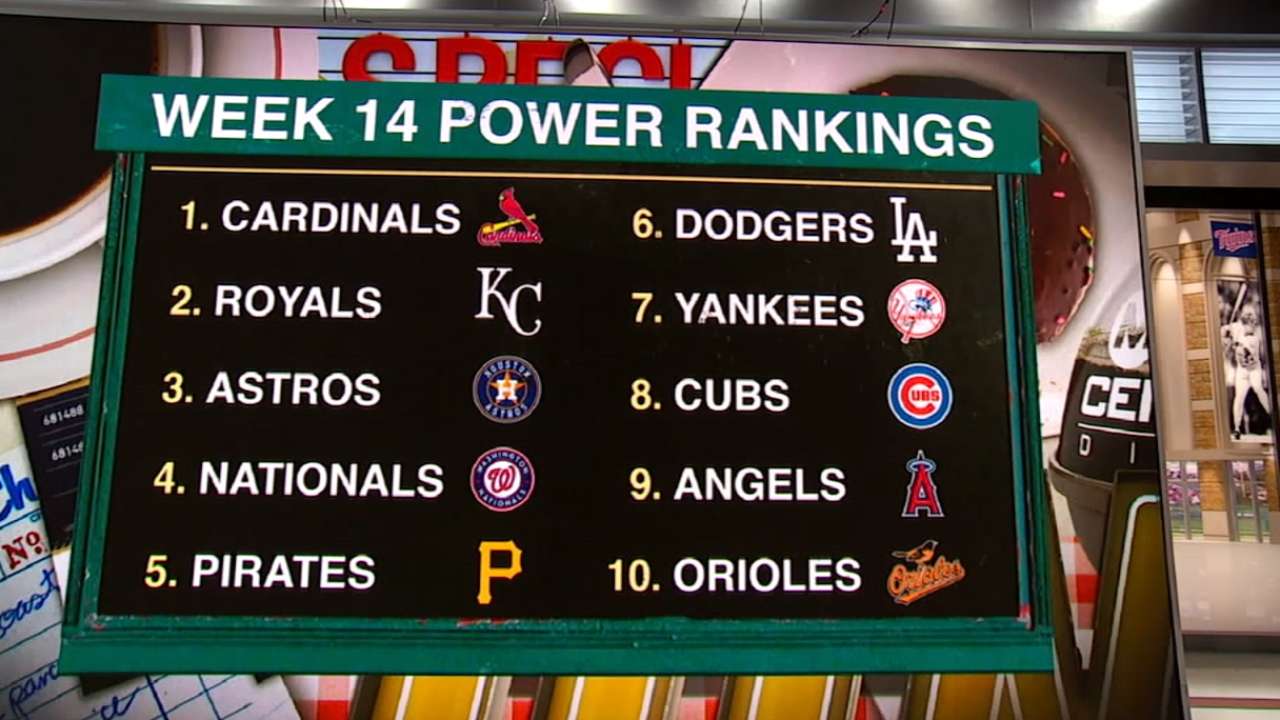 The American League East division is by no stretch the toughest division in the league, nor is it considered a powerhouse, a word that was, for a long while, synonymous with this particular cluster of teams.
But, as we head toward the All-Star break, gear up for the second half and take a look at Week 14 of the MLB.com Power Rankings presented by The All-New Chrysler 200, we have to ask -- will there be a more fun division race to watch?
Four teams are within a game of each other, with the Red Sox, roundly criticized for being underachievers from day one, "only" six games back, despite being six games under .500.
In what other division can a team that wins just twice in 10 games find itself just a game out of first place? The Rays haven't been good lately, but in the AL East, it's forgivable, and barely moves the needle.
Biggest rise: The Angels, 17th last week, jumped eight spots to nine. They've had a nice run, winning eight of 10 and moving within three games of the first-place Astros. And they currently hold the top Wild Card spot. They haven't lost a series in two weeks and have beaten all division foes plus the Yankees through that stretch. There's obviously been some turmoil in the front office, but on the field, the Angels are improving.
Biggest drop: The Rays were seventh last week and came in at just 14th this time. Maybe that's the natural reaction when a team that is perceived as merely average overachieves for long stretches. When it regresses a little, we naturally assume that this was always how it was going to go. That said, the Rays clearly proved they are deeper than anyone thought, and it wouldn't be shocking to see them creep into the top 10 again soon.
The MLB.com voting panel's top five:
1. Cardinals
The Cardinals have been so good for so long that when they ran into a very short stumble that counted for their longest losing streak of the season -- a whopping four games -- it was news. It's not enough, however, to knock them out of the top spot in our Power Rankings. You can point to any number of things that are working for the Cardinals, but it has to start with their team ERA of 2.59, the lowest in baseball.
2. Royals
The Royals went through a scoring drought in the last week, but still, they enter the final stretch of games before the break with a somewhat comfortable 4 1/2-game lead in the AL Central. Being able to push through slumps and keep the closest competition at bay is something good teams are able to do, and the Royals were able to split a four-game series with the Twins despite the offense taking a dip.
3. Astros
There was a little bit of panic following the injury to George Springer that deemed him unavailable for six to eight weeks. But this team did quite well in the first two months without getting a ton of offensive production from Springer, and now, the Astros have the added weapon of Carlos Correa, who in just a short time has changed the entire look of the lineup. The Astros are on the hunt for a veteran starting pitcher to help nudge them toward October, and if they do, they would be in good shape to get there.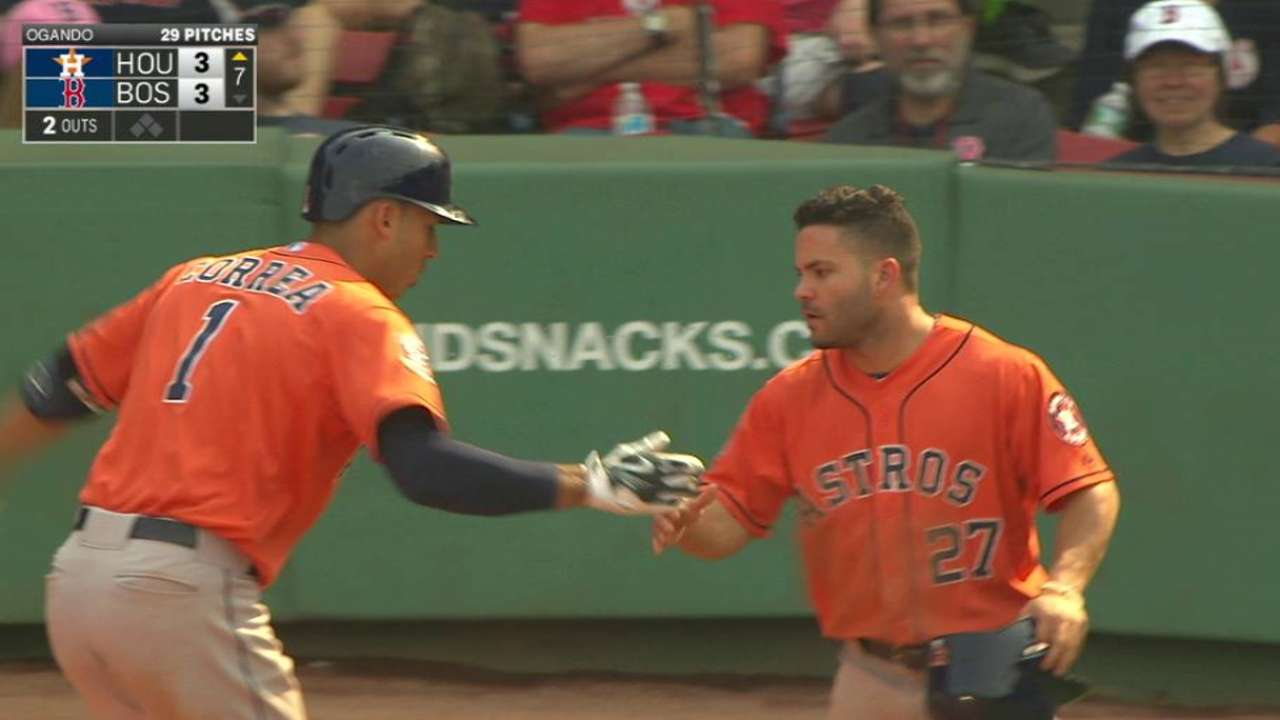 4. Nationals
You could make an argument that they're going to have to step it up a bit on the road to truly be a force in the Senior Circuit, but really, in the NL East, a Cardinals-like dominance isn't necessary. Health is certainly an issue, especially pertaining to Stephen Strasburg, but the Nationals should have enough depth, and play in a weak enough division, to stay well ahead of the competition. And they have Bryce Harper. Enough said.
5. Pirates
It's probably frustrating for the Pirates to win as much as they do and never gain ground in their division. It seems like they've been six behind the Cardinals for weeks, and if St. Louis doesn't let up, that may be as close as the Bucs get. But this is still a hugely talented, very balanced, playoff-bound team. And while pitcher wins aren't regarded as a stat of importance in modern times, it should be noted Gerrit Cole has 12 of them. And in a category that does still matter -- ERA -- Cole is motoring along, posting a 2.28 mark in 110 1/3 innings.
The rest:
6. Dodgers (4); 7. Yankees (9); 8. Cubs (12); 9. Angels (17); 10. Orioles (8); 11. Twins (14); 12. Giants (10); 13. Blue Jays (11); 14. Rays (7); 15. Mets (16); 16. Tigers (13); 17. Rangers (15); 18. D-backs (19); 19. A's (NR); 20. Mariners (NR)
Alyson Footer is a national correspondent for MLB.com. Follow her on Twitter @alysonfooter. This story was not subject to the approval of Major League Baseball or its clubs.