Vogelsong, Bochy tossed in loss to Nats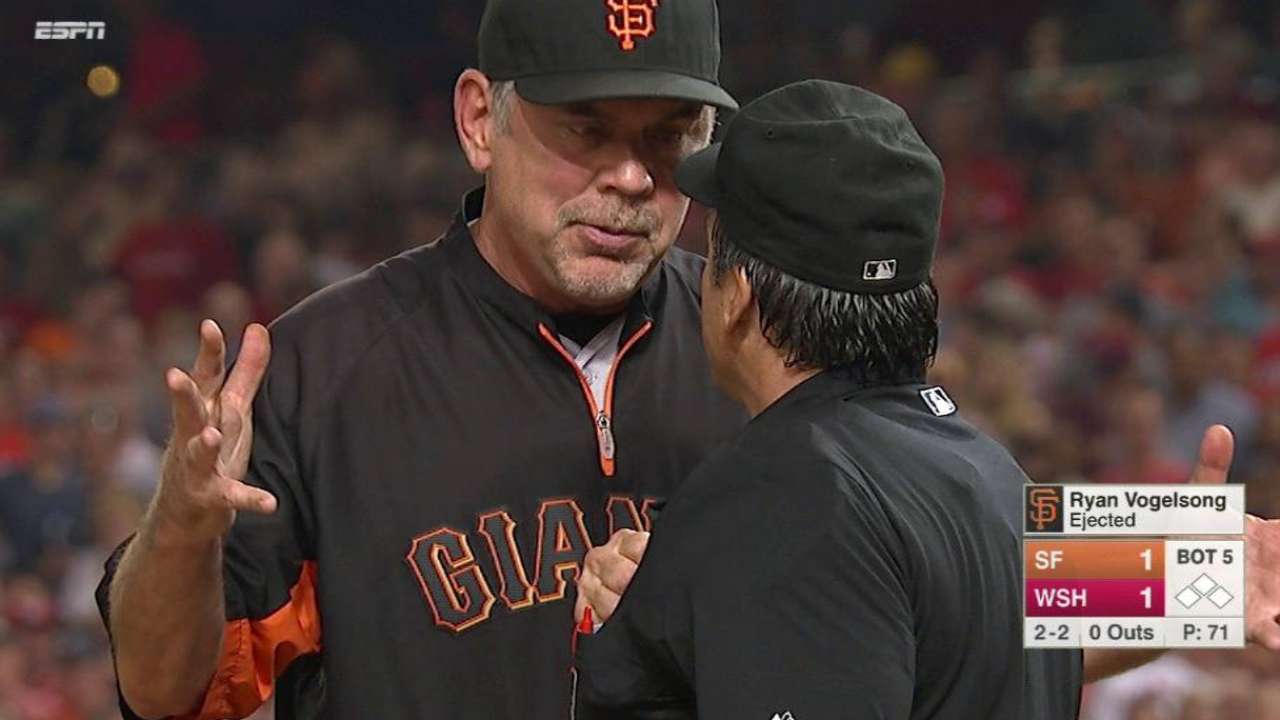 WASHINGTON -- The intensity of yet another tight ballgame, combined with the irritation caused by a long losing streak, created a toxic combination for the Giants as manager Bruce Bochy and right-hander Ryan Vogelsong were thrown out of Sunday night's series finale against the Washington Nationals within seconds of each other.
The discontent reflected the Giants' overall mood after their 3-1 loss concluded an 0-6 trip that dropped them dangerously close to the .500 mark (42-41).
Nobody, however, can accuse the Giants of not caring. The passion expressed by Bochy and Vogelsong dispelled that notion.
With the score tied, 1-1, and Denard Span leading off Washington's fifth inning, tempers escalated after Vogelsong threw a 1-2 pitch the Giants considered a strike. Vogelsong spun around, expressing his disgust over the call with non-verbal communication. Television cameras caught Bochy yelling at plate umpire Phil Cuzzi, who noticed Vogelsong's gyration.
Vogelsong then advanced toward Cuzzi, who threw up his hand and ordered Vogelsong to stop. Seconds later, Cuzzi issued Vogelsong his first career ejection. Incredulous that Vogelsong had been tossed for saying apparently little or nothing, Bochy marched toward Cuzzi and demanded an explanation. He got banished to the clubhouse instead.
The umpires delivered their side of the story to a pool reporter.
"Well, [Vogelsong] obviously didn't like the 1-2 pitch to Span, and he kind of made a little gesture on the mound and that set off Bochy, and that was pretty much it," Cuzzi said.
Crew chief Gerry Davis said in support, "The ejection was that he warned him not to come off the mound, and he did."
Asked whether anything was said to Vogelsong that prompted him to leave the mound, Cuzzi replied, "Well, any comments on the field will be in the report. But as Gerry said, the important thing was that he had ample time. It was very clear that I gave him a verbal warning as well as putting my hand up in the air. And I think he knows he can't do that. And he had plenty of time to change his mind and decide if he was still going to come down off the mound toward the plate anyway."
Vogelsong admitted he and Cuzzi exchanged words, but declined to divulge details.
"Obviously, I was frustrated with the pitch," Vogelsong said. "I guess he was frustrated with my reaction. ... He was taking some chatter from the dugout, so he probably wasn't happy about that."
Vogelsong expressed a measure of contrition: "I pitch with a lot of emotion all the time. Tonight it just boiled over and got the best of me. It's not going to stop me from pitching with emotion. I just have to do a better job of containing it."
Vogelsong shouldn't have had to make such remarks, in Bochy's view.
"To me, you have to be a little patient," said Bochy, who was ejected for the third time this season. "... I get that [Vogelsong] took some steps there, but ... let's tolerate a little bit here. There's frustration, as there should've been. I mean, there were some calls ... Vogey didn't say anything to him. ... I'm sure he learned from it, but he's a competitor and he thought he got challenged there. That's why he took a few steps, I guess, to talk to him, and he got thrown out."
Asked what he said to Cuzzi to warrant ejection, Bochy said, "That's between me and the umpire. I'm not going to get into what we talked about."
Chris Haft is a reporter for MLB.com. Read his blog, Haft-Baked Ideas, follow him on Twitter at @sfgiantsbeat and listen to his podcast. This story was not subject to the approval of Major League Baseball or its clubs.