MLB.com Columnist
Barry M. Bloom
At halfway point, pitching depth a concern for Dodgers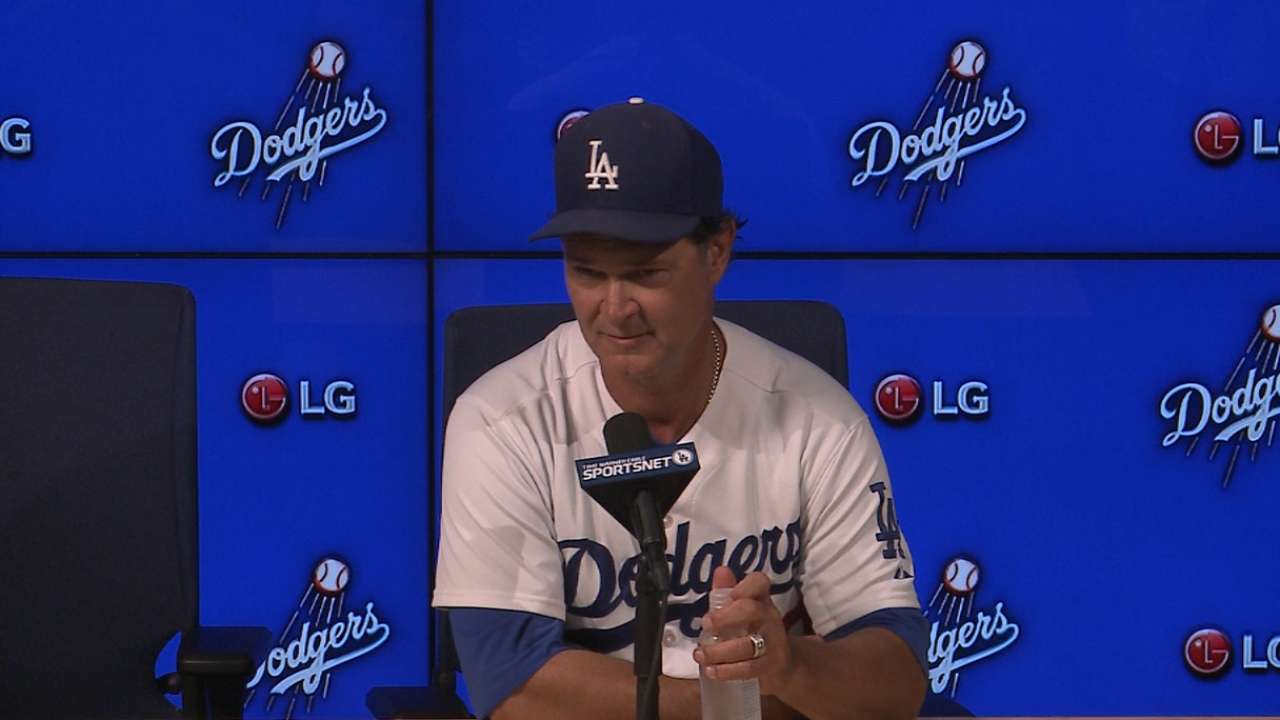 LOS ANGELES -- The second half of the season for the Dodgers began just about the way the regular season began -- with another starting pitcher placed on the disabled list.
At the end of Spring Training it was Hyun-Jin Ryu, who was lost for the season after surgery to correct an impingement in his left shoulder. On Sunday, it was Carlos Frias, out now for at least 15 days with a back issue. Along the way, the Dodgers also lost Brandon McCarthy to Tommy John surgery.
Putting together a back end of the rotation behind Clayton Kershaw and Zack Greinke has been the most challenging element of the season's first 83 games, manager Donnie Mattingly said on Sunday before his club dropped an 8-0 decision to the Mets at Dodger Stadium.
"That's 100 percent true," Mattingly said. "It's not like we lost guys for a few weeks. We've lost guys that we were counting on for the whole season. Obviously that's a blow, but we're fortunate to have some quality guys who have gone out there and done a good job for us."
On Sunday, the Mets -- the second-worst hitting team in the Major Leagues with a .234 batting average -- had their way with Mike Bolsinger, who pitched five innings, giving up four runs on nine hits. The last time out, last Monday in Arizona, Bolsinger barely made it through four innings because of food poisoning in what turned out to be a 10-6 loss.
The Dodgers dropped two of three here to the Mets and were dominated by young pitchers Noah Syndergaard and Steven Matz, who threw six innings of scoreless, two-hit ball on Sunday.
They'll use a stopgap starter in place of Frias on Monday night here against the Phillies. The Dodgers are calling up left-hander Eric Surkamp from Triple-A Oklahoma City. Surkamp has made six big league starts for the Giants and White Sox, and although Mattingly hasn't officially named him, he'll most likely start against the Phils.
Surkamp is not yet on the 40-man roster, so there has to be some maneuvering if he is to be the guy.
Despite all of this, the Dodgers are 46-37 and lead the defending World Series-champion Giants by four games in the National League West. The Dodgers' team ERA of 3.30 is third best in the Major Leagues behind the Cardinals (2.59) and Pirates (2.90) and their starters are fifth at 3.21. So something has to be going right.
"I'm pretty much happy to be where we are, considering it all, yeah, I'd say that," Mattingly said. "As a manager, you're always looking for your team to be better and get better. You know how much baseball there still is to be played. So it's always stay humble, but I think for what we've been through, we've been able to sustain. We've kind of hung in there and been steady."
Greinke and Kershaw have anchored the starting staff. Last year's MVP and Cy Young Award winner, Kershaw has been a mere mortal this season with a 5-6 record, 3.08 ERA and 147 whiffs. Still, opponents are hitting .216 against him (as opposed to .196 last year), and his WHIP is 1.04.
Greinke is 7-2 with an MLB leading 1.48 ERA that includes no runs scored against him in his last 27 2/3 innings. Opponents are batting .200, and the quirky right-hander has an out-of-this-world 0.89 WHIP. He's allowed only 20 walks while striking out 98 -- pretty good numbers in his walk year to free agency.
Behind them are Brett Anderson (5-4, 3.00 in 16 starts) and a lot of question marks.
The Dodgers are not the only ones. The Giants went the entire first half of the season without Matt Cain and Jake Peavy. Now that they are back, Tim Hudson (sore right shoulder) and Tim Lincecum (hit by a liner on the right forearm) have replaced them on the DL.
As play heads into next week's All-Star break, four of the same five teams as last year in the NL are heading toward the postseason: Washington, St. Louis and Los Angeles are leading their respective divisions, and the Pirates, who actually have a better record than the Dodgers, are holding on to the first Wild Card slot.
The Dodgers have won the NL West two years running, but were knocked out of the postseason both times by the Cardinals, who have basically had their way with Kershaw. Every season is different, and this one certainly is no exception.
"The league has been more of a .500-type league this year," Mattingly said. "Everybody has been kind of beating each other up. We've played a lot of games within our own division. And it seems like when you do that you know each other so well there's a lot of parity. That's the way it's been except the Giants beating up on us."
To that point, the Giants have won nine of the 12 games so far between the two teams. But the Dodgers have offset that by winning nine out of 12 against the D-backs. Last year, the Dodgers were 15-4 against the D-backs, and that was more than the difference in winning the West by six games over the Giants.
But last year, the Dodgers didn't have these starting pitching woes, so stay tuned.
Barry M. Bloom is a national reporter for MLB.com and writes an MLBlog, Boomskie on Baseball. Follow @boomskie on Twitter. This story was not subject to the approval of Major League Baseball or its clubs.