Flores enjoys breakout series in LA
Mets second baseman goes 10-for-13 with five RBIs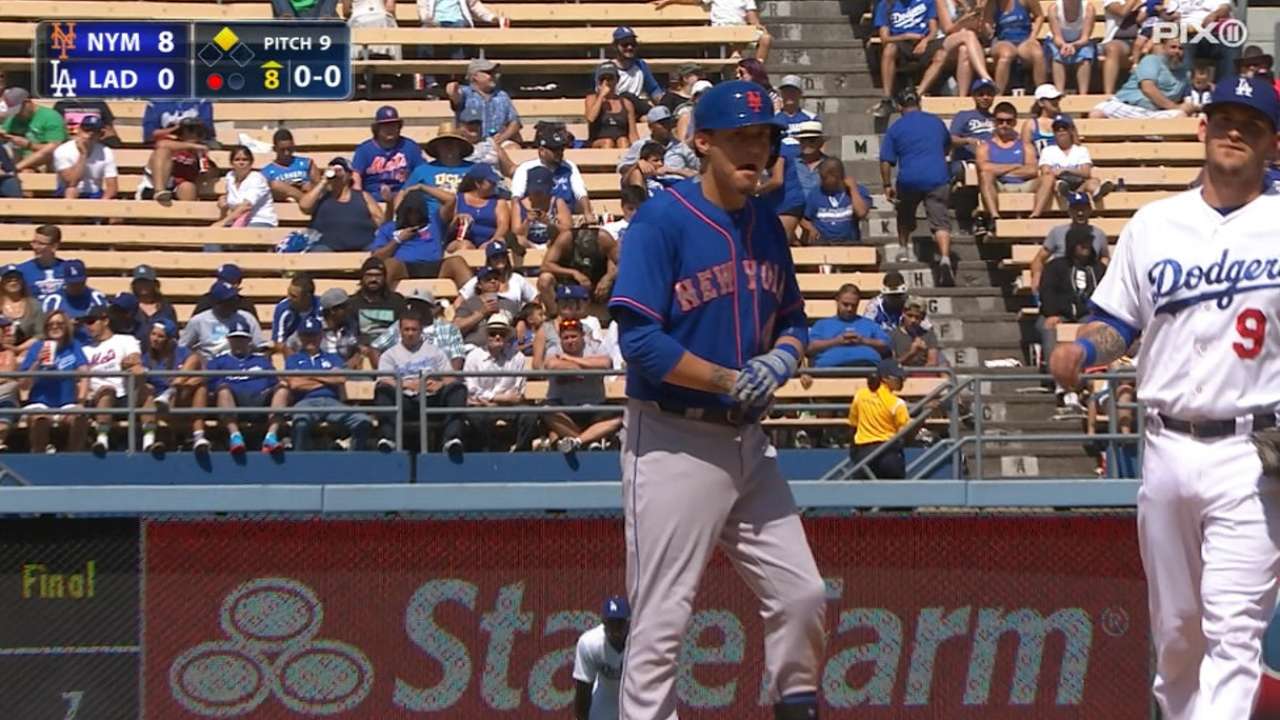 LOS ANGELES -- Coming into this weekend, the dirty little secret about Wilmer Flores' season had nothing to do with his struggles at shortstop, and everything to do with his performance at the plate. For months, the Mets have insisted they could deal with Flores' defensive deficiencies due to his offensive potential. But Flores simply was not vindicating his bosses, posting a .152 batting average and .361 OPS from June 17 through July 1.
Whether his recent move to second base had anything to do with his sudden turnaround is nothing more than conjecture. But Flores has broken out since shifting defensive positions, rapping out four hits in the Mets' 8-0 win over the Dodgers on Sunday. He finished 10-for-13 in the three-game series with two doubles and five RBIs.
"Wilmer's really swinging the bat good right now," Mets manager Terry Collins said.
More than anything else, Flores' hits early in the weekend were a motley collection of dinks, dunks and bleeders. But they were overwhelmingly important for a Mets team receiving offense from precious few other sources. Flores' first hit Friday drove in a game-tying run, for example, while his second one -- a tapper back toward the mound -- furthered the game-winning rally.
The next day, Flores gave the Mets late lift with the third of his three hits, poking an RBI single into left field in the eighth. Sunday, he drove home the club's first, fourth and eighth runs, collecting his two doubles in his final two at-bats.
"It was just pitch selection, that was it," Flores said. "Nothing more than that."
There may, however, be a little something more to it. Three of Flores' 10 hits on the weekend went to right field, suggesting he is beginning to change his approach at the plate. Flores' RBI single in the first inning Sunday, for example, came on a cut fastball off the outside corner of the plate.
"He's hitting the ball to right field," Collins said. "He's not trying to pull things. They're pitching him away and he's taking hits the other way. Certainly, that's what good hitters have to do."
Anthony DiComo is a reporter for MLB.com. Follow him on Twitter @AnthonyDiComo and Facebook, and listen to his podcast. This story was not subject to the approval of Major League Baseball or its clubs.