MLB.com Columnist
Barry M. Bloom
Future is bright for Mets with Matz on mound
Young lefty keeps Dodgers scoreless in 2nd career start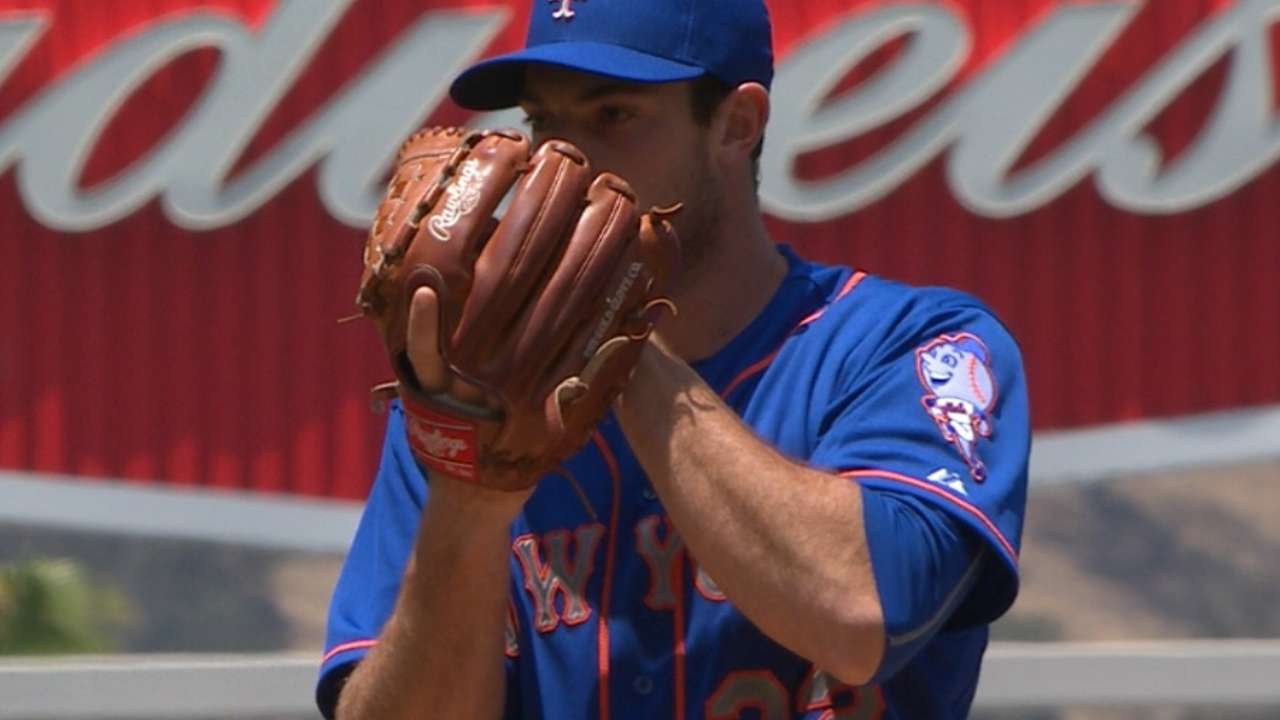 LOS ANGELES -- No one can really say this enough: The Mets have so much good, young, frontline pitching. There's a bright future in store for an organization that hasn't made the playoffs since 2006 or won a World Series since 1986.
"I don't think it's the future, I think it's right now," said Mets captain David Wright on Sunday.
Steven Matz, a 24-year-old left-hander, was the latest young Mets pitcher to come up big. He made his second career Major League start at Dodger Stadium and led the Mets to an 8-0 victory over the Dodgers. He's now 2-0 with a 1.32 ERA.
Utilizing mostly his fastball, Matz toyed with the first-place team in the National League West, holding the Dodgers to no runs on two hits -- both singles -- with two walks and eight strikeouts when manager Terry Collins lifted him after six innings and 101 pitches.
Add right-hander Noah Syndergaard's six innings of one-run, two-hit ball in a 2-1 win here Friday night and the Mets took two out of the three games here this weekend. Despite the second-lowest-ranked offense in the Major Leagues, it should still come as no surprise.
"No question, it seems like we have arm after arm that we're developing," said Wright, who is still trying to make it back off the disabled list, because of stenosis of his lower spine, sometime this season. "It's a pretty special thing to watch."
This was the reason why Wright made an eight-year, $138 million commitment to remain with the Mets as their third baseman in December 2012. Now, all he has to do is get healthy enough to join in on what appears to be an embarrassment of riches.
Matz is from Stony Brook, N.Y., on Long Island, some 50 miles east of Citi Field. The Mets picked him out of Ward Melville High School in the second round of the 2009 First-Year Player Draft.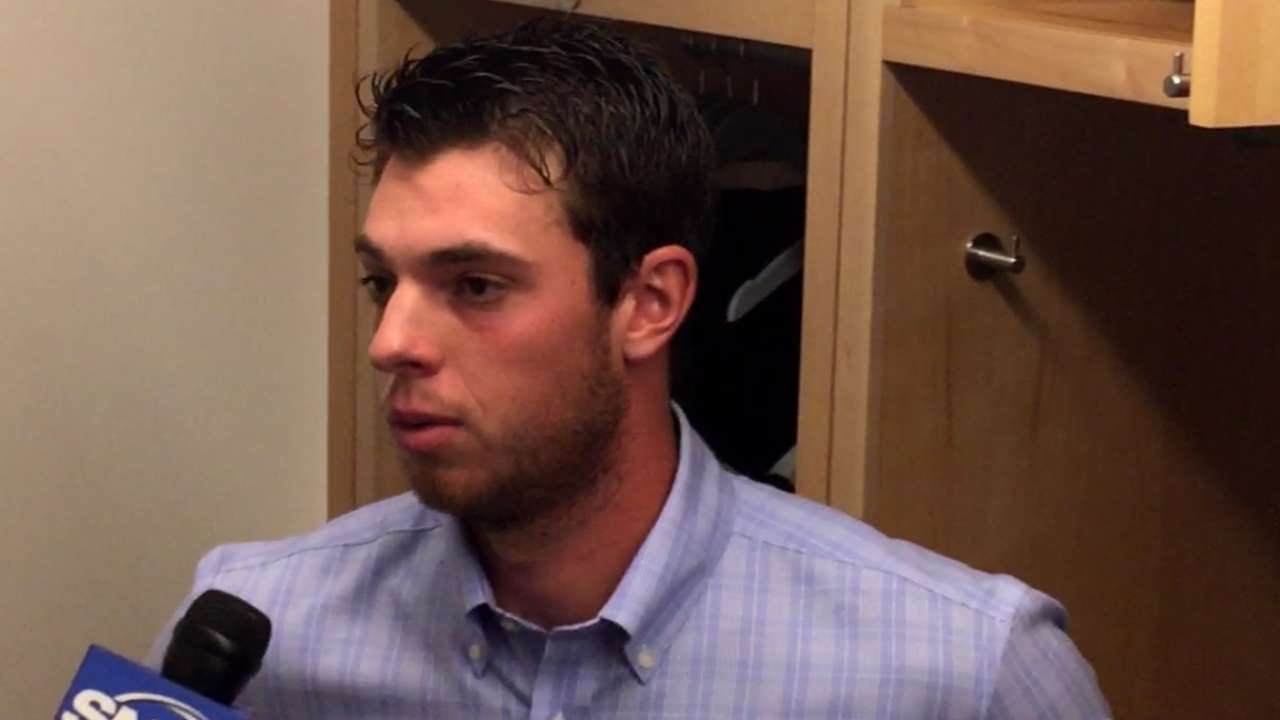 During his first game a week ago in Flushing, Matz had 130 friends and family members in the stands as he became the first pitcher ever to drive in four runs in his Major League debut, a 7-2 victory over the Reds. Matz was also the first Mets player in franchise history at any position to have four RBIs in his first big league game. He did it with a two-run double and a two-run single.
And, oh yeah, Matz allowed two runs on five hits, walking three and whiffing six in 7 2/3 innings.
A week later and 3,000 miles to the west, Matz matched that dominant pitching performance on the same mound where Sandy Koufax, Don Drysdale, Don Sutton, Orel Hershiser, Clayton Kershaw and so many other Dodger greats have pitched. This time, though, he went 0-for-3 at the plate with another RBI on a fourth-inning grounder to second.
"It's been a lot of fun. It's been great. It's been a good learning experience so far," Matz said about his first two games. "I'm going to keep on learning and keep trying to get better."
If there's any downside to the Mets' young Turk pitching staff, it is that three of the current six starters have already had Tommy John surgery on their pitching elbows -- Matz, Jacob deGrom and Matt Harvey, who is in his comeback season from that surgery. Zack Wheeler is also in a recovery stage and is not expected to return until next year.
Matz had the surgery on May 28, 2010, as a 19-year-old, not long after his final high school season. He missed his first two years as a pro, and slowly made his way back through the Mets' Minor League system until he was called up last month.
Just like the other young pitchers, the Mets are being cautious with Matz, restricting him to 100 pitches on Sunday.
"After his last start he was a little stiffer than we liked," Collins said. "[Pitching coach] Dan [Warthen] had him throw a little between starts and he was still a little stiff, so we said the other day we were going to have to back him down today."
Collins said the stiffness was in a muscle under Matz's left arm, but it certainly didn't restrict his motion. He came right at the Dodgers in the first inning, striking out Howie Kendrick and Justin Turner swinging after Kiké Hernandez opened with a single.
Matz then showed no fear, throwing up and in to Adrian Gonzalez, hitting him squarely on the right hand. Gonzalez came out of the game for a pinch-hitter in the fourth inning because of what the Dodgers called a contusion. No X-rays were taken, and Gonzalez said he expected to play here against the Phillies on Monday.
Collins wouldn't necessarily call it a purpose pitch, but coming inside to A-Gon was no coincidence.
"He hit two changeups for homers [one each on Friday and Saturday]," Collins said. "One of the things we tried to do today was throw harder and throw up and [Matz] just missed inside and clipped him. Certainly, it was unintentional. It's just part of the game."
Like Wright, only a visitor to the clubhouse this weekend as he continues his rehab in Los Angeles, Collins is certainly bullish about all this young Mets pitching.
But as an old pro who has managed so many times before, he knows the difference between potential and consistent performance.
"When [Matz] gets through the league and people know what he's got, he'll have to start making some adjustments. But this guy has got outstanding stuff. You saw it today," Collins said. "He's got three plus pitches. He throws strikes. He doesn't beat himself. He's a great athlete. He fields his position. He handles the bat. He's going to be really good."
Barry M. Bloom is a national reporter for MLB.com and writes an MLBlog, Boomskie on Baseball. Follow @boomskie on Twitter. This story was not subject to the approval of Major League Baseball or its clubs.