Teixeira, McCann could get All-Star nod
Girardi believes Yanks have five players worthy of taking part in Midsummer Classic
For the first time in 16 years and just the second time since 1992, the Yankees will not have a fan-elected starter in the All-Star Game, as the American League's starting lineup was revealed on Sunday evening without including a pinstriped representative.
The Yankees still have a number of deserving candidates hoping to hear their names called on Monday, when the reserves, pitching staff and Final Vote candidates are outlined by Major League Baseball at 7 p.m. ET on ESPN.
Yankees manager Joe Girardi said that he believes strong cases can be made for five members of his team to go to Cincinnati: outfielder Brett Gardner, catcher Brian McCann, first baseman Mark Teixeira, designated hitter Alex Rodriguez and right-hander Dellin Betances.
"Will we get five people? I don't know," Girardi said on Sunday. "But I think those guys are deserving. Every year, guys get short-changed. It's just the way the system works."
Last season, the Yankees were represented in the Midsummer Classic by shortstop Derek Jeter, Betances and right-hander Masahiro Tanaka, who did not attend due to injury.
On Monday at 7 p.m. ET, the All-Star reserves, pitchers and Final Vote candidates will be announced on the Esurance All-Star Selection Show on ESPN. Immediately following the show, fans can return to MLB.com to begin voting to select the final player for each League's 34-man roster via the 2015 Esurance All-Star Game Final Vote. Fans can cast their votes from a list of five players from each league until 4 p.m. ET on Friday, July 10.
And the voting doesn't end there. During the Midsummer Classic in Cincinnati on Tuesday, July 14, fans can once again visit MLB.com to submit their choice for the Ted Williams Most Valuable Player Award. Voting exclusively at MLB.com, online and via their mobile devices in the 2015 All-Star Game MLB.com MVP Vote, the fans' collective voice will represent 20 percent of the overall vote that determines the recipient of the Arch Ward Trophy.
MLB.TV Premium subscribers will be able to live stream the All-Star Game via MLB.TV through FOX's participating video providers. Access will be available across more than 400 supported MLB.TV platforms, including the award-winning MLB.com At Bat app. MLB.com will provide extensive online coverage of the All-Star Week festivities, including the 2015 Gillette Home Run Derby presented by Head & Shoulders, part of Gatorade All-Star Workout Day on Monday, July 13. The Derby will feature a new format with brackets and timed rounds and will be broadcast live by ESPN and MLB.com beginning at 8 p.m. ET.
The 86th All-Star Game will be televised nationally by FOX Sports (7 p.m. ET air time, 8:15 first pitch), in Canada by RogersSportsnet and RDS, and worldwide by partners in more than 160 countries. ESPN Radio and ESPN Radio Deportes will provide exclusive national radio coverage of the All-Star Game. MLB Network and SiriusXM will also provide comprehensive All-Star Week coverage. For more information, please visit allstargame.com.
Outfielder Jacoby Ellsbury led all Yankees in total votes at every checkpoint in the balloting process, but he has been sidelined since mid-May with a right knee injury. In Ellsbury's absence, Gardner has enjoyed a hot run at the top of the lineup, batting .351 with 27 runs scored, 11 doubles, two triples, five homers and 18 RBIs in June.
Gardner, who entered play on Sunday ranked third in the Majors with 60 runs scored, said that it would be meaningful to make his first All-Star Game based upon the player vote.
"There's some guys that are having good years, not just in the outfield but all around," Gardner said. "I think that with homefield advantage of the World Series, it's a pretty big deal. It's pretty important. Hopefully the best team goes."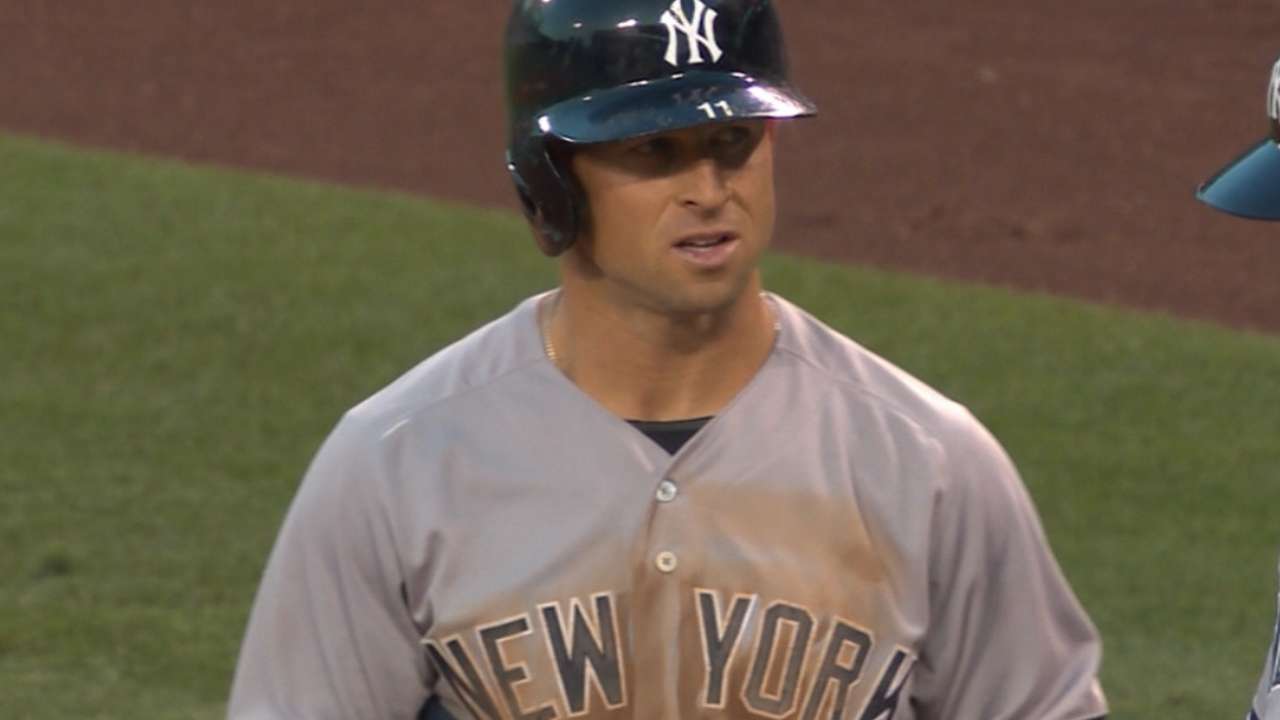 McCann has enjoyed a strong summer in his second year with the Yankees, raising his season average 33 points since May 20 by batting .296 (34-for-115) with nine homers and 31 RBIs over that span. A seven-time National League All-Star, McCann has 52 RBIs in 67 games; he did not reach 52 RBIs last season until his 109th game, on Aug. 24.
"Anytime you get to participate in that game, it's special," McCann said. "But we've got a lot of guys in this clubhouse that are deserving to go, and we'll see how it goes."
Teixeira has quieted concerns about his recovery from a right wrist injury, embracing the value of slugging percentage. Despite batting just .243 overall, of Teixeira's 64 hits, 36 of them have gone for extra bases -- 16 doubles and 20 home runs.
A two-time All-Star, Teixeira's case could be bolstered by an injury to the Tigers' Miguel Cabrera, who is on the disabled list for the first time in his career.
Rodriguez has opted to let his bat do the talking since returning from a performance-enhancing drug suspension that cost him all of 2014, and it has spoken loudly. A season that has seen Rodriguez pass Willie Mays on the all-time home run list and join the 3,000 hits club could conceivably include his 15th career All-Star nod.
"I'm trying to just keep my head down and play baseball, and really just enjoy the fact that I get to wear the Yankees uniform every day and help us win a championship," Rodriguez said.
Girardi said that Rodriguez's numbers stack up against the other AL designated hitters, and he should not be penalized because of his past drug use.
"I hope that's not what people are looking at, because as the American League, you're trying to win the game. It's important," Girardi said. "So I hope people can put that behind them. I'm sure there's been other All-Stars that have had some sins against them that have been chosen. So I think he's an All-Star."
Betances has been dominant in the late innings, taking over the closer's role after a recent injury to Andrew Miller. Betances led all Major League relievers with 68 strikeouts entering play on Sunday and did not allow an earned run in 26 appearances to begin the season, setting a club record.
Girardi said recently that he will be as curious as anyone to see how the results ultimately shake out.
"It's hard to say," Girardi said. "I think at one point, every Kansas City position player was [leading the] voting, and I think that's changed. Sometimes you can't figure out how the voting is going to go."
Bryan Hoch is a reporter for MLB.com. Follow him on Twitter @bryanhoch, on Facebook and read his MLBlog, Bombers Beat. This story was not subject to the approval of Major League Baseball or its clubs.