K-Rod, Braun, Lind to learn ASG fate tonight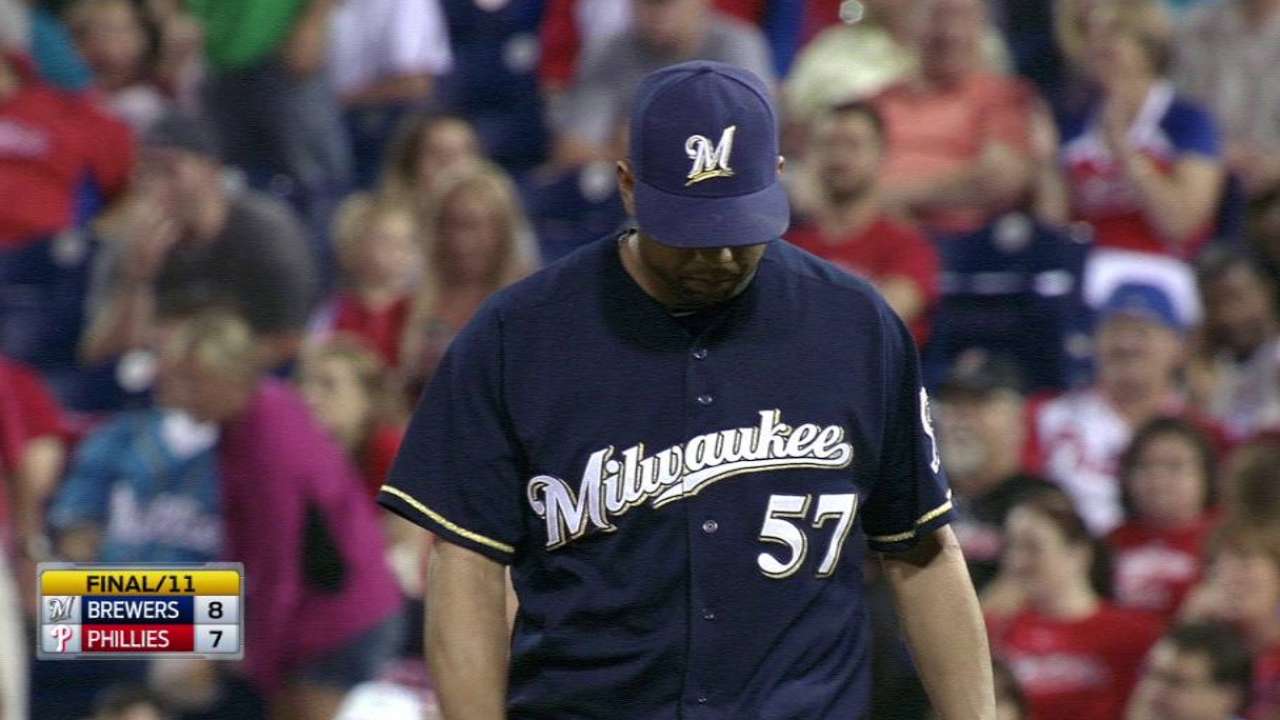 The Brewers must wait one more day to learn who will represent the team at this season's All-Star Game in Cincinnati.
After comprising a third of the National League's starting lineup for last season's event, the Brewers were shut out when starters were announced for the 2015 Midsummer Classic on Sunday. They'll learn who is heading to Cincinnati on Monday night, when pitchers and reserves are announced in a primetime special.
It was a different scenario in 2014, when the Brewers sat atop their division and catcher Jonathan Lucroy, third baseman Aramis Ramirez and outfielder Carlos Gomez all started for the NL squad in Minneapolis, with Francisco Rodriguez making the team as a reserve and pitching in relief.
Every team gets at least one All-Star Game participant, and the Brewers, despite sitting in the NL Central cellar for most of the season, have a handful of candidates:
Rodriguez: The frontrunner to represent Milwaukee, closer Rodriguez would be an All-Star for the second straight season, and for the sixth time in his career. He entered Sunday having converted all 18 save opportunities this season with a 1.45 ERA, a .168 batting average against and 27 scoreless appearances in 31 games. His streak of 23 converted saves was the third-longest active run in the Major Leagues, behind the Twins' Glen Perkins and the Pirates' Mark Melancon.
As much as has gone wrong for the Brewers, Rodriguez represents one thing that has gone right. He signed a two-year contract with a 2017 option just before the start of Spring Training. Now he might be the Brewers' only All-Star.
"It's an honor, more than anything else," Rodriguez said last week during a theoretical discussion about his candidacy. "It's a big deal."
Ryan Braun: After making the All-Star team in each of his first five full Major League seasons, Braun has missed the cut for the past two while dealing with fallout from his suspension for violations of MLB's PED policy, plus an injury to his right thumb. But he's back to producing in 2015, entering Sunday with the fifth-best OPS (.835) among regular NL outfielders and the second-most RBIs since April 28 (50) of any NL players, regardless of position.
The question is whether there is room for him in a field of qualified NL outfielders.
Adam Lind: Likewise, Lind faces a numbers game at first base. But he has provided exactly the offensive jolt the Brewers were looking for when they traded with the Jays for him in December, with an .877 OPS that ranks fifth among the league's regular first basemen. Lind has never been an All-Star.
On Monday at 6 p.m. CT, the All-Star reserves, pitchers and Final Vote candidates will be announced on the Esurance All-Star Selection Show on ESPN. Immediately following the show, fans can return to MLB.com to begin voting to select the final player for each league's 34-man roster via the 2015 Esurance All-Star Game Final Vote. Fans can cast their votes from a list of five players from each league until 3 p.m. CT on Friday, July 10.
And the voting doesn't end there. During the Midsummer Classic in Cincinnati on Tuesday, July 14, fans can once again visit MLB.com to submit their choice for the Ted Williams Most Valuable Player Award. Voting exclusively at MLB.com, online and via their mobile devices in the 2015 All-Star Game MLB.com MVP Vote, the fans' collective voice will represent 20 percent of the overall vote that determines the recipient of the Arch Ward Trophy.
MLB.TV Premium subscribers will be able to live stream the All-Star Game via MLB.TV through FOX's participating video providers. Access will be available across more than 400 supported MLB.TV platforms, including the award-winning MLB.com At Bat app. MLB.com will provide extensive online coverage of the All-Star Week festivities, including the 2015 Gillette Home Run Derby presented by Head & Shoulders, part of Gatorade All-Star Workout Day on Monday, July 13. The Derby will feature a new format with brackets and timed rounds and will be broadcast live by ESPN and MLB.com beginning at 7 p.m. CT.
The 86th All-Star Game will be televised nationally by FOX Sports (6 p.m. CT air time, 7:15 first pitch), in Canada by Rogers Sportsnet and RDS, and worldwide by partners in more than 160 countries. ESPN Radio and ESPN Radio Deportes will provide exclusive national radio coverage of the All-Star Game. MLB Network and SiriusXM will also provide comprehensive All-Star Week coverage. For more information, please visit allstargame.com.
Adam McCalvy is a reporter for MLB.com. Follow him on Twitter @AdamMcCalvy, like him on Facebook and listen to his podcast. This story was not subject to the approval of Major League Baseball or its clubs.