Cron's big weekend keys Angels' win streak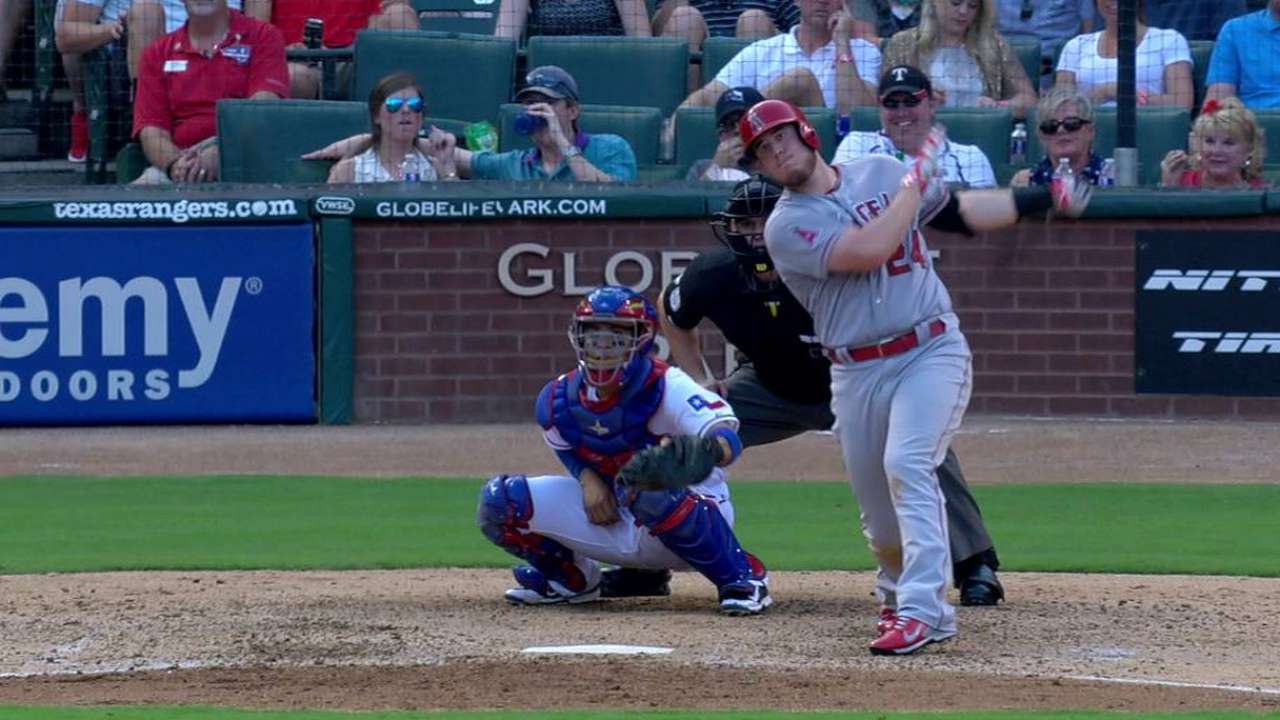 ARLINGTON -- C.J. Cron doesn't have any grand explanation for why he is 7-for-9 with a home run and seven RBIs in his past two games, and he also can't explain why he is hitting .529 in 34 at-bats against the Rangers this season.
After a 12-6 Angels win to complete a three-game sweep in Texas on Sunday, sometimes it's better to not worry about explanations and take things as they are.
"As a hitter, that's kind of what you're aiming for -- to be on time and swing at good pitches," Cron said. "That kind of determines your fate. I guess I got some good pitches to hit the past couple of days, and, thankfully, I put good swings on them."
A day after a career-high six RBIs in a 3-for-4 effort, Cron followed up by matching a career high with four hits. Cron was 4-for-5 with a double and an RBI on Sunday, finishing the three-game series 8-for-14 to bring his season average to .238.
His production, in addition to a slew of contributions throughout the Angels' lineup, helped fuel a series in which the Angels outscored the Rangers, 33-8.
"It feels good," Cron said. "It also feels good that we're up 10 runs. It's a nice change of pace that we're scoring a lot of runs, and that's kind of what we came here hoping to do."
The Angels have won seven of eight, and Angels manager Mike Scioscia named production from the Angels' Nos. 5-9 hitters as a big reason.
"Not only C.J., but if you're looking at Matt Joyce, Chris Iannetta, they're all important," Scioscia said. "David Freese getting back into his game. For a while, our lineup really would fall off a cliff after you got to a certain point in it, because guys just weren't productive like they can be."
Cron serves as a symbol for the Angels' lineup as whole -- he has offensive potential and natural power that has wowed his teammates, but he hasn't found consistency. Cron has been in and out of the lineup, up and down between the Majors and Triple-A.
Cron might not get at-bats as the Angels travel for a two-game Interleague swing at Colorado, but Scioscia said he hopes Cron can be productive for the rest of the season.
And the same goes for the entire lineup.
"As those guys get into their games and our lineup deepens -- not that we're going to have the production we did this weekend -- but we're going to be able to pressure teams on a regular basis," Scioscia said.
Cody Stavenhagen is an associate reporter for MLB.com. This story was not subject to the approval of Major League Baseball or its clubs.