MLB.com Columnist
Fred Zinkie
5 fantasy predictions for the second half
Correa, Burns, Betts could soar after the All-Star break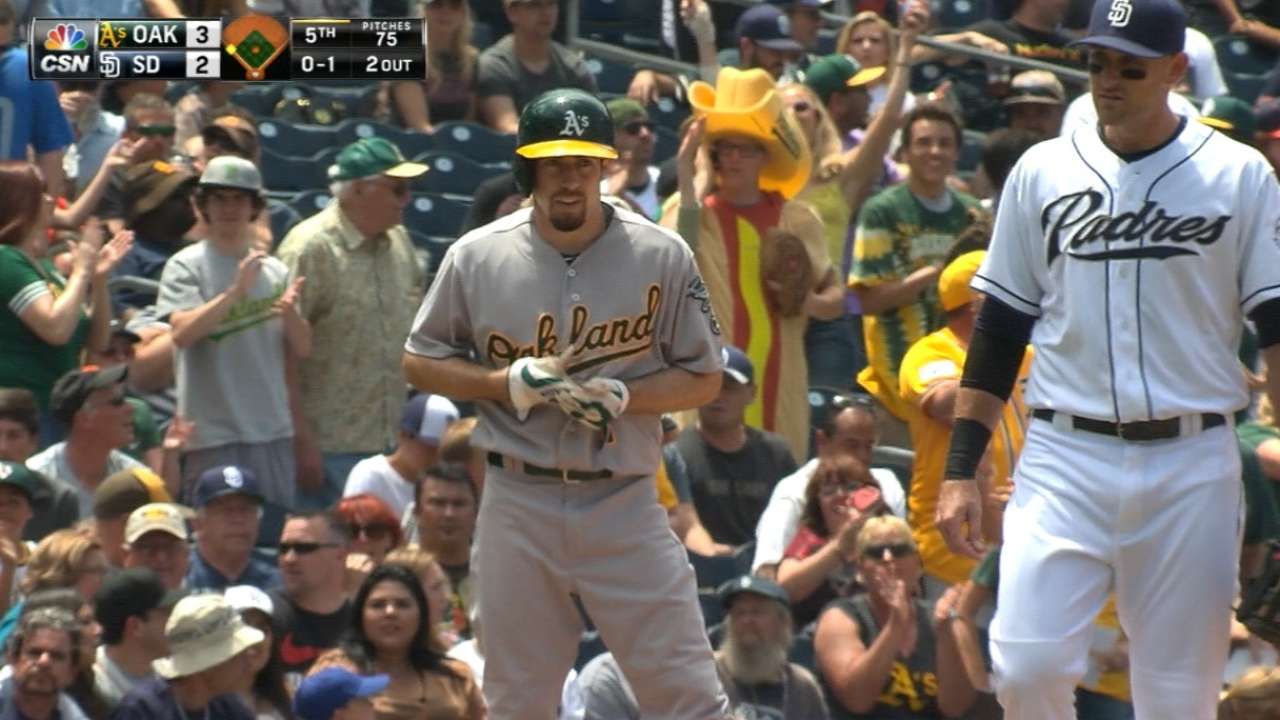 After having a fair amount of success with my bold April Fools' Day predictions, I decided to take a crack at speculating on the second half of the season. The following five predictions may seem like a stretch at the moment, but they will make perfect sense in early October.
Carlos Correa will be the No. 1 fantasy shortstop in the second half
The 20-year-old has taken the Majors by storm, with seven homers and five steals across his initial 112 plate appearances. Even at such a young age, this elite prospect may be ready to threaten the 15-mark in both homers and steals during the second half of the season. Hanley Ramirez and Troy Tulowitzki are the top dogs among fantasy shortstops at the moment, but they are both injury-prone veterans who could miss time during the second half.
Billy Burns will finish the season as the American League stolen-base leader
Burns sits second in the Junior Circuit with 17 steals, trailing Jose Altuve by seven swipes. The Astros second baseman is surely the favorite to take home the stolen-base crown, and veterans Brett Gardner, Lorenzo Cain and Rajai Davis are nipping at Burns' heels. But the A's leadoff hitter is arguably the speediest player among all the contenders, and he should have plenty of opportunities if he continues to hit over .300. I expect Burns -- who did not play in the Majors during April -- to literally run away with the AL stolen-base title.
Jose Fernandez will not exceed five wins after the All-Star break
With a career 2.31 ERA and a 0.98 WHIP, Fernandez could be among the best pitchers in baseball during the second half of this season. But many hurlers experience a slight performance dip after returning from Tommy John surgery, and the right-hander may not have much margin for error in an effort to compile wins. The Marlins' offense has struggled to get on track this season and could hit hard times while working without injured centerpiece Giancarlo Stanton in the coming weeks. If kept on low pitch counts during his initial 2015 outings, Fernandez may not last long enough to allow his lineup to provide the necessary run support for victories.
The Nationals' rotation will be fantasy gold
Washington was expected to provide five effective fantasy starters for the 2015 season. And though Max Scherzer (0.78 WHIP) has exceeded expectations, Stephen Strasburg (1.49 WHIP), Jordan Zimmermann (1.23 WHIP), Gio Gonzalez (1.43 WHIP) and Doug Fister (1.36 WHIP) have all been fantasy disappointments. However, now is a good time to buy low on the Nationals starters. Washington's NL East foes -- the Mets, Braves, Marlins and Phillies -- each possess below-average offenses, and four of the five NL East parks are pitcher-friendly venues. Washington will face their divisional foes in 38 of its 74 games after the Midseason Classic.
Mookie Betts will be a top-10 outfielder
After a slow start to the season that could be partially attributed to a low BABIP, Betts has hit .335 with four homers and eight steals across 189 plate appearances since May 19. The 22-year-old possesses the necessary plate skills and wheels to be an elite fantasy outfielder, and he will maximize his opportunities by hitting high in Boston's lineup each day. Betts was a top-20 outfielder during June, but he has the ability to push his standing even higher during the second half. Fantasy owners should expect a .300 average, 10 homers, 15-20 steals and close to 50 runs scored across the final three months of the season.
All statistics are accurate through the completion of Sunday's games.
Fred Zinkie is the lead fantasy baseball writer for MLB.com. Follow him on Twitter at @FredZinkieMLB. This story was not subject to the approval of Major League Baseball or its clubs.