Dodgers tap Garcia to make first MLB start
Surkamp called up from Triple-A Oklahoma City as L.A. options Coulombe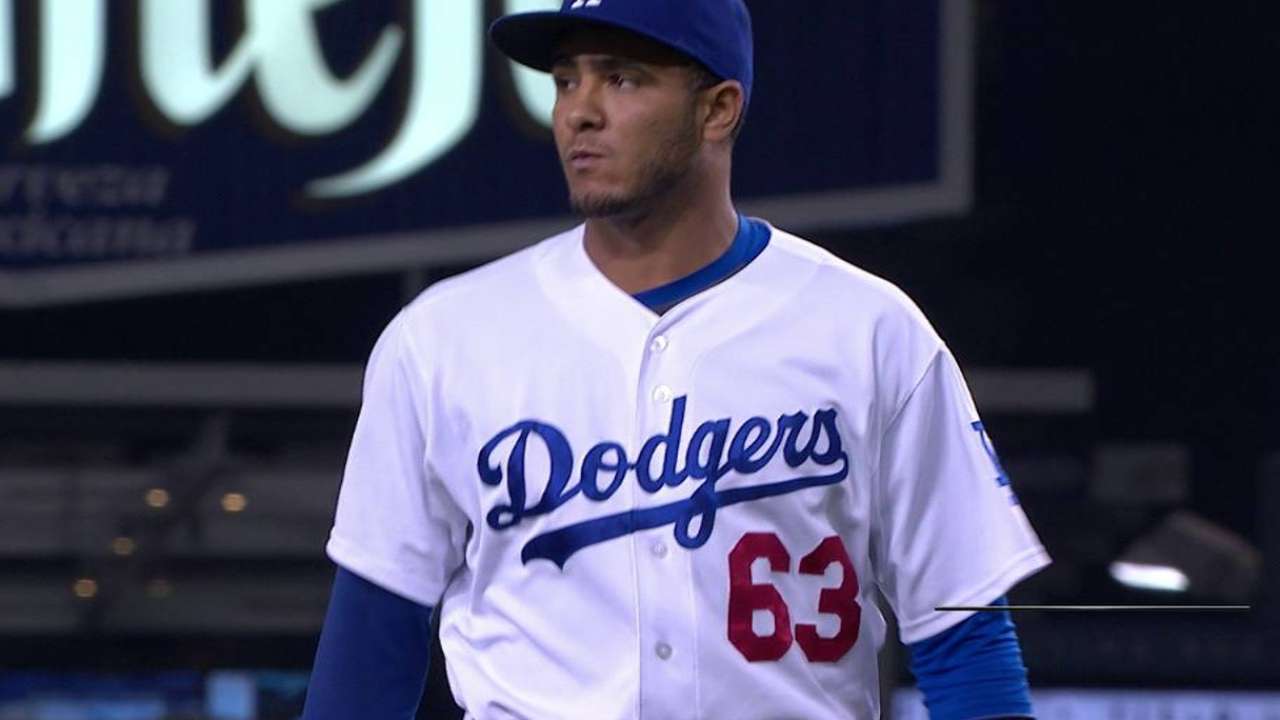 LOS ANGELES -- Dodgers manager Don Mattingly finally announced that reliever Yimi Garcia would make his first Major League start Monday night against the Phillies, while left-handed pitcher Eric Surkamp was promoted from Triple-A Oklahoma City.
Daniel Coulombe was optioned to Oklahoma City and Paco Rodriguez was moved to the 60-day disabled list. The moves were triggered by the lower back injury that put scheduled starter Carlos Frias on the disabled list.
Although Garcia was to begin the game on the mound for the Dodgers, Surkamp was just as likely to pitch longer, having been a starter in the Minor Leagues. Garcia was eighth in the batting order Monday and Mattingly said he didn't expect Garcia to get an at-bat.

"I'm not sure if he has a bat," Mattingly joked.
"We think this gives us the most options," Mattingly said. "We can at least manipulate it the way we want. We can choose who we want to go in the second or third [inning]."
The Dodgers tried a similar strategy in Colorado on June 2 for the first game of a doubleheader, when they had reliever Juan Nicasio start, followed by the recently promoted Ian Thomas.
That didn't work out too well. Nicasio allowed one run in two innings and left with a finger blister that sidelined him for eight days. In his Dodgers debut, Thomas allowed four runs in three innings and went on to take the loss in a 6-3 defeat.

"It didn't go that great in Colorado," Mattingly admitted. "Like anything else, you make a decision for a reason, and sometimes they work out, sometimes they don't. It doesn't mean it wasn't the right thing."
One likely theory for why the Dodgers would delay the announcement until game day is that Mattingly may believe it puts the opponent at a disadvantage for preparation.
Surkamp was acquired from the White Sox on May 22 in exchange for Minor League right-handed pitcher Blake Smith. In seven appearances, six starts, with Triple-A Oklahoma City, Surkamp was 4-2 with a 4.50 ERA.
Worth noting
• Right-hander Chris Hatcher has not started a throwing program and is limited to doing strength work as he works his way back from a right oblique injury. Hatcher has been on the disabled list since June 17.
"When he's pain-free, he'll start throwing; when he's having no issues with that rib area," Mattingly said. "As soon as he starts throwing, that's when the clock starts as far as getting him ready."
Steve Bourbon is an associate reporter for MLB.com. This story was not subject to the approval of Major League Baseball or its clubs.