Santana sharp in no-decision despite layoff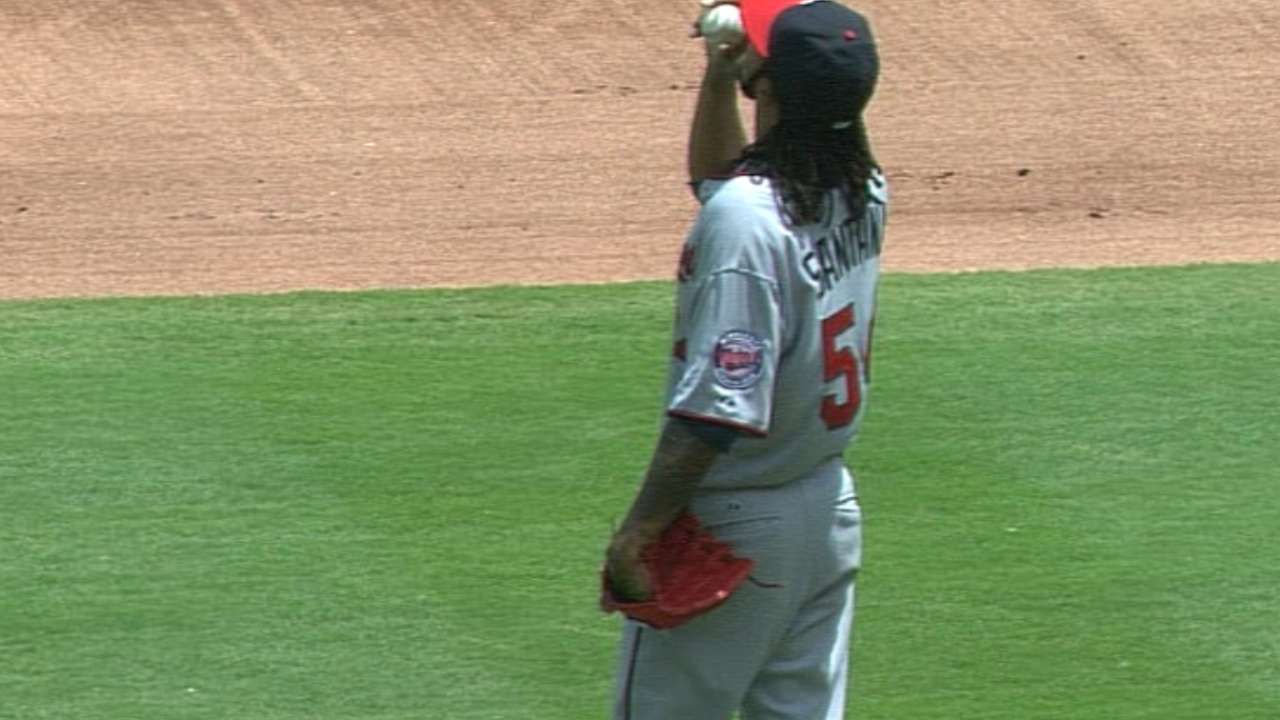 KANSAS CITY -- Right-hander Ervin Santana couldn't have been much sharper in his return from his 80-game suspension for the use of a performance-enhancing drug, but familiar problems plagued the Twins on Sunday.
Santana went eight innings, giving up two runs on just three hits, but the Twins went 1-for-9 with runners in scoring position and the bullpen gave up a walk-off RBI double to Eric Hosmer in a 3-2 loss to get saddled with a series split against the Royals at Kauffman Stadium.
Twins manager Paul Molitor liked what he saw from Santana, who showed no signs of rust, but was stuck with a no-decision.
"A lot of things to be really encouraged about," Molitor said. "Economical, eight innings, pitch count in low 90s. Good velocity and had the extra gear when he needed it. Breaking ball was really sharp."
Molitor, though, decided to lift Santana for the ninth despite having thrown just 93 pitches. He went with Blaine Boyer, who issued a leadoff walk to Lorenzo Cain before bringing in lefty Aaron Thompson, who served up the game-winning double down the right-field line to Hosmer.
"It was more of the fact it was his first start," Molitor said. "Pitch count, you're certainly aware of. He might've had a little more left, but to try to extend him here, sometimes innings are a factor. Sometimes the pitch count is down, but then you throw him back out there for another inning. But I just thought it was good enough and we had enough people to protect us."
Santana came away pleased from his first outing, and said he didn't put any extra pressure on himself despite missing half of the season. The two runs came on an RBI single on an 0-2 fastball to Drew Butera in the third and a solo shot from Alex Gordon in the fifth on a hanging breaking ball.
"It was good," Santana said. "I just made one mistake. But it's all right. I just kept battling and kept the ball down for the most part."
Twins right fielder Torii Hunter, who played with Santana from 2008-12 with the Angels, said it didn't look like Santana skipped a beat despite the long layoff.
"That was impressive for a guy who hadn't pitched in a Major League game," Hunter said. "It looked like the Santana of old. I've been behind him on no-hitters and close no-hitters. I had a front-row seat in center field for a few years to see him pitch like that."
Ultimately, though, it ended with a frustrating loss, as the bullpen couldn't come through in the ninth in a second walk-off loss of the series.
"It was a good series but a couple walk-offs, which are tough," Molitor said. "You hope the boys take the positive signs out of the games. Head-to-head, we held our own. Could've won all four games. But the reality is we only split."
Rhett Bollinger is a reporter for MLB.com. Read his blog, Bollinger Beat, follow him on Twitter @RhettBollinger and listen to his podcast. This story was not subject to the approval of Major League Baseball or its clubs.