Matz, eyeing encore, faces Dodgers
After memorable debut, southpaw gets first test on the road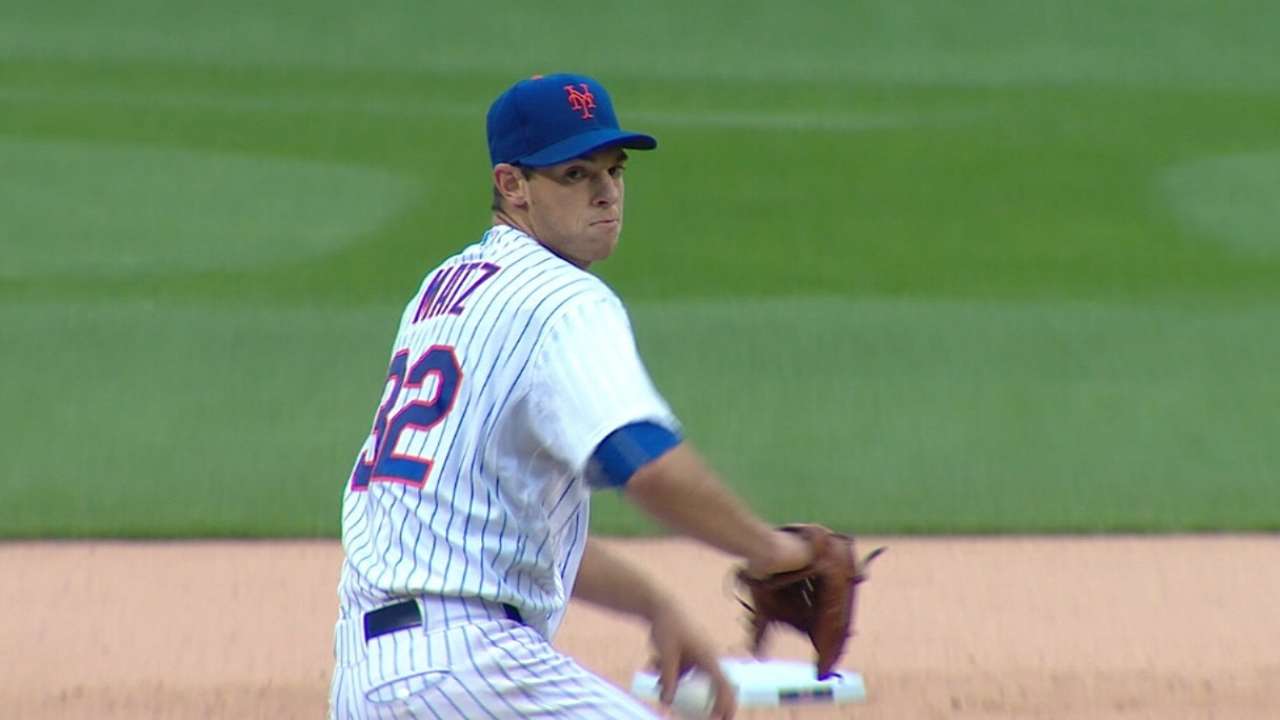 LOS ANGELES -- This time around, Steven Matz will have no family in the crowd, no screaming throngs of friends behind the home dugout. When Matz takes the mound for his second career start Sunday at Dodger Stadium, it will be normal.
Sort of.
"We all know that that adrenaline can really mean a lot that first time out there," Mets manager Terry Collins said of Matz, who delivered 7 2/3 sharp innings and drove home four runs in his big league debut last weekend at Citi Field. "To have him put in the situation we did the other day, you couldn't have asked for a bigger finish to the whole day than what happened. So it'll be interesting to see how he handles it [Sunday]."
Aside from throwing two between-starts bullpens as opposed to the usual one, a byproduct of the Mets' six-man rotation, Matz's weekly routine was as normal as he could make it. Most of his time was spent lounging in the locker room, bullpen and dugout with his teammates, paying particular attention Friday when all-everything left-hander Clayton Kershaw took the mound.
"It feels good just to get in a routine, and watch these other starting pitchers go to work," Matz said. "It feels just like baseball. It's the same game, just bigger crowds, bigger stadiums."
Matz seemed to have no trouble handling that sort of thing last Sunday at Citi Field. So the Mets have no reason to expect his adrenaline spike to do anything but help him on Sunday.
"Certainly this is a great setting to pitch in," Collins said. "We're all excited to see him as he continues to grow and get better. I just sit here every day, looking at these young arms, saying, 'Wow.' They're going to be impressive."
Anthony DiComo is a reporter for MLB.com. Follow him on Twitter @AnthonyDiComo and Facebook, and listen to his podcast. This story was not subject to the approval of Major League Baseball or its clubs.