Questions remain if Cueto will pitch in All-Star Game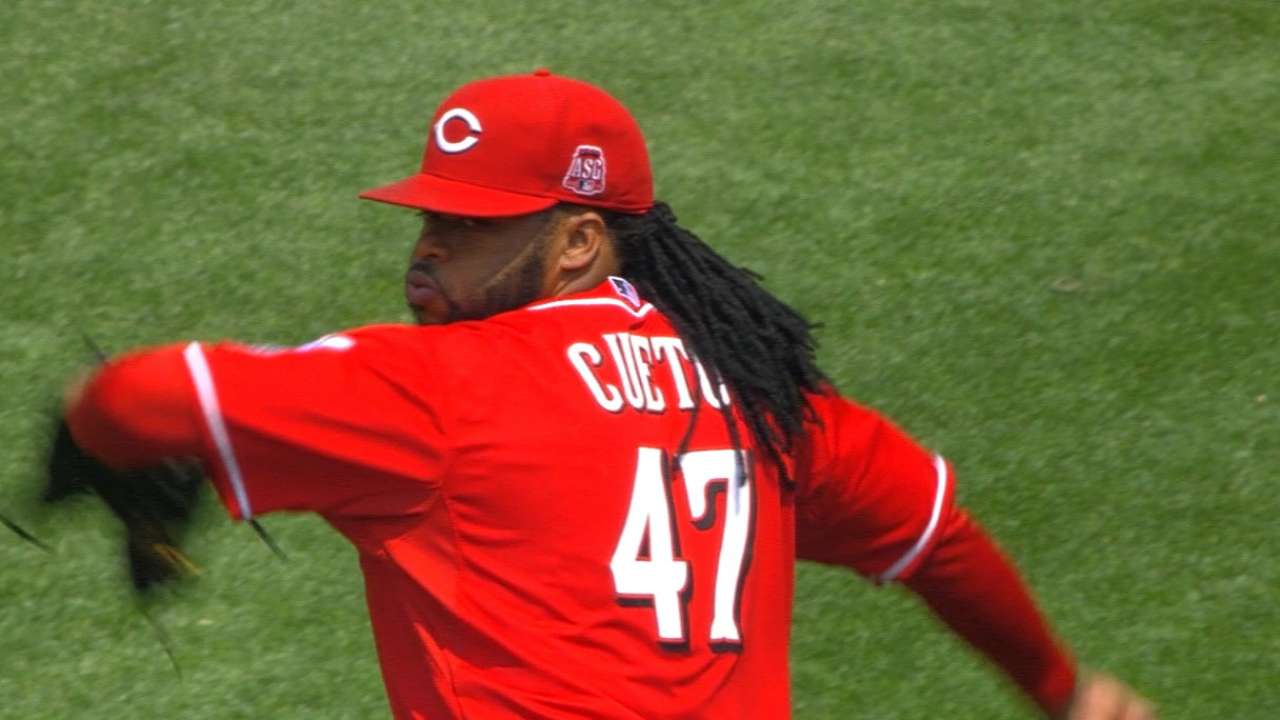 CINCINNATI -- Unlike his dynamic 2014 season, Reds ace Johnny Cueto isn't a lock to make the 2015 National All-Star team this year when reserve rosters and pitchers are revealed tonight.
But just like last year, Cueto may not be able to pitch if he makes the team. That's because he's once again lined up to pitch the final game of the first half on Sunday, when he faces the Marlins.
Reds manager Bryan Price hasn't looked that far ahead to determine if Cueto could pitch in the All-Star Game.
"We haven't gotten to that point yet," Price said. "That will be something that we'll be able to look at. As you know, certainly the priority will be that our team gets the best chance to win the game. I think a few things have to happen.
"He'll have to make the team and No. 2, we'd really have to look and see if we can create an opportunity in which he can pitch. It's just a little premature yet to focus too much on that. It's a legitimate question."
Cueto was named to the NL All-Star team for the first time for the 2014 game at Minneapolis, but did not participate and was replaced on the roster by teammate Alfredo Simon.
The "Sunday Pitcher Rule" in the 2012 Collective Bargaining Agreement between MLB and the MLB Players Association states, "Any starting pitcher elected or selected to the All-Star team who makes a start on the Sunday immediately preceding the All-Star Game shall have the option to participate or not participate in the All-Star Game."
The rule goes on to state that if the pitcher chooses to participate in the All-Star Game, he won't be allowed to pitch more than one inning, and may set a specific pitch count with his manager. If the pitcher chooses not to participate in the All-Star Game, he will be replaced on the club's roster, but encouraged to attend the game.
Entering play on Saturday, Cueto was ranked 11th in the NL with a 2.84 ERA, 10th with 104 2/3 innings and 13th with 100 strikeouts. But he was third with both a .199 opponent's batting average and 0.92 WHIP.
Before Sunday, Cueto has a date in Washington to face Nationals ace Max Scherzer on Tuesday. That, of course, also has Scherzer on track to pitch Sunday.
"I'm sure they're asking the same thing with Scherzer," Price said. "He's probably the strongest candidate to be the starting pitcher for the All-Star team."
Mark Sheldon is a reporter for MLB.com. Read his blog, Mark My Word, follow him on Twitter @m_sheldon and Facebook and listen to his podcast. This story was not subject to the approval of Major League Baseball or its clubs.