Taylor recalled to fill backup role with Mariners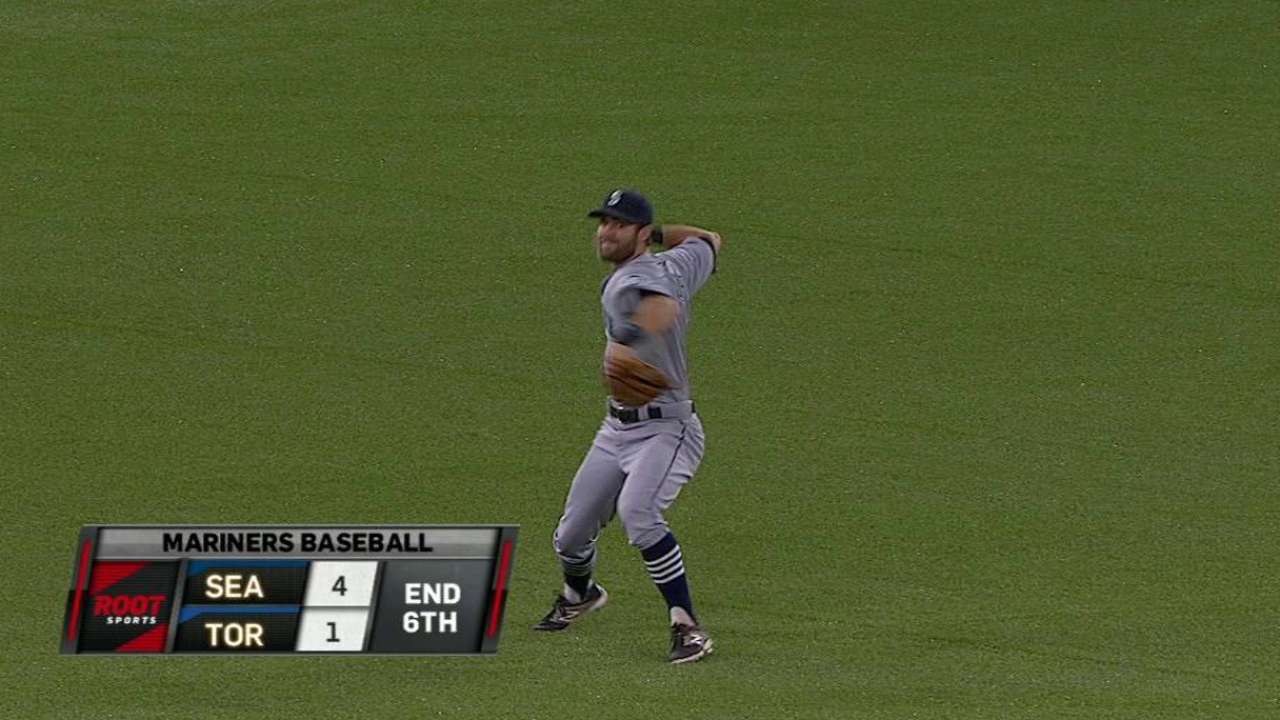 OAKLAND -- Chris Taylor was recalled from Triple-A Tacoma on Thursday for his second stint with the Mariners this season, but this time the infielder from Virginia will be used more in a part-time role rather than replacing Brad Miller at shortstop.
Miller shifted to the outfield and more of a utility role when Taylor was called up in late May, but has since re-established himself at shortstop in the time since Taylor was demoted after hitting just .159 in 11 games.
"Brad is in a pretty good groove right now," manager Lloyd McClendon said. "There's still a lot of room for improvement, but he is improving every day. He has his moments [defensively], but most of the time it's just a mechanical thing where he doesn't move through the ball or he stands straight up. I would say the last 12-15 days, he's been a lot better at that."
Taylor's return is more about providing backup depth at shortstop, where the Mariners felt veteran utility man Willie Bloomquist wasn't moving as well defensively as he had prior to August knee surgery last.
The right-handed-hitting Taylor, 24, will see some time at shortstop and was in the lineup Thursday against A's southpaw Scott Kazmir, as well as backing up second baseman Robinson Cano when McClendon chooses to give Cano a day at designated hitter.
Taylor played some second base as well as shortstop in his recent stint in Tacoma, where he hit .289 in 48 games. He hasn't played third base since his college days at Virginia, but says he's ready for whatever is needed by the Mariners. And his return to the Rainiers helped ease his mind offensively.
"It's still a progression, but I'm feeling a lot more comfortable and a lot better [at the plate]," he said. "It was good to go down there and take some of the pressure off. I was able to stop pressing and just worry about going out there and having some fun again. I'm feeling a lot better now and I'm ready to go."
Worth noting
• McClendon said right-hander Hisashi Iwakuma threw a bullpen session on Thursday and didn't have any problem with the blister on his finger that cropped up in his third Minor League rehab start Tuesday for Tacoma. McClendon and general manager Jack Zduriencik have discussed Iwakuma's potential return from his strained lat, but no announcement will be coming until Friday at the earliest.
• Veteran right-hander Justin Germano, who went 7-3 with a 2.83 ERA in 18 games (11 starts) for Tacoma, has opted out of his Minor League contract with the Mariners and is now a free agent. Left-hander Rafael Perez, another veteran with a June 30 opt-out clause, was also released from his Minor League deal. Perez has been on loan to the Mexican League.
• Broadcaster Dave Sims, who missed the Mariners' two games in San Diego to attend funeral services for his father-in-law, rejoined the club on Thursday in Oakland and will resume his normal TV duties. That shifts Aaron Goldsmith back to the radio booth alongside Rick Rizzs, but only for Thursday's game.
Goldsmith will be calling the Twins-Royals game from Kansas City on Saturday for FOX-TV's regional broadcast, so Gary Hill is filling in for him on Mariners duties on Friday and Saturday before Goldsmith returns for the series finale against the A's.
• Veteran catcher Erik Kratz, 35, signed a Minor League deal with the Mariners and reported to Tacoma on Thursday. Kratz has a .217/.270/.400 line with 23 home runs and 67 RBIs in 180 Major League games with the Pirates, Phillies, Blue Jays and Royals in the past six years. He played four games at the start of this season with the Royals and 15 games with Triple-A Omaha.
Greg Johns is a reporter for MLB.com. Follow him on Twitter @GregJohnsMLB, read his Mariners Musings blog, and listen to his podcast. This story was not subject to the approval of Major League Baseball or its clubs.