MLB.com Columnist
Lindsay Berra
Female French teen ready for next chapter
Shortstop Mayeux aims to hone craft this summer with ambition of taking game to another level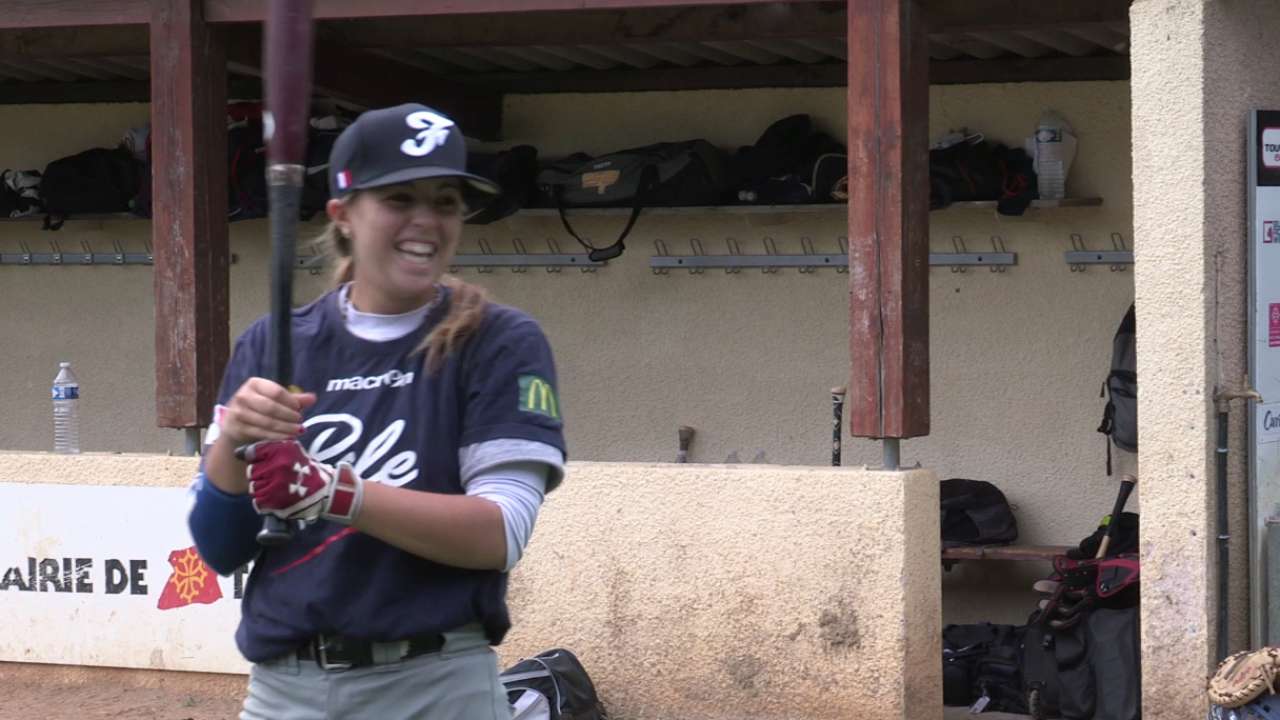 French shortstop Melissa Mayeux made history on June 20, when she became the first female to be on a Major League Baseball international registration list, making her eligible to sign with an MLB club anytime after July 2.
Mayeux's story had legs, and was widely reported in both the United States and Europe. But the prospect of her inking a contract during the signing period is not likely, and it has nothing to do with the fact that she's female. Mayeux is just 16 years old; international prospects from Europe sometimes sign closer to their 18th birthdays, after teams have had more time to watch their development and assess their skill.
Still, just being on the international registration list, especially at such a young age, verifies Mayeux's status as a prospect.
"I was overjoyed, because it's something really important and I wasn't sure I was at that level," Mayeux told FRANCE 24 International News on June 28. "It also scares me a little because [the news] took on huge proportions and I wasn't expecting it. It's awesome and frightening at the same time."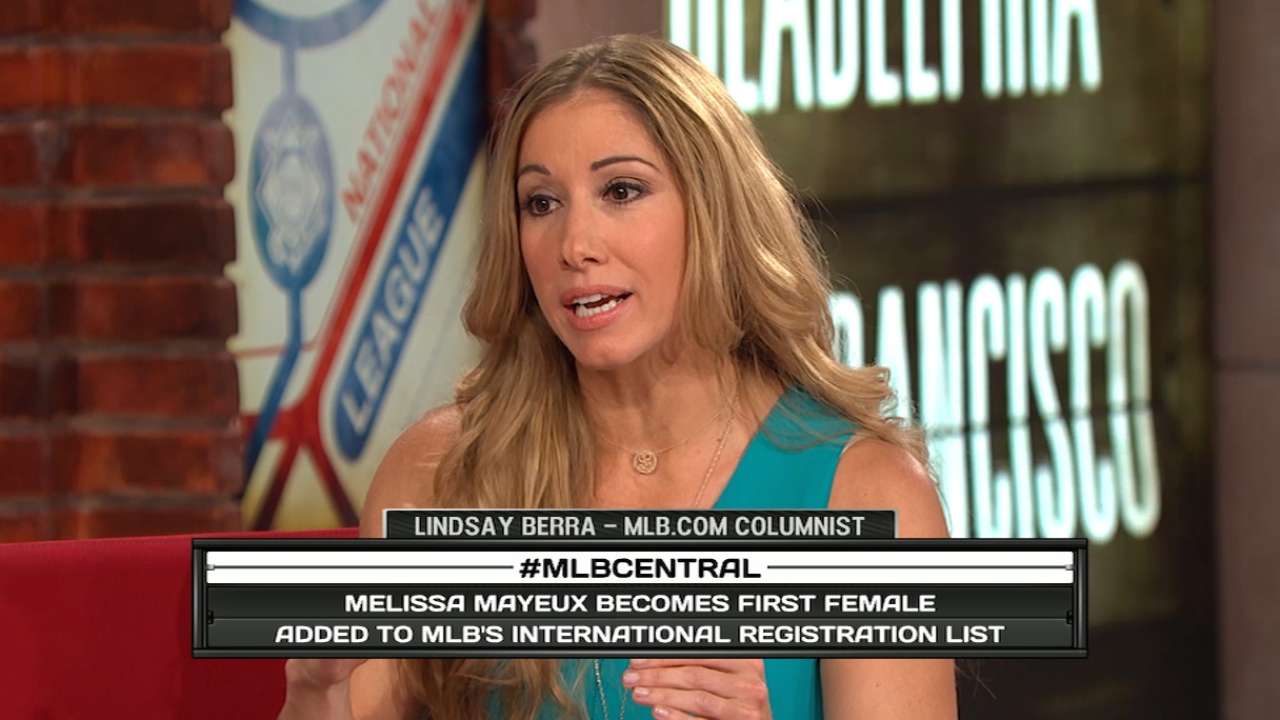 Mayeux has a busy summer planned.
From June 29-July 2, Mayeux participated in a four-day hitting camp in Germany, where she was under the tutelage of two-time MLB All-Star Steve Finley. "We don't look at her as a girl here; she's one of the guys, just another player," Finley said. "She's done a good job here and is very coachable. We made some slight mechanical changes with her swing and because she's such a great athlete, she was able to pick them up right away."
From July 12-19, Mayeux will compete with the French national team in the U-18 European Baseball Championships in the Czech Republic. In August, she'll join the French senior national softball team at the European Championships. And later that month, Mayeux will be one of only four French players taking part in MLB's European Elite Camp in the Netherlands. There, she is slated to work with Hall of Fame shortstop Barry Larkin.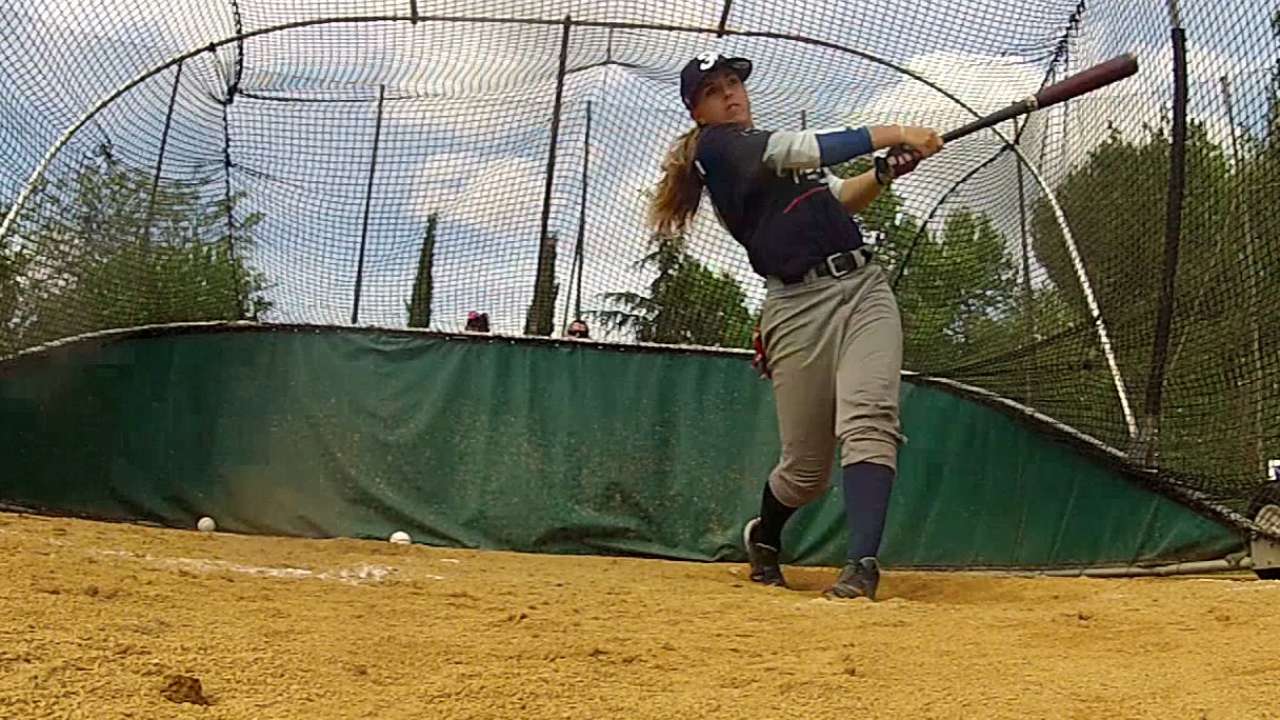 "I am not sure I really grasp all of it," Mayeux said. "I was just happy to be going to the Elite Camp, and I figured an article would be written about it for the French baseball federation's website, and then that would be the end of it. But then I saw the news on MLB.com and everyone ran with the story. I must admit it made me happy … it felt strange, but it also made me happy."
Mayeux, though, wants one thing to be clear; she too understands that her presence on the international registration list is not a direct path to the big leagues.
"Most of the articles about me were well-explained, but certain U.S. media made it sound as if on July 2 I'll be signing with a team, playing in the Majors," she said. "The truth is that I'm very far from MLB, and that there is still a long road ahead."
The American university system could be an attractive option for Mayeux, who plans on staying in France at least until she turns 18 and passes her baccalaureat exams, which, in France, is required for a student to graduate from high school.
The media coverage around Mayeux's registration on the international list has also increased discussion of the possibility that she could play for France in the 2017 World Baseball Classic. While that speculation is also a bit premature, as France has not yet even been picked to participate in the tournament, Mayeux may just end up on that roster before she ends up on that of a big league club. She would be the first woman to participate in the 16-team international tournament.
"It's kind of a dream for me because it's a huge event, where all the national teams face off," Mayeux said. "It's an exceptional moment and it would be amazing to participate."
But for now, Mayeux just wants to continue to participate at the highest level possible, whatever that may be.
Lindsay Berra is a columnist for MLB.com. This story was not subject to the approval of Major League Baseball or its clubs.