The Butler did it! 9th-inning hit denies history
Slayer of Carrasco's no-no says knock is a confidence-builder for Rays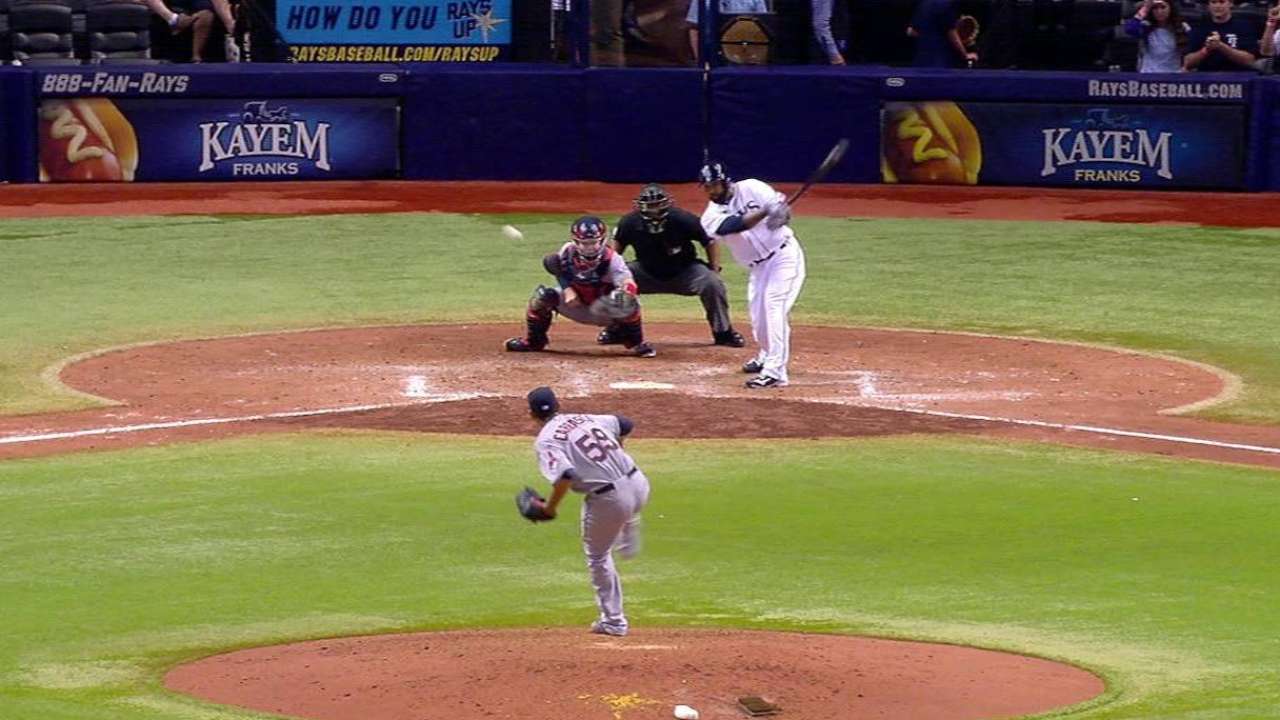 ST. PETERSBURG -- Joey Butler stepped to the plate in the bottom of the ninth inning of Wednesday night's 8-1 Rays loss to the Indians earmarked as the final out of a no-hitter by Tribe right-hander Carlos Carrasco.
"Well, obviously, I had nothing to lose with him being the one with the no-hitter," Butler said. "I'm pretty sure he was a lot more nervous than I was, but at the same time, we had a battle and I got a good pitch."
After Butler fell behind, 0-2, the no-no appeared to be a lock. Then Butler used his bat to keep history at bay, lacing a single to right field narrowly over the head of second baseman Jason Kipnis.
"He got ahead, 0-2, and left me a pitch to hit, and I did what I could with it," Butler said. "It's encouraging. It's pretty discouraging when you get no-hit. Now it kind of just looks like another loss, instead of, 'A guy can no-hit us for a full game.' So, yeah, I feel like it uplifted the whole team."
When asked about his team nearly being no-hit, Rays manager Kevin Cash noted: "I say it all the time; it's a good thing Joey Butler can hit."
Indians pitchers have had their way with the Rays for the first three games of this week's series. On Monday night, Cody Anderson retired the first 19 batters he faced before allowing a home run to Grady Sizermore. On Tuesday, Danny Salazar was perfect into the sixth inning before walking Tampa Bay's Asdrubal Cabrera.
Carrasco fell right in line, flirting with a perfecto for 19 batters before issuing a one-out walk in the seventh inning to ... who else? Butler.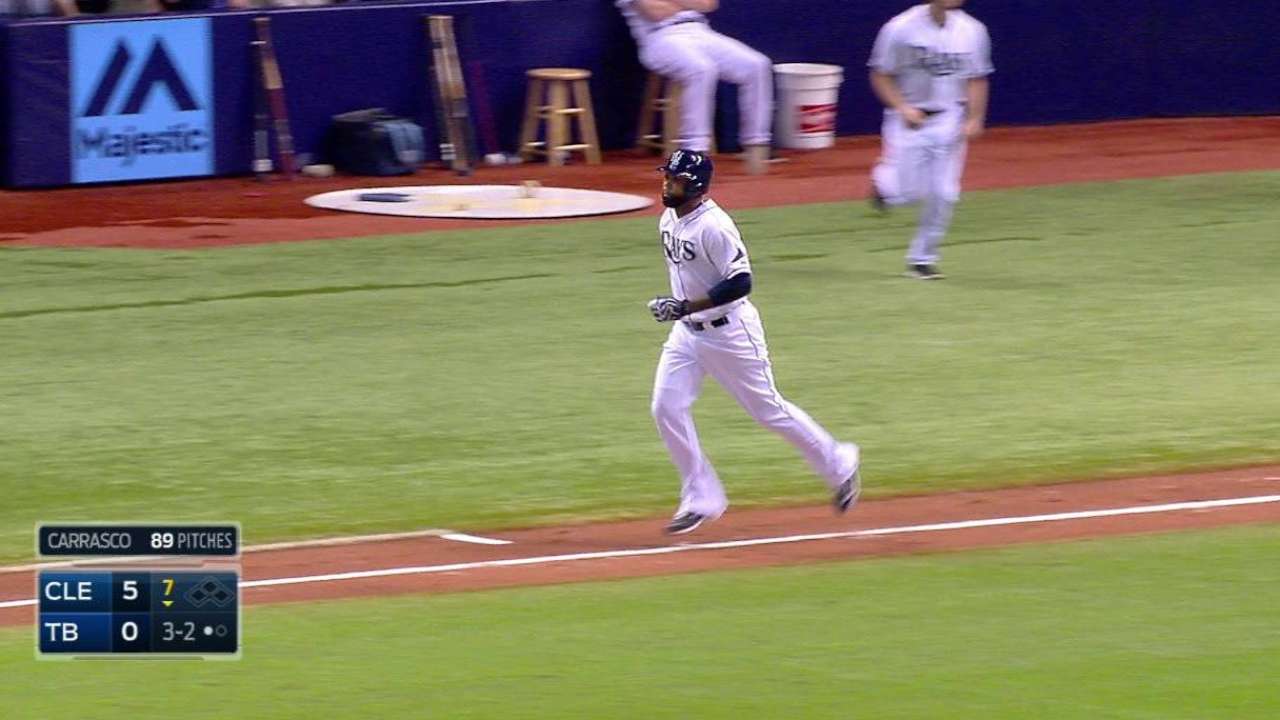 Butler clearly wasn't happy that the Rays lost, but he did think his hit and walk would help a Rays team that is struggling offensively.
"You kind of feel like you're standing up for the team," Butler said. "You kind of get the sense that you're getting bullied and outmatched all game. To do it with two strikes, the bottom of the ninth -- I mean, it does something for my confidence. I feel like I picked the guys up big-time today."
Butler, who went 1-for-3 with an RBI, a strikeout and a walk, called Carrasco's stuff "pretty good."
"It was good to the point where things would start out as strikes and he'd throw so hard that ... if it was a fastball, if you think for split second, you're beat," Butler said. "So when you see hard, you start swinging and his stuff's so good that a lot of it looked like strikes to start with."
Despite the Rays' recent woes at the plate, Butler does not believe the team's performance will not carry over to Thursday afternoon's series finale.
"I felt like it definitely could have been a lot worse had we been no-hit," Butler said. "I mean, I don't mean to sound cocky or anything, but I really feel like we'll come into tomorrow feeling a little better about tonight."
Butler pointed out that every team will experience a slump at some point during the season.
"That's why I feel so good about this team," Butler said. "We keep it loose. We keep it fun. We always play hard, and we have pitching. As long as you have pitching, you play hard and you're having fun, I think you have a shot."
Bill Chastain is a reporter for MLB.com. This story was not subject to the approval of Major League Baseball or its clubs.