MLB.com Columnist
Barry M. Bloom
Smoltz first (and last?) to enter Hall post-TJ surgery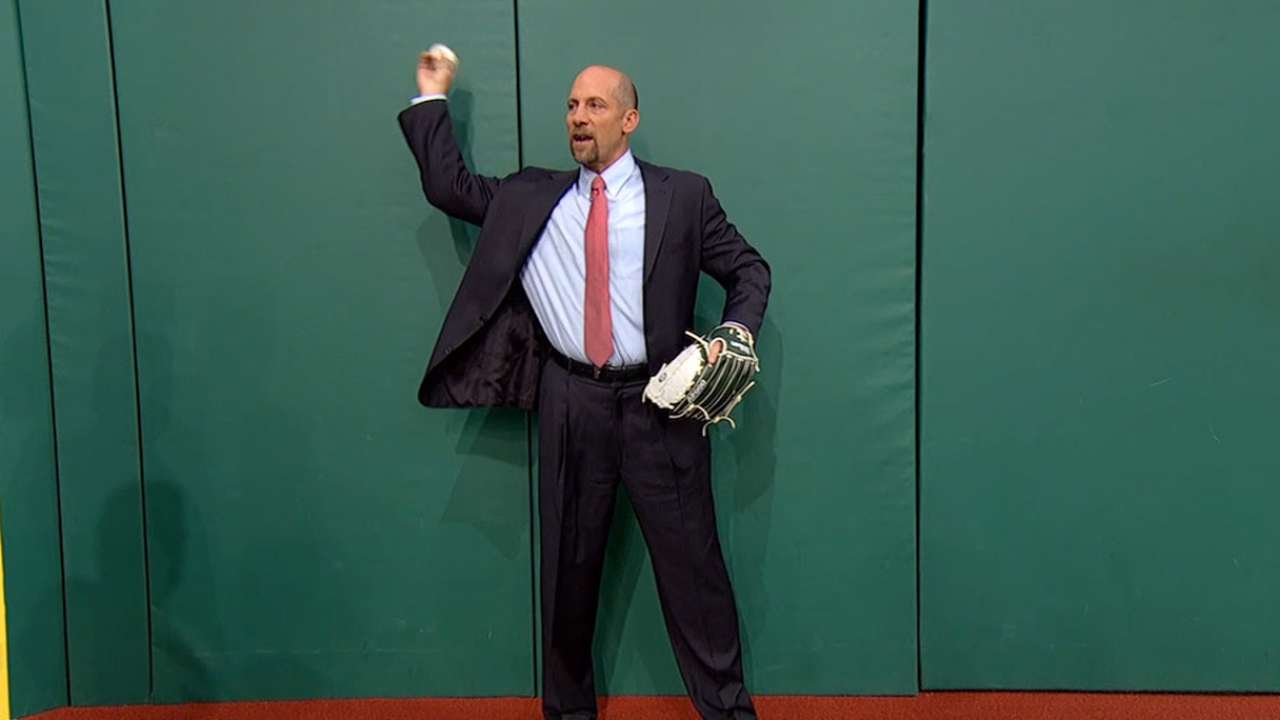 PHOENIX -- When John Smoltz is inducted into the National Baseball Hall of Fame on July 26, he will be the first pitcher to go in having undergone elbow ligament replacement surgery -- today almost universally known as Tommy John surgery -- at some point during his career.
And Smoltz may very well be the last for a while, unless the lefty John himself is elected by a Veteran's Committee.
John won 288 games, 164 of them after Dr. Frank Jobe performed what was then experimental surgery on his left elbow in 1974. He was able to pitch another 18 seasons before retiring in 1989.
Smoltz played another seven seasons after Dr. James Andrews reconstructed his right elbow on March 1, 2000. He didn't return to the Braves until May 17, 2001.
"When I went back to see [Andrews] after the surgery I had basically given up," Smoltz said on Wednesday during a conference call that included Andrews and Greg Maddux, a former Braves teammate. "I just wanted to retire. I thought I had re-torn it. [Luckily] I was just dealing with some tendinitis and pitching through some discomfort. Man, I'm glad I didn't get into the emotions. I'm glad Tommy John himself called me and encouraged me to go on with it."
Smoltz registered 209 of his 213 wins as a starter -- and re-invented himself as a closer, saving 154 games after returning from the surgery.
All of that was enough for Smoltz to gain entrance to Cooperstown just a year after his rotation mates on the Braves -- Tom Glavine and Maddux -- and his manager, Bobby Cox, were all inducted.
Smoltz will go in along with fellow hurlers Randy Johnson and Pedro Martinez, and Craig Biggio, the lifetime Astro who amassed 3,060 hits. Considering pitch limits and the way managers use starters these days, Maddux (355 victories), Glavine (305) and Johnson (303) may be the last of the 300-game winners.
John was 32 when he had the surgery and Smoltz was 34, the latter having already pitched 12 seasons before the surgery. But a look at the 43 pitchers who have undergone the same procedure during the last two seasons is pretty revealing. First of all, there are more and more repeaters -- guys like Jarrod Parker of the A's and Brandon Beachy of the Dodgers -- who are having it done for at least the second time.
Second, the group of candidates is now decidedly younger. Four of the Mets' young stud starters -- Matt Harvey, Zack Wheeler, Jacob deGrom and newcomer Steven Matz -- have already had the surgery done. So has Patrick Corbin of the D-backs and Tyler Skaggs of the Angels. The Dodgers lost Brandon McCarthy to the surgery earlier this season and the Rangers suffered the same fate with Yu Darvish.
The perception is that it takes from 12 to 18 months to recover from the surgery. That's a long time for clubs to be paying out guaranteed money, in the multi-millions, to star players who are on the shelf. Despite being pampered, guys like Stephen Strasburg of the Nationals and Cory Luebke of the Padres were very young when the ligament in their respective elbows shredded.
Luebke had to have the surgery twice in a year. So did Daniel Hudson of the D-backs when he tried to rush back after 10 months. Why is it happening at such an alarming rate? Andrews is on the Major League Baseball research committee trying to ascertain an answer.
"One thing we have found is that if you take a close enough [look at] the history, at the young professionals who we're seeing now, you'll find that most of them had some kind of elbow injury when they were playing youth sports," he said. "That group of pitchers just coming through the professional ranks now, that's the first group that specialized in one sport and played year-round baseball.
"As you know, Smoltz had a long career before he had to have a surgical procedure done. And he was one who played four different sports in high school."
As far as the repeat procedures are concerned, Andrews warned that it's better to be conservative and cautious than rush a pitcher back. The Mets held Harvey out for 17 months after his surgery, and it will be about 21 months from surgery before the Angels plan to pitch Skaggs in a big league game.
The D-backs, who have already been through this before with Hudson, are attempting to bring back Corbin just 14 months after his March 25, 2014, surgery.
Corbin was scratched from a planned Minor League rehab start scheduled for Thursday, but could make his return as soon as Saturday night at Chase Field against the Rockies. Andrews said that any club bringing back a young pitcher too early is placing him at much higher risk.
"If the decision is between moving him along rapidly or slowing him down, I'd say the best advice is to lean toward the conservative side and slow him down," Andrews said. "That's the problem we've had in the last few years. We've tried to push them along at a more rapid rate because we've been successful with this procedure."
So there should never be any doubt about taking the full 18 months?
"There's no question about that," Andrews said. "Particularly at the Major League level."
Smoltz didn't exactly take his time. Less than 15 months after having the surgery he was back. But it all worked out for the best and in 25 days he'll be handed his Hall of Fame plaque as proof.
"I'll say this: to this day I have never had another elbow problem because of the ligament," Smoltz said. "I'm thankful for the way the ligament held up and the rehab and all of the efforts I went about doing."
Barry M. Bloom is a national reporter for MLB.com and writes an MLBlog, Boomskie on Baseball. Follow @boomskie on Twitter. This story was not subject to the approval of Major League Baseball or its clubs.