Nova, Warren have A-Rod feeling optimistic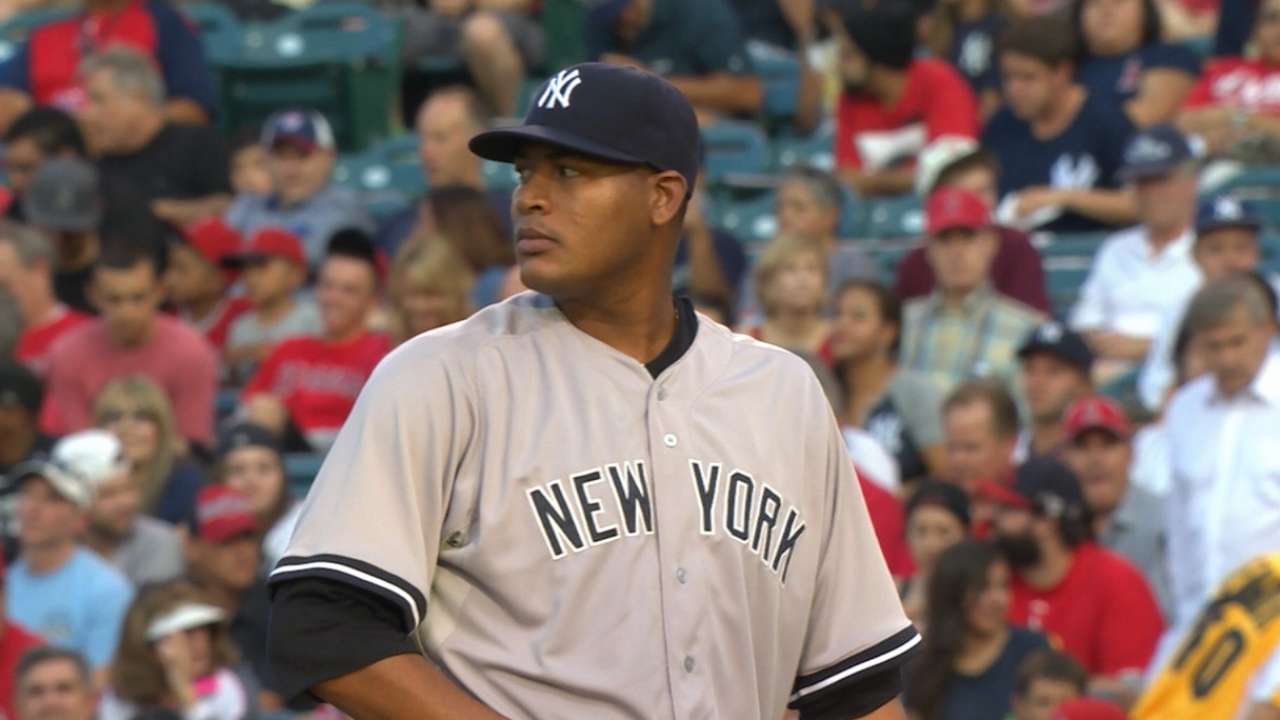 ANAHEIM -- The Yankees managed just two hits on Tuesday evening, and even though one of them was a long Mark Teixeira homer, they are unlikely to appear on the season highlight reel. However, something else of significance took place at Angel Stadium which might have ramifications the rest of the summer.
Ivan Nova pitched scoreless ball into the sixth inning and, after running into trouble, was able to hand the ball off and allow Adam Warren to squelch the Angels' rallies. It still resulted in a 2-1 Yankees loss, but Alex Rodriguez said that he loved what he saw.
"What I'm most encouraged about is tonight we saw a preview of what that bullpen is going to be like for us the rest of the year, with Nova, and Warren, and those guys on the backside, Andrew [Miller]," Rodriguez said. "I'm really optimistic about the rest of the year."
Nova said that he made just two bad pitches over his 5 1/3 innings, following up on a victorious return from Tommy John surgery against the Phillies last week. Those were a pair of 92-mph fastballs to Albert Pujols and Erick Aybar in the sixth inning, both of which were deposited over the center-field wall.
"They hit the ball really hard, those two guys," Nova said. "I think first pitch fastball right in the middle to Pujols was a little bit up. I shouldn't throw that pitch. And I gave up two homers."
Nova exited after a Matt Joyce double, and his line would be preserved at two runs and eight hits, with a pair of walks and seven strikeouts over 85 pitches (57 strikes).
"I thought he pitched a pretty good ballgame," manager Joe Girardi said. "He got out of some jams; it was unfortunate he made a couple mistakes in that sixth inning. The bottom line is we didn't score any runs. That's why we lost this game, not because of what Nova did."
Girardi called upon Warren, who made his first relief appearance of the year after compiling a 3.59 ERA and 5-5 record in 14 starts. Warren said that he felt some nerves in warming up for his new-old assignment, but they quickly vanished as he wriggled out of the sixth inning by inducing a popup and a groundout.
"I was more anxious just to get the first one out of the way," Warren said. "It's just different routine, different warmup. I was glad to go and pitch and just kind of get those jitters out of the way and get back with this one."
The Angels managed just one hit off Warren -- Aybar's eighth-inning double -- the rest of the way, as he hurled 2 2/3 scoreless innings. Rodriguez said that the Yanks' bats need to maintain the aggressiveness they've shown recently, but there's a lot to like about a late-inning mix that now includes Warren.
"He's huge. You saw what he did tonight," Rodriguez said. "He put a complete stop to their offense, and gave us a chance to win late. I'm excited about it; hopefully we'll get a win tomorrow and get back home where we play our best baseball."
Bryan Hoch is a reporter for MLB.com. Follow him on Twitter @bryanhoch, on Facebook and read his MLBlog, Bombers Beat. This story was not subject to the approval of Major League Baseball or its clubs.