Inside-the-park, Dee-run homer jolts Giants
Second baseman tallies first such feat at Marlins Park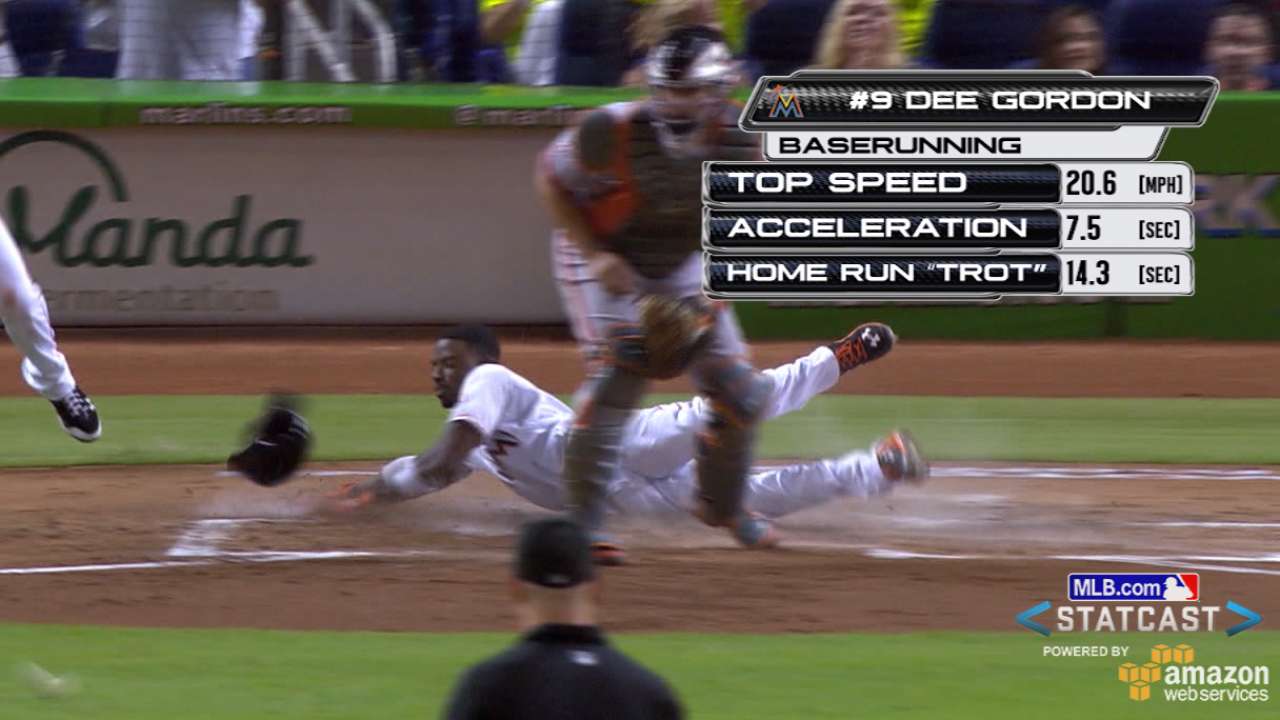 MIAMI -- With his blazing speed, Marlins second baseman Dee Gordon was considered the most likely Miami player to log an inside-the-park home run at Marlins Park. On Tuesday night, the projection came true.
In the second inning, Gordon circled the bases and was credited with a three-run, inside-the-park homer off Giants right-hander Ryan Vogelsong, giving the Marlins a lead on their way to a 5-3 victory. Gordon laced a liner into the gap in right-center in the spacious ballpark, and he sprinted the bases, sliding headfirst into home plate.
"It was tremendous," Marlins manager Dan Jennings said. "You could feel it. You could feel it in the dugout. When he rounded third, everybody was cheering for him. We saw the relay wasn't going to be close. It was a great boost, a boost that we needed, this ballclub needed. The Giants come in, they're hot. They're a very good team. It was a great boost of confidence and energy for us."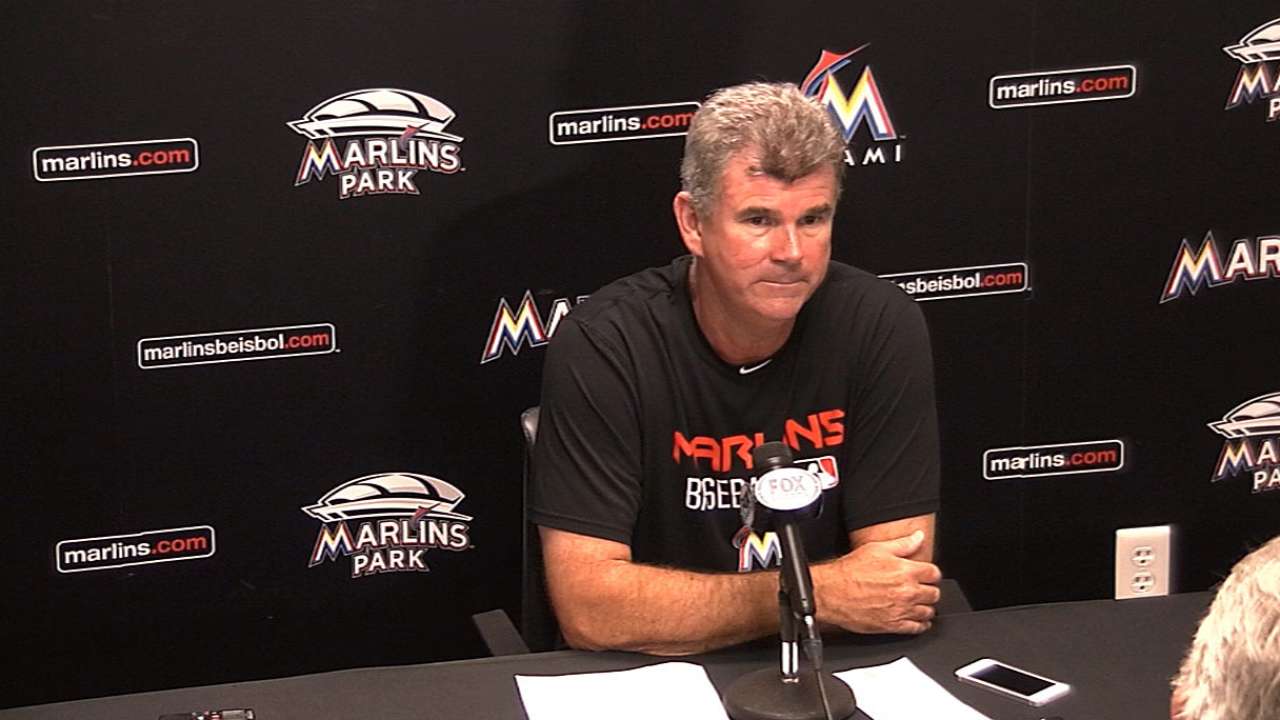 It was the first inside-the-park homer in the history of Marlins Park, which opened in 2012. For Gordon, it was his fifth career home run and first that didn't clear an outfield wall.
Statcast™ tracked Gordon's home run "trot" at 14.298 seconds and his top speed at 20.579 mph, with the liner landing 352 feet away with an exit velocity of 97 mph.
Gordon recalls last hitting an inside-the-park homer in the playoffs when he was in low Class A in the Dodgers system.
Marlins third-base coach Lenny Harris didn't hesitate waving Gordon home when he saw the ball kick off the wall.
"That was pretty cool," Gordon said. "I was like, 'What happened?' I didn't know what was going on behind me."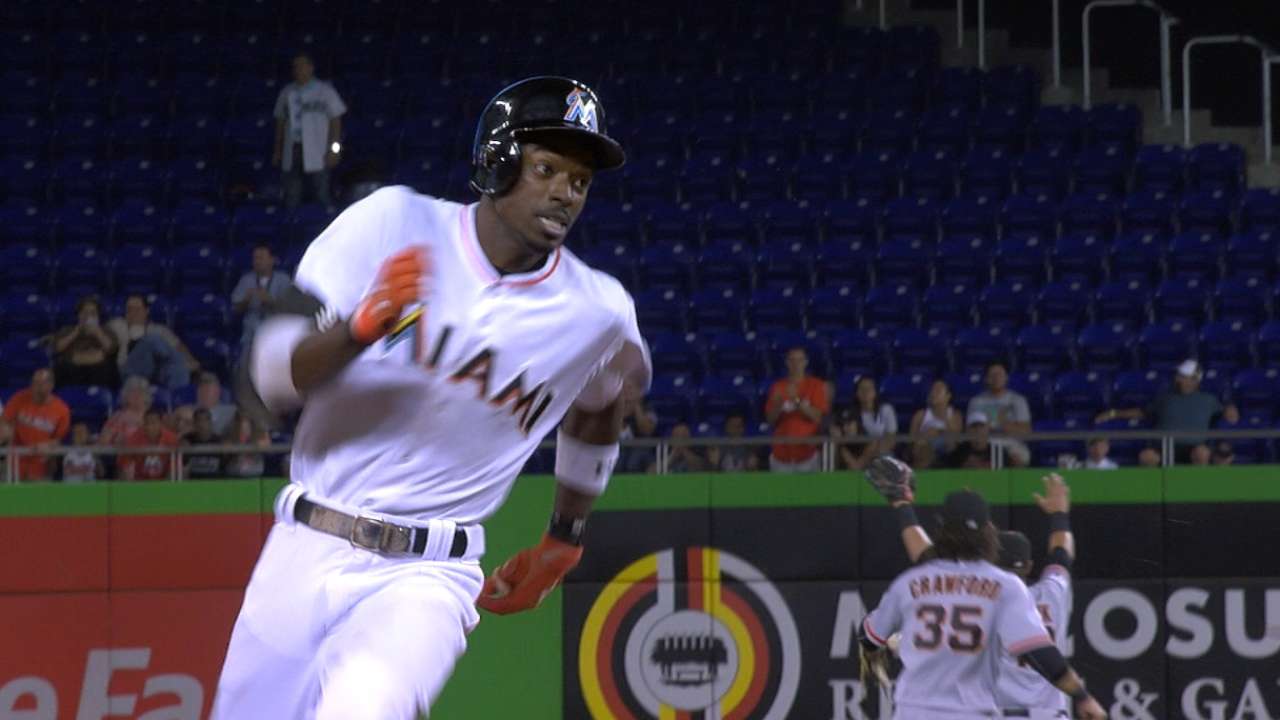 Gordon, who has game-changing speed, felt he was running out of gas between third and home.
"I was a little nervous," Gordon said. "I was like, 'Oh my, I'm going to get thrown out.' [Those last 90 feet] were really slow. It took forever."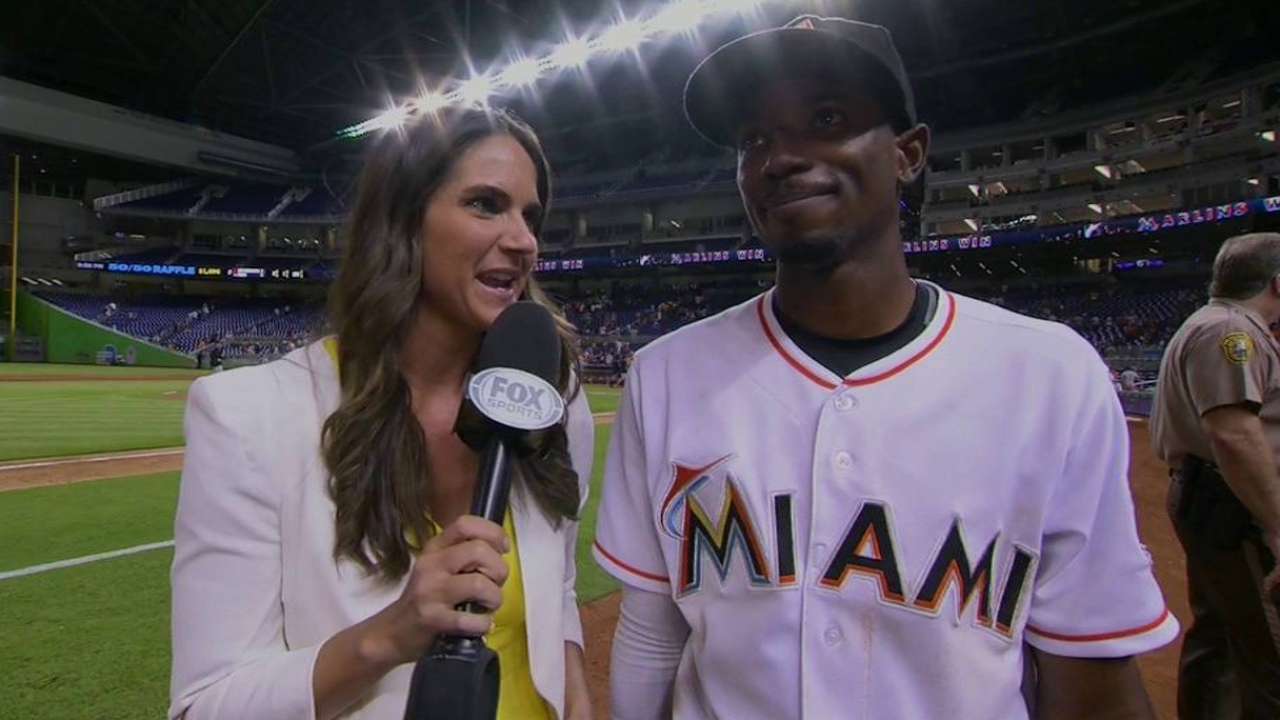 Gordon is the first Marlin to have an inside-the-park homer since Cameron Maybin on May 31, 2010, against the Brewers.
"Any time he hits the ball out there, there is always a chance for an inside-the-park homer," Marlins left fielder Christian Yelich said. "All you've got to do is mess up a little bit. That's what happened. It kind of kicked away from him. As soon as I saw that, you knew it was over. It wasn't even a close play."
The home run also extended Gordon's hitting streak to 11 games.
Gordon is also tracking toward starting in the All-Star Game. The 27-year-old paces all National League second basemen in the voting, which concludes Thursday.
Joe Frisaro is a reporter for MLB.com. He writes a blog, called The Fish Pond. Follow him on Twitter @JoeFrisaro and listen to his podcast. This story was not subject to the approval of Major League Baseball or its clubs.