Hale pleased with Sunday's offensive outburst
D-backs end offensive struggles with three home runs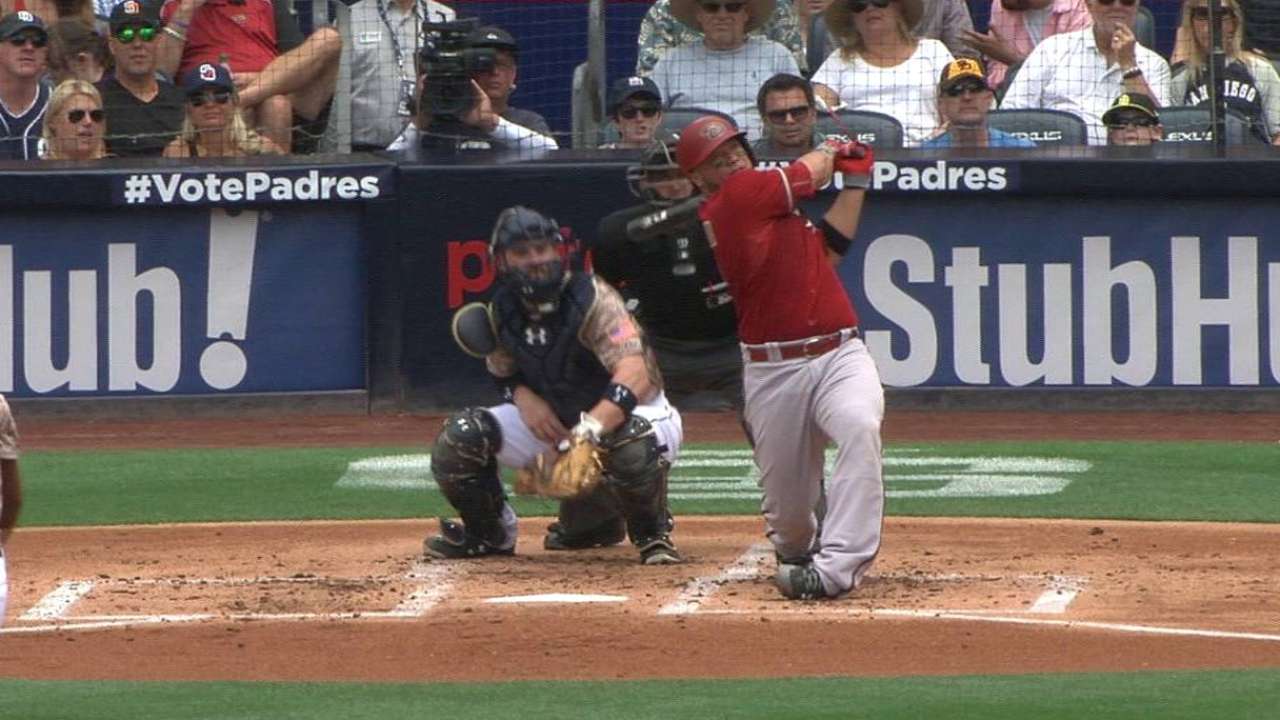 SAN DIEGO -- On Saturday night, after watching his team score just two runs for the second consecutive game, D-backs manager Chip Hale swore that it was on the verge of changing.
The D-backs went out Sunday and made Hale look prophetic as they smacked three home runs in a 6-4 win over the Padres, which prevented the D-backs from being swept in the three-game series.
"I feel like our offense has had good at-bats," Hale explained. "I thought we were seeing the ball pretty well [but] we're just not getting the hits, and of course, the power wasn't there. Welington [Castillo], I'll tell you what, he's hit a few key home runs for us."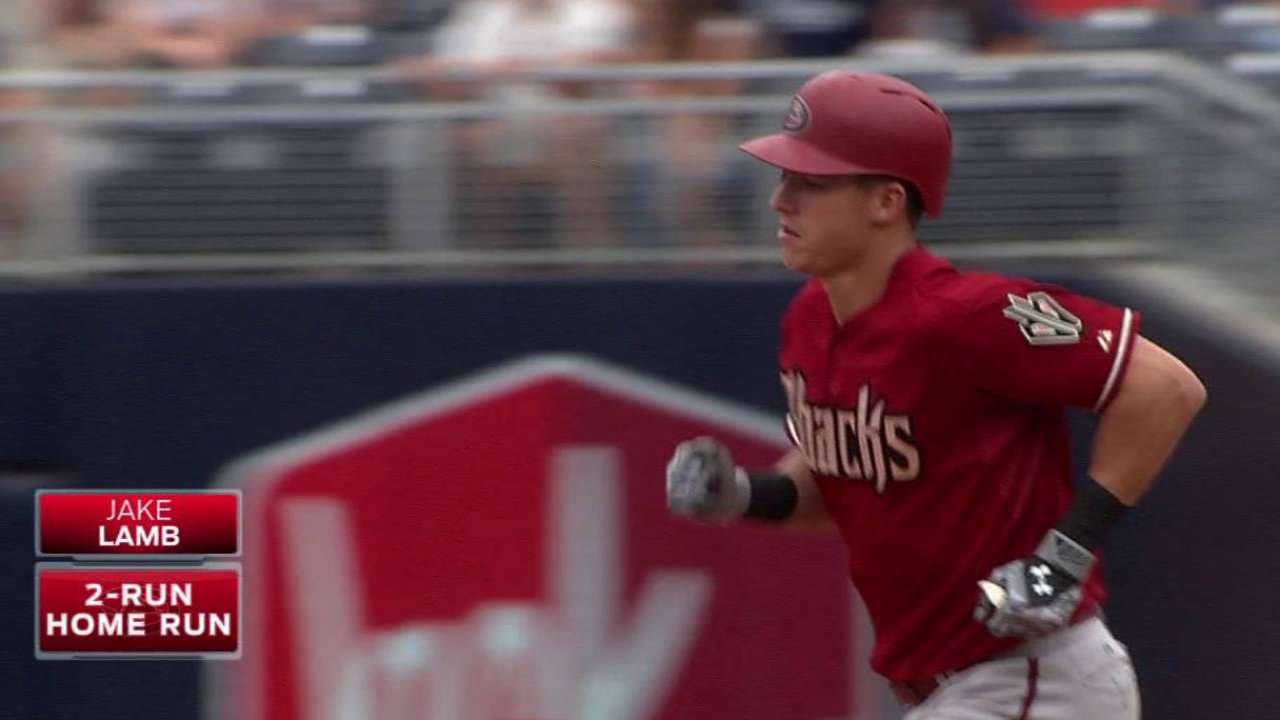 Castillo, who came over from the Mariners earlier in the month in a trade that sent Mark Trumbo to Seattle, has certainly helped improve the production the D-backs have gotten out of the catcher's spot.
Sunday, his three-run homer in the second inning erased a 1-0 deficit and the D-backs never trailed after that.
Castillo began the season with the Cubs as part of a three-headed platoon and then, after being dealt to the Mariners, he still received only occasional playing time.
With the D-backs, though, he's playing on a regular basis with Jarrod Saltalamacchia spelling him a couple of times a week. The difference can be seen in his production. With the Cubs and Mariners, he hit .163 and .160, respectively, while with the D-backs he's batting .255 with three doubles and four home runs.
"I feel really good," Castillo said. "I'm good because I've been getting playing time. The more I play the better I'm going to feel and the better I'm going to hit because I'm going to see more pitches and stuff like that."
Outfielder David Peralta added a solo shot in the third and Jake Lamb hit a two-run homer in the sixth.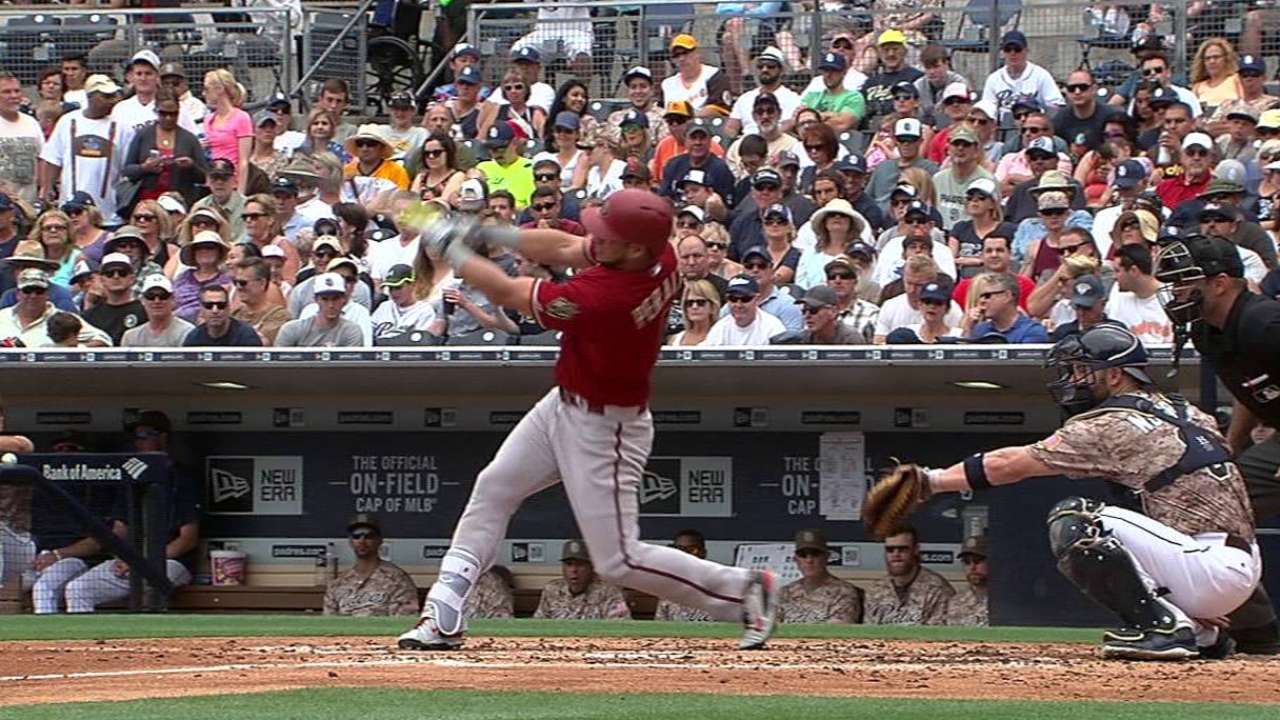 It all left Castillo with a big grin on his face after the game and gratitude for the playing time he's getting now.
"You know you've got to move forward," Castillo said. "Now I'm here and that's all that matters. All that I care about is winning games and going out and compete. It's true the first two months it was a little bit hard, but now is the time to move forward and continue to play and win games."
The offense helped starter Chase Anderson, who allowed three home runs for the second straight start. In the 11 starts prior to that he had given up a total of three homers.
"I feel like it was just six bad pitches in the last two outings," Anderson said. "I've just got to learn from the mistakes I made because I know I can pitch at this level and we have a good defense, I need to utilize those guys more than I have."
Steve Gilbert is a reporter for MLB.com. Read his blog, Inside the D-backs, and follow him on Twitter @SteveGilbertMLB. This story was not subject to the approval of Major League Baseball or its clubs.