Milone makes case to stick with Twins rotation
Lefty allows 2 hits in 6 shutout innings Sunday vs. Brewers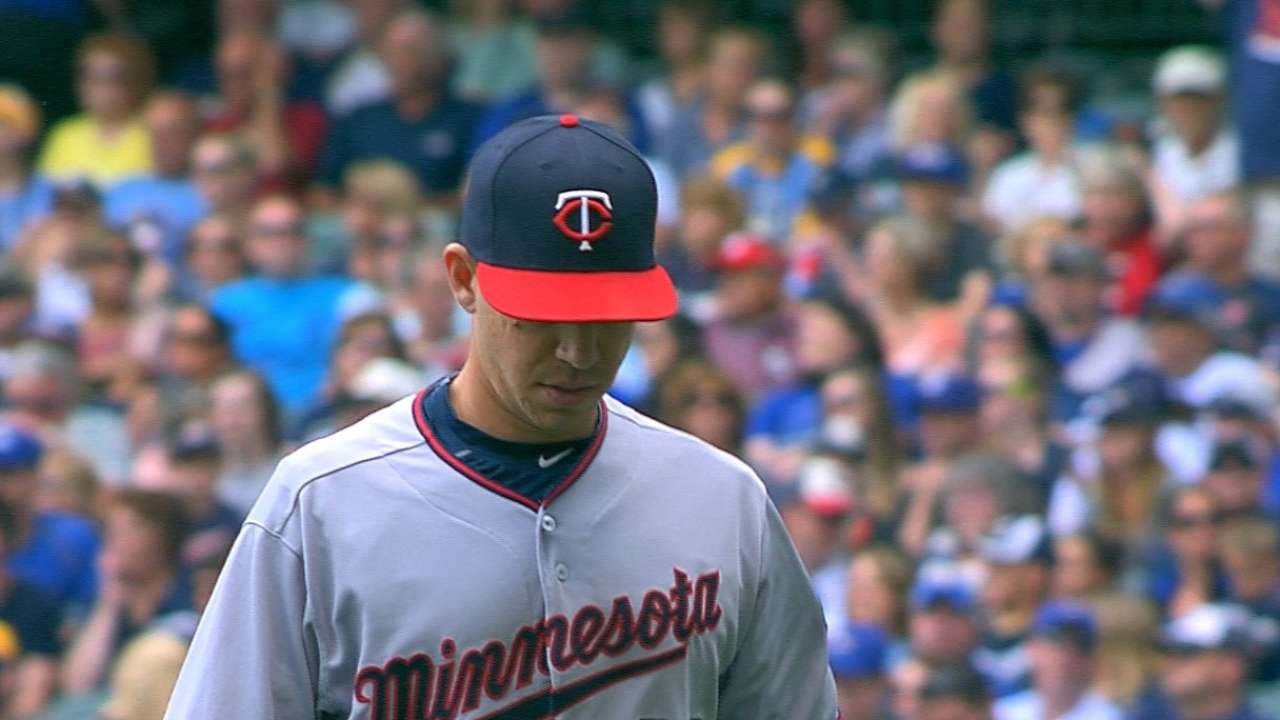 MILWAUKEE -- Tommy Milone's spot in the Twins' starting rotation could potentially be on the line with the return of Ervin Santana about a week away. However, the 28-year-old continued to make a case for keeping it in the Twins' 5-3 loss to the Brewers on Sunday at Miller Park.
Milone didn't factor into the decision, but he also didn't allow a run over six innings and struck out seven. From the third to fifth inning, the left-hander fanned six in three perfect frames and he didn't surrender his second hit until the sixth.
"Tommy was solid," Twins manager Paul Molitor said. "He put up a lot of zeros for us and gave us a chance. It was looking good, but the Brewers have played us tough, winning four of six."
Milone handed a 1-0 lead over to the bullpen in the seventh, but the Brewers managed to plate a run off Blaine Boyer and then opened up the game in the next inning off Casey Fien, as both Ryan Braun and Adam Lind hit two-run home runs.
"Throwing strikes, consistently ahead, both sides of the plate, fastball, cutter, curveball, changeup. Really good command," Braun said of what made Milone so effective. "He's been really successful all year and we saw why today. He really didn't make many mistakes. He doesn't get into any patterns. He was really good."
Despite Milone's strong outing he's still a possible candidate to lose his spot in the rotation when Santana returns on July 5 from an 80-game suspension.
Milone battled through an inconsistent strike zone that drew complaints from both dugouts to continue his recent run of good form. In June, he's 2-0 with a 2.03 ERA and 22 strikeouts since being recalled from Triple-A Rochester.
"Fastball command early in the count and getting that strike one to be able to expand the zone from there," Milone said when asked what was working for him on Sunday.
"Coming back up, there were some things I needed to work on. I feel like I've been able to be more aggressive and it's helped."
Molitor has been considering all options when it comes to how he'll fit Santana into the rotation, including a six-man rotation, although he doubts the club will turn to that. The likely scenario is someone being sent down, and with the way Milone and the rest of the rotation has been pitching of late, it's going to be a difficult decision.
"I think about it a lot, but I'm not going to make [the decision] before I have to," Molitor said before Milone's performance on Sunday. "No one stands out; it's not a no-brainer as far as what the solution would be."
Brandon Curry is an associate reporter for MLB.com. This story was not subject to the approval of Major League Baseball or its clubs.