Back in rotation, Masterson stifles Rays
Red Sox righty allows one unearned run in five innings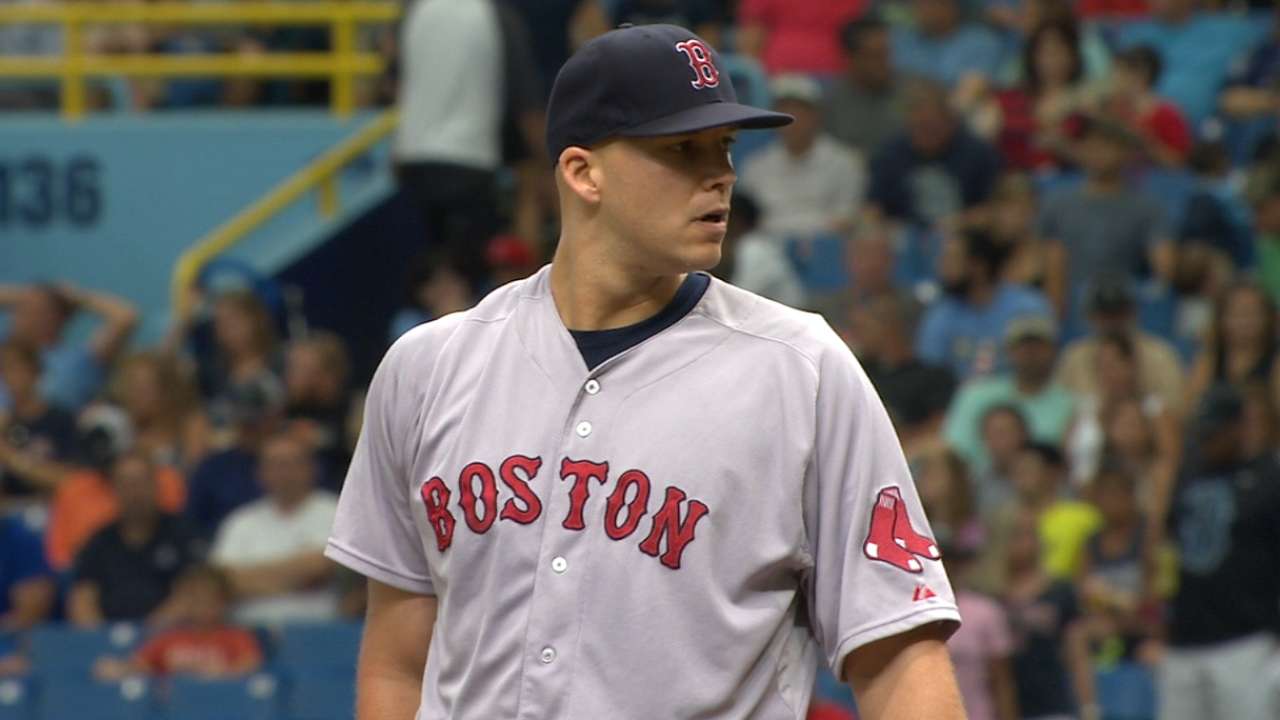 ST. PETERSBURG -- It had been such a long time since Justin Masterson took the mound for the Red Sox that he could not remember when it happened.
Making his first appearance for the Red Sox since May 12 after a stint on the disabled list with right shoulder tendinitis, Masterson looked sharp, tossing five innings of one-run ball while striking out six en route to his third victory in the Red Sox's 5-3 win over the Rays on Sunday.
"For not having pitched in 10 days since his last rehab start and to think he hasn't been in a Major League game in roughly six, seven weeks, he came out and threw a good percentage of strikes," Red Sox manager John Farrell said. "He pitched comfortably and gave us a solid five innings today."
The outing was the first scoreless start for Masterson since Aug. 13, 2014, with St. Louis, which also happened to be his last start without a walk.
A large part of the right-hander's success came from his slider, which, according to PITCHfx, he threw 21 times, a season-high eight of which were swings-and-misses. The slider was also the strikeout pitch on five of Masterson's six whiffs.
"The break was nice," Masterson said. "We worked on some minor things, trying to get stronger, trying to get healthier and just hone in on the mechanics more. Tonight was just throwing strikes and that's the biggest thing and velocity was where it was. I just felt confident in everything that we had."
With more than a month away from the club in rehab and another 10 days waiting around in the bullpen waiting for a call that never came, Masterson was just glad to be back on the mound in the Majors.
"It's nice to pitch in The Show," Masterson said. "It's fun to go down in the bushes and hang out with some of the guys down there, but it's nice to be back up here and hanging out with your boys and going out there and having a lot of meaningful stuff."
But even with that layoff from big league ball, his mentality was the same it always has been.
"Slice and dice, that's my expectations every time I come out," Masterson said. "It's great it kind of worked out that way."
Troy Provost-Heron is an associate reporter for MLB.com. This story was not subject to the approval of Major League Baseball or its clubs.