Perez, Guthrie lead Royals in sweep of A's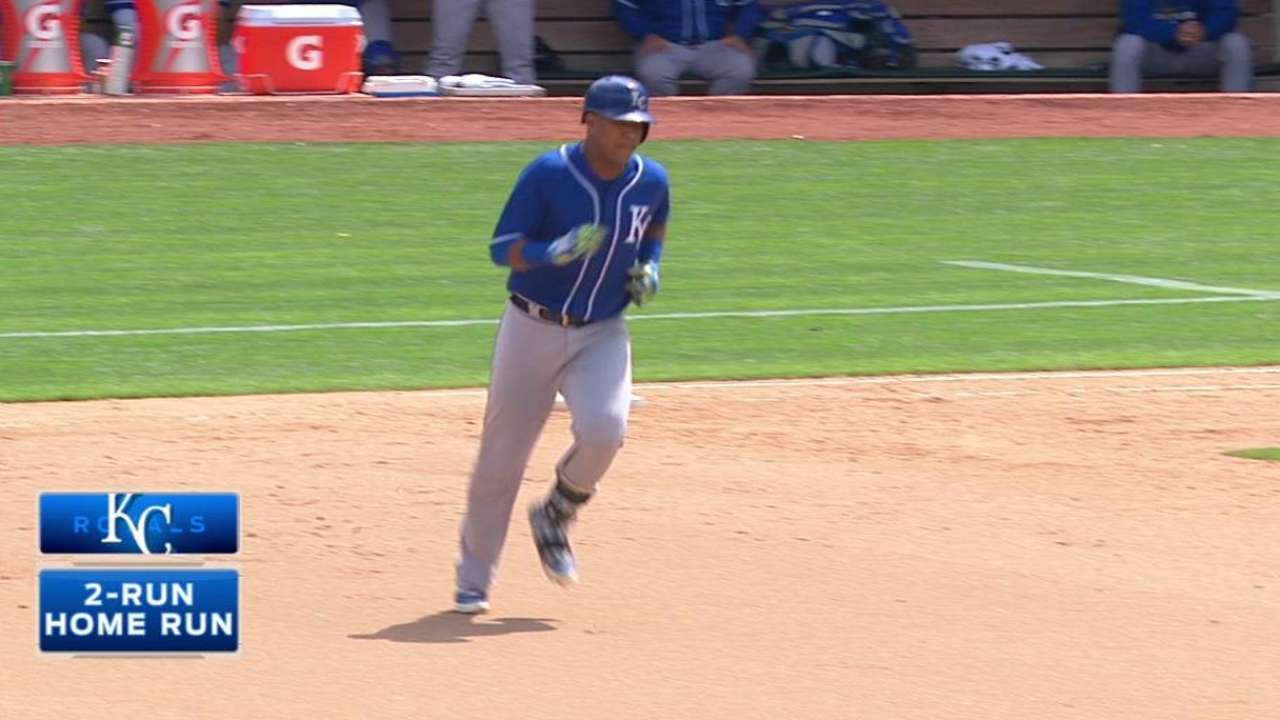 OAKLAND -- Salvador Perez homered, and the Royals took advantage of a crucial A's error in a three-run sixth inning to secure a sweep-clinching 5-3 victory at the Coliseum on Sunday afternoon.
Perez's two-run home run off right-hander Edward Mujica in the eighth inning was the 500th hit of his career. The Royals catcher also scored in the sixth, after reaching on a fielder's choice with one out and runners at the corners, when A's third baseman Max Muncy fielded a sharp ground ball and made an errant throw home, allowing the first of three runs to score off starter Jesse Chavez in the inning.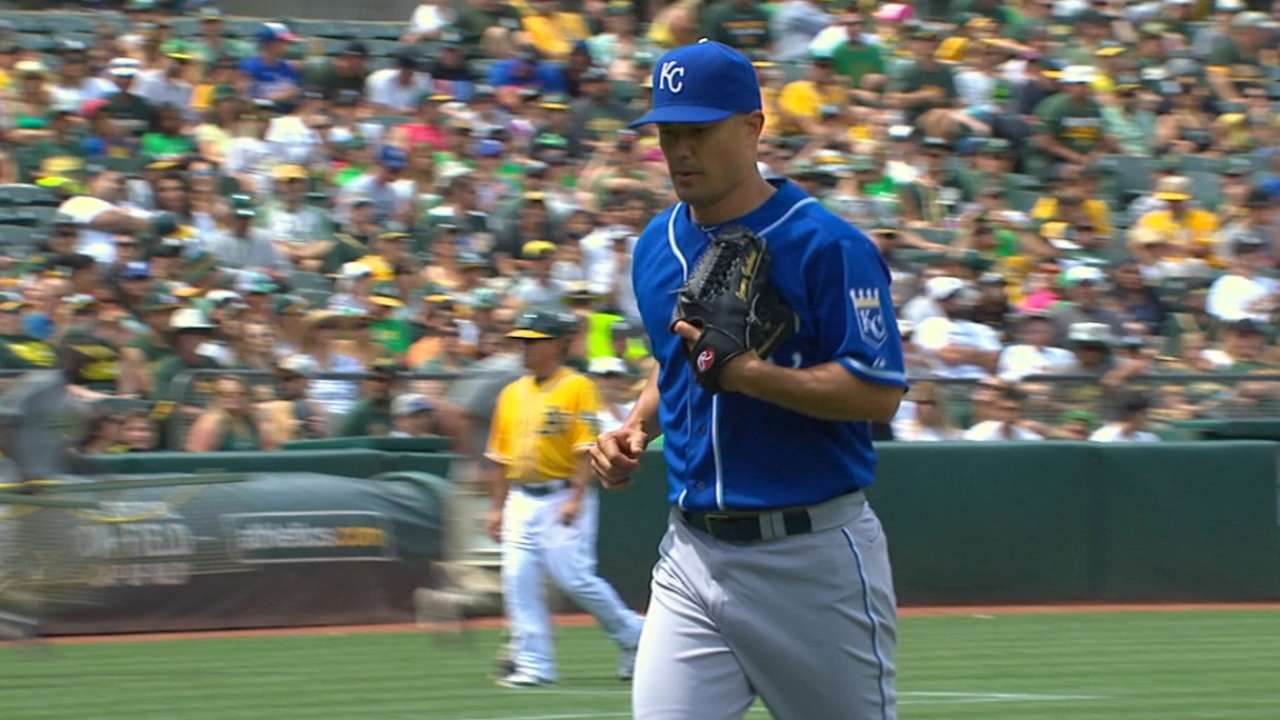 "You've got an out sitting right in front of your face at home, so it's where to go," A's manager Bob Melvin said. "Obviously, it was impactful."
The A's scored twice in the third off right-hander Jeremy Guthrie, who earned the win with six strong innings and notched his 1,000th career strikeout in the second inning. Stephen Vogt notched the first of his two hits in the frame and scored on a popup single off the bat of Josh Reddick that fell in shallow left field. Billy Burns also had two hits for Oakland, extending his hitting streak to a career-high 16 games.
Guthrie had seven strikeouts overall, the most he's had since last Aug. 17. But he was more impressed with his team's sweep of Oakland.
"It's huge," he said. "Oakland has been playing well lately and we know they're a competitive team. It's big for us and now hopefully we can carry that momentum down to Houston the next three games."
MOMENTS THAT MATTERED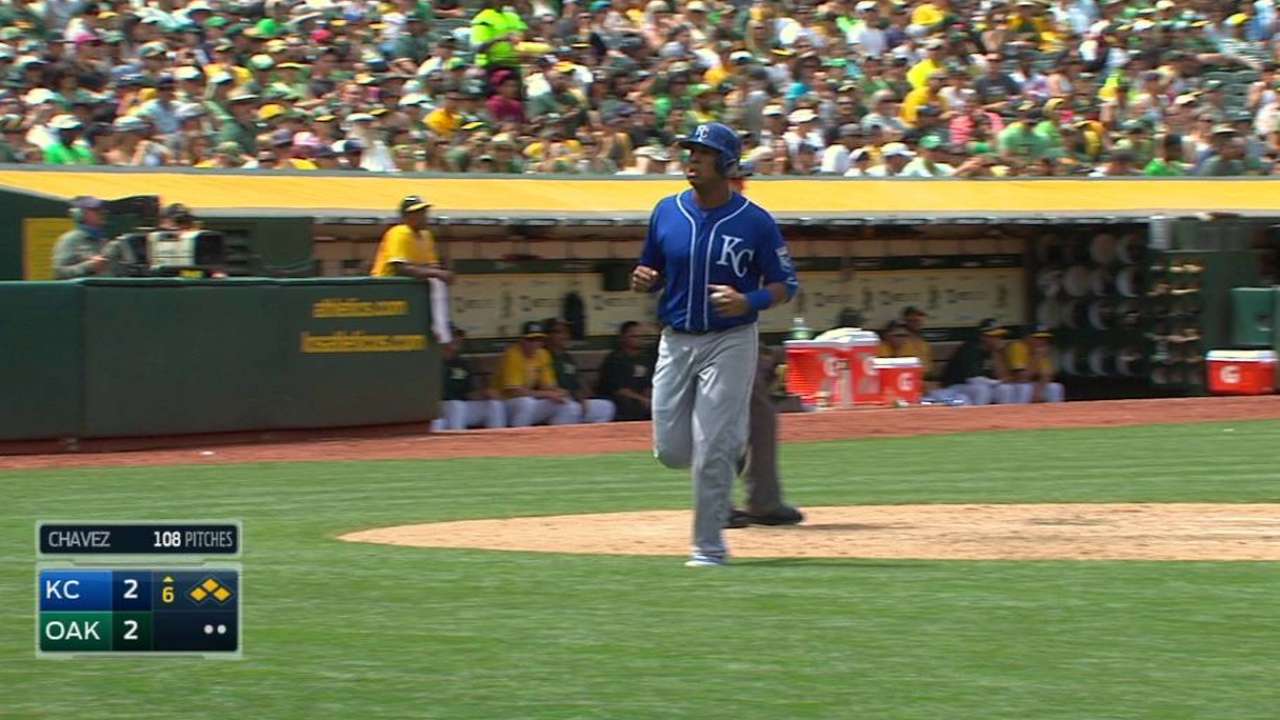 Clutch hitting: After the A's gifted the Royals a run in the three-run sixth, the Royals did come through with some situational and clutch hitting. With the bases loaded and one out, Alex Rios lifted a fly to medium-deep center that plated Kendrys Morales. Then with two outs, Omar Infante drilled a single to right that scored Perez and that gave the Royals a 3-2 lead.
"Those were just two really big at bats for us," Royals manager Ned Yost said. "Those guys have been struggling a bit and Rios gets that ball to the outfield to tie it and Omar comes up huge to give us the lead."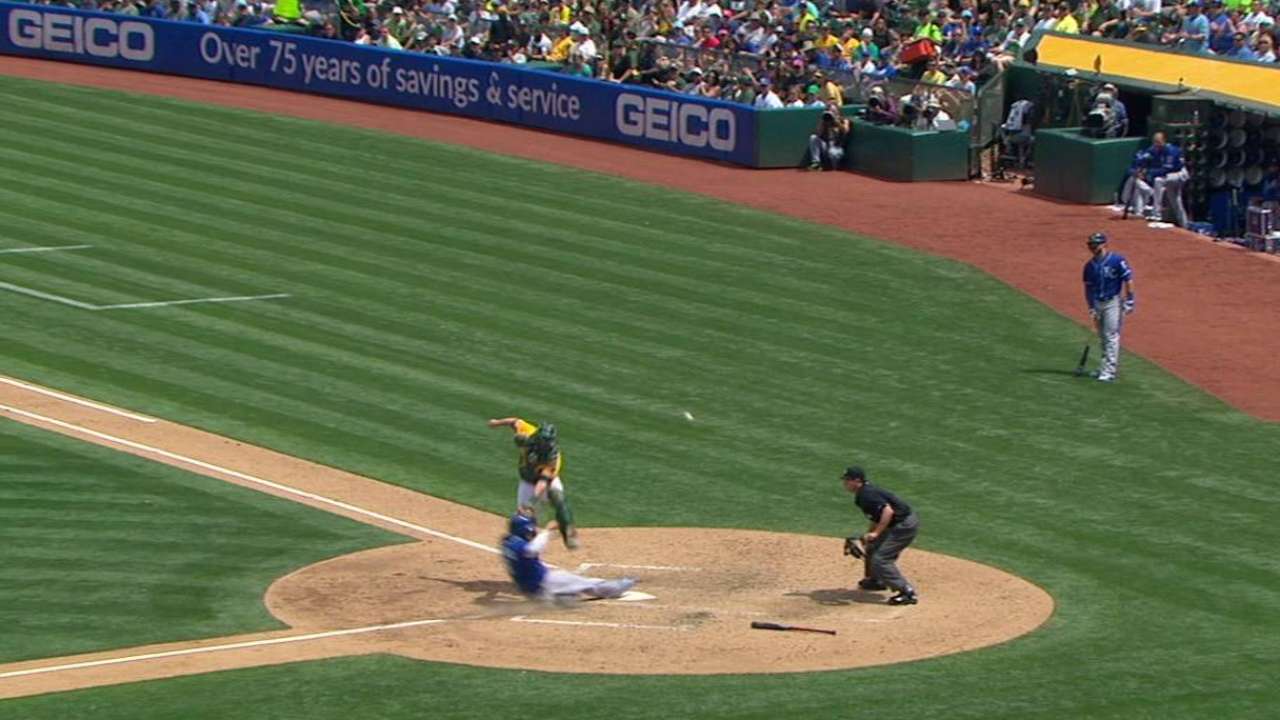 Defensive doings: A significant throwing miscue loomed large for the error-prone A's, who have routinely been undone by errors all season. With one out and runners at the corners in the sixth, Perez grounded a chopper to Muncy, who threw high of home, not only allowing the Royals on the board, but putting runners on second and third. Rios' ensuing sacrifice fly tied the game, and Infante followed with a go-ahead single. The A's finished with two errors, giving them a Major League-worst 75 on the season.
"I thought I made the right play," Muncy said. "I just rushed myself and made a bad throw."
More >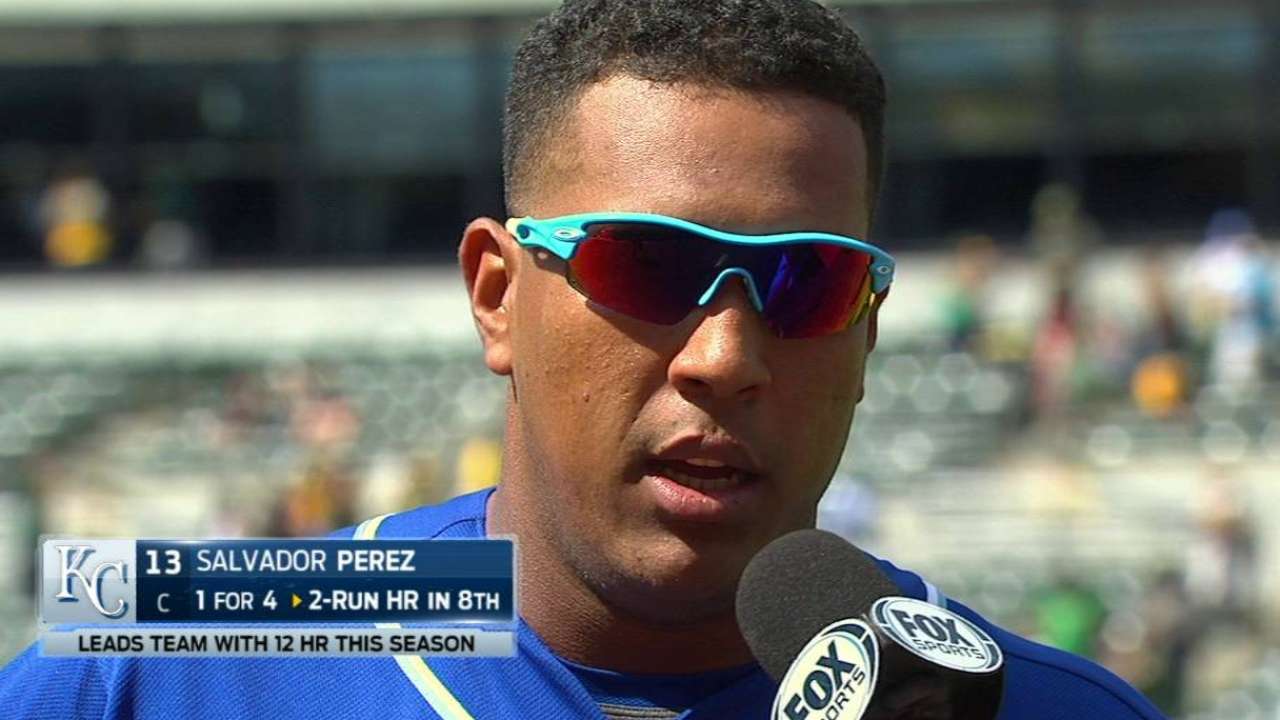 Perez's bomb: Perez's home run was crucial to the Royals in many ways. First, it turned a 3-2 lead into a 5-2 margin. But it also spared Lorenzo Cain from having to perhaps aggravate his sore hamstring. Cain was supposed to have had the day off to rest that hamstring. But he entered the game as a pinch-hitter in eighth for Eric Hosmer and singled. Hosmer was forced to DH instead of play first base because of a injured finger he sprained while sliding Saturday on a double steal. Hosmer was 0-for-3. The Perez homer allowed Cain to jog around the bases instead of sprinting.
"It says that Sal is pretty darn good," Yost said of Perez's 500th hit. "From the minute he's gotten here he's been a threat and a dangerous hitter."
Yost said Cain likely would DH in Houston on Monday and Morales would play first. Shortstop Alcides Escobar also was hurt when a grounder split the nail bed on a finger on his right hand.
"If I had to take a guess, Esky could probably play tomorrow," Yost said.
WHAT'S NEXT
Royals: The Royals open a three-game set with Houston on Monday at 7:10 p.m. CT that will finish this nine-game road trip. Joe Blanton (2-0, 1.73 ERA) will make his third start and is coming off a terrific win over Seattle last Monday -- he went six innings and gave up two hits and one run in a 4-1 win.
Athletics: Right-hander Kendall Graveman, who has a 2.31 ERA in seven starts since his return from Triple-A Nashville, will be on the mound for Tuesday's three-game series opener against the Rockies. First pitch for the Interleague matchup is scheduled for 7:05 p.m. PT.
Watch every out-of-market regular season game live on MLB.TV.
Jeffrey Flanagan and Jane Lee are reporters for MLB.com. This story was not subject to the approval of Major League Baseball or its clubs.