Zunino benefiting from Edgar's tutelage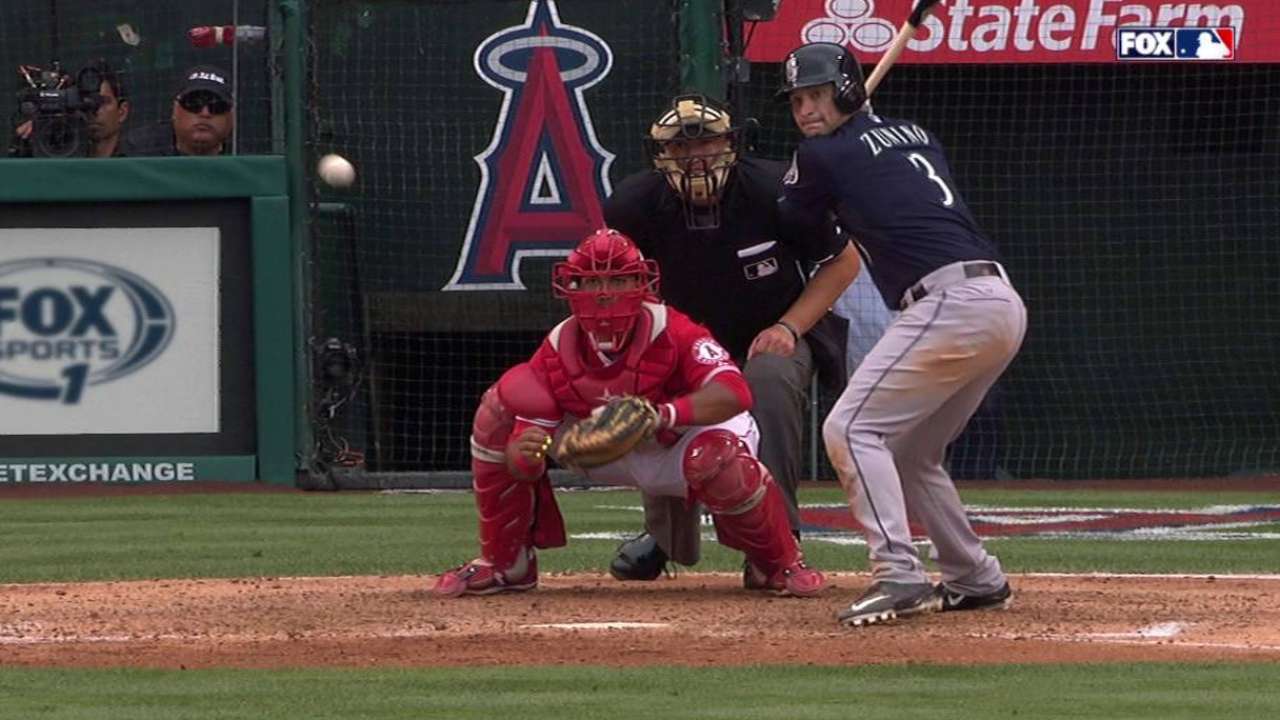 ANAHEIM -- Mike Zunino isn't going to turn his season around in one week, but the Mariners' catcher is feeling better at the plate in recent days as his work with new hitting coach Edgar Martinez seems to be paying dividends.
Zunino went 2-for-4 with a home run and two runs scored in Saturday's 4-2 loss to the Angels and has hit .357 (5-for-14) with a walk and just one strikeout in 16 plate appearances over his past four games going into Sunday's series finale against the Halos.
That's a welcome trend for a guy who hit .155 with 82 strikeouts in his first 63 games of the season, including 19 strikeouts in 36 at-bats in the four games before his recent revival.
"I'm just simplifying everything, slowing everything down," Zunino said. "I've been trying to work with Edgar quite a bit and doing some stuff to just slow down and try to use the whole field. It's helped me see the ball a little better, too."
Martinez likes doing tee work, putting balls in different locations and getting batters used to hitting balls on the outer edges of the plate and in places they might not normally reach. He's also encouraging Zunino to eliminate some of his pre-swing movement.
"A lot of it is before the pitch is even coming," Zunino said. "Your load or whatever, just to do that as slow and easy as possible and smooth everything out. It's something I've been working on off the tee, in batting practice, just slowing down pre-pitch and it gives you more time to recognize."
Zunino worked hard this spring on improving his two-strike approach and trying to use the whole field. Once the season started, however, he had trouble applying that and Martinez has encouraged him again to not overthink things.
"To me, it's just going out there and hitting the ball hard," Zunino said. "That's what he's preaching, just solid contact. You don't have to hit every pitch to right field or every pitch in to left field. Just make solid contact and whatever happens, happens. I'm just trying to follow that and have solid at-bats."
Manager Lloyd McClendon says he's seeing the positive results.
"He's keeping the hands up, trying to get to a strong front side," McClendon said. "That gives him a little better coverage. And when it's available, releasing the top hand to get a little more plate coverage. But the fact is, he's getting some positive results and that always makes you feel better."
• First baseman Logan Morrison was out of the lineup on Sunday to give his sore back an extra day of rest before Monday's off-day, McClendon said, with Willie Bloomquist taking his place.
• With the off-day coming, McClendon decided to flip-flop starters Taijuan Walker and Roenis Elias, with Walker now starting Wednesday in San Diego and Elias pushed back to Thursday in Oakland. McClendon said he didn't want two lefties facing the Padres' right-handed-dominant lineup, with Mike Montgomery slated to throw Tuesday.
Greg Johns is a reporter for MLB.com. Follow him on Twitter @GregJohnsMLB, read his Mariners Musings blog, and listen to his podcast. This story was not subject to the approval of Major League Baseball or its clubs.