Harvey getting his groove back on mound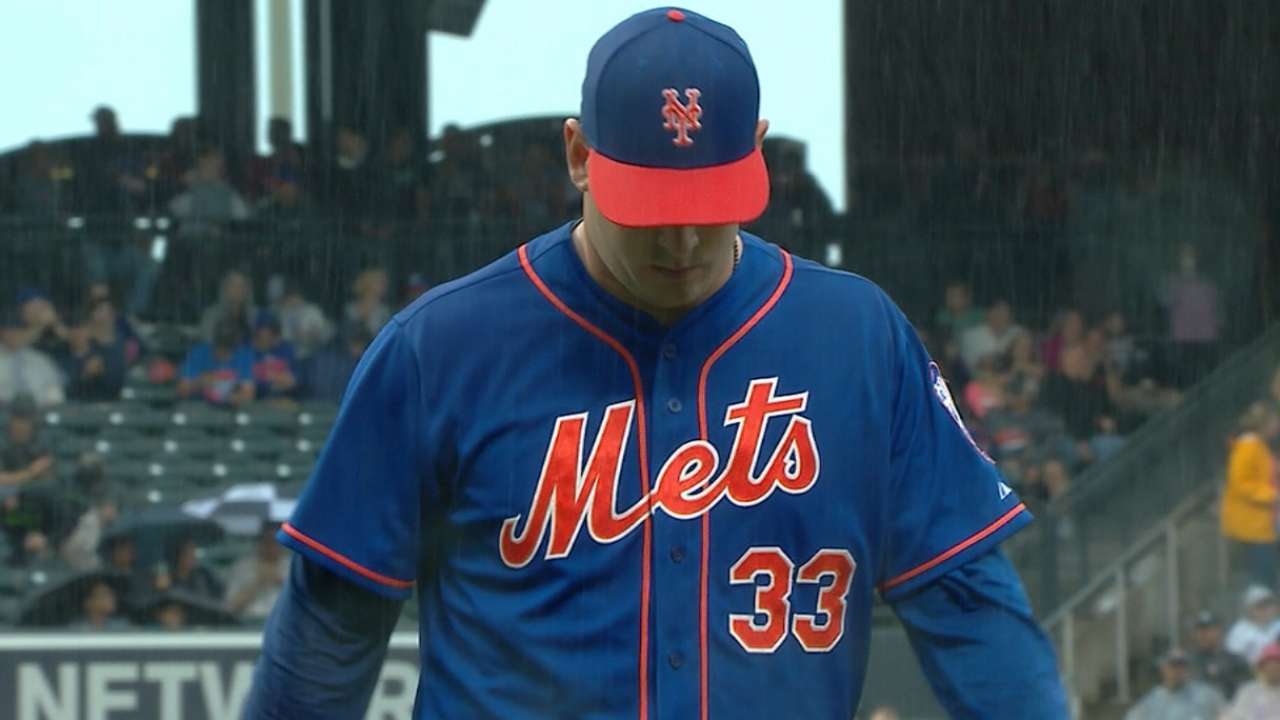 NEW YORK -- Matt Harvey had a feeling his day might be cut short, with a light drizzle falling from gray pregame skies and the forecast calling for more. In the end, it was, if only by a bit.
With the score 1-1 in the bottom of the sixth and Harvey at 90 pitches, Mets manager Terry Collins pinch hit Darrell Ceciliani with two outs and a runner in scoring position. The rain had intensified and the Mets were looking to push across the go-ahead run.
The move worked. Ceciliani walked, as did next batter Dilson Herrera, to load the bases. But Curtis Granderson flied out, holding the game at the 1-1 score it would be suspended before the start of the next inning.
Harvey wouldn't have come back out on Sunday to finish the game, so it's best to view Saturday's effort as complete and for what it was -- his third strong outing in a row after a tough stretch.
"I'm just trying to go out every time and do the best I can to put up zeros," said Harvey, who allowed one run over six innings. "I know there was a rough patch there. To stay mentally focused now is definitely helping. There are some days I don't feel as great as I normally would. That's part of the rehab process. But we're finding ways to get through."
Harvey has just two wins since May 1, and one in his last three starts. But in his last 19 2/3 innings he's allowed just two runs. In his previous 25 innings, he allowed 20 runs.
Meanwhile, the Mets are still struggling to support him. When the game is completed Sunday it will mark the 14th time in his career he's allowed one run or fewer and failed to record a win. Harvey is the first pitcher in the last 100 years with that many such no-decisions in his first 51 starts.
Saturday he walked this familiar tight-rope while also battling the elements and early lack of command. In the end, Brandon Phillips' fifth inning RBI single was his only blemish. But with the rain, it was a struggle all day.
"It was tough playing in general," Harvey said. "I was kind of surprised they kept the game going at certain points."
Joe Trezza is an associate reporter for MLB.com. This story was not subject to the approval of Major League Baseball or its clubs.