Dodgers RBI PlayerFest a hit with kids
Second annual event draws over 4,000 youngsters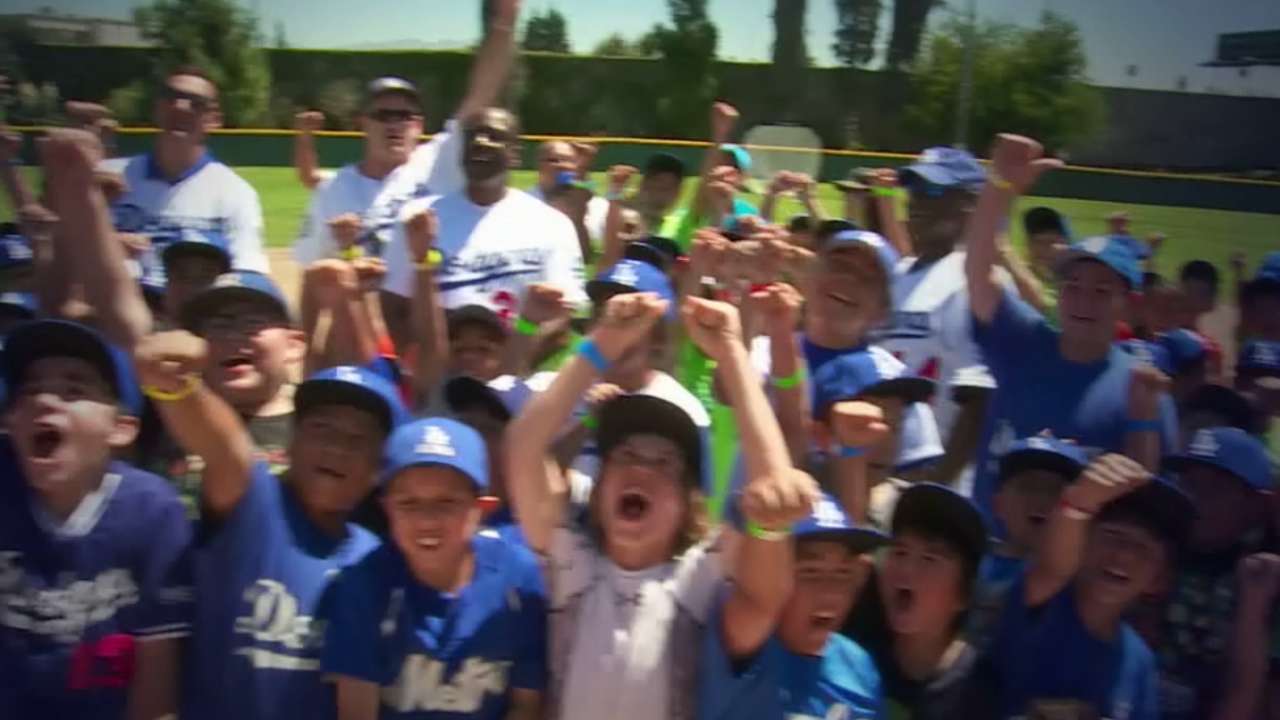 LOS ANGELES -- The outfield grass at Dodger Stadium was a sea of blue and white on Saturday afternoon as the Los Angeles Dodgers Foundation hosted over 4,000 youngsters for its second annual Dodgers RBI PlayerFest.
Youths from all 23 Reviving Baseball in Inner Cities (RBI) locations in South Los Angeles, Compton and Venice, as well as the MLB Urban Youth Academy in Compton, participated in a wide range of activities at the ballpark.
"They're having a blast, you can see it on their faces," said former Dodgers pitcher Dennis Powell, one of several former players on hand to chat with kids and sign autographs. "For some kids, it's their first time ever at Dodger Stadium."
Saturday's turnout almost doubled last year's, and the event is expected to expand moving forward.
"I do believe that being here for the first time and seeing the excitement, kids come back and then also tell others," Powell said. "Last year, I think we had about 2,500 kids. I believe it's going to be even bigger next year."
In addition to running the bases and some baseball activities, participants were able to meet former Dodgers Tommy Davis, Al Ferrara, Tim Leary, Matt Luke, Derrel Thomas and Powell. There were carnival rides, photo booths, stadium tours and free eye screenings offered by LADF partner Vision to Learn.
"Special events, such as these, help to inspire continued interest and love of the game," said Nichol Whiteman, executive director of the Los Angeles Dodgers Foundation.
Dodgers starting shortstop Jimmy Rollins, an RBI alumn, offered a brief introduction in a video message that played as the event got underway.
Lauren Green, a strength-and-conditioning coach in the Dodgers organization, led the large mass of kids in a number of exercises and light calisthenics as the event wound down. It was a special moment for Green, who recalled a smaller-scale event held by the Dodgers when he was a player at the Urban Youth Academy in Compton over a decade ago.
"I was in their shoes a long time ago," Green said. "When we did it, it was nowhere near this capacity. A lot of the stuff these kids are getting now is unbelievable, and it's going to do a lot for the community."
Some light rain began to fall as the on-field activities concluded, but most families stuck around to watch the Dodgers take on the Marlins via the outfield video boards.
Austin Laymance is a reporter for MLB.com. This story was not subject to the approval of Major League Baseball or its clubs.