Rodney ready for any role Mariners need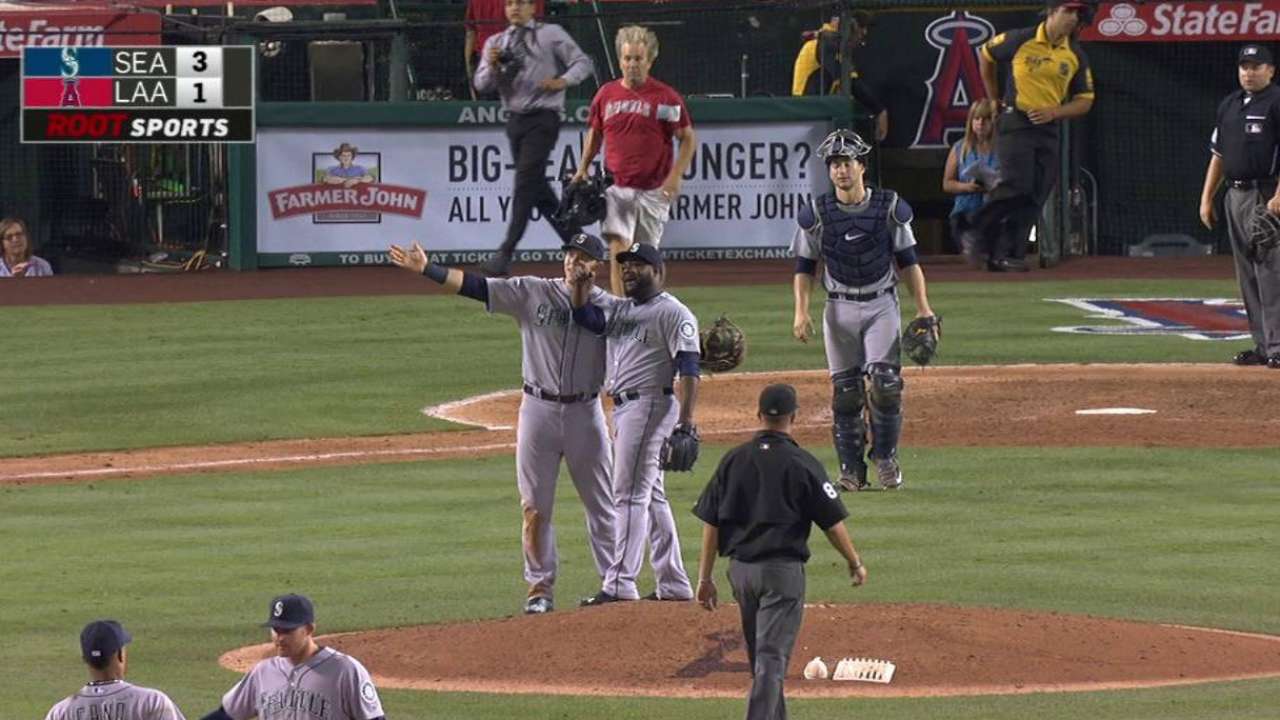 ANAHEIM -- Fernando Rodney got to shoot his arrow on Friday night, delivering a scoreless ninth inning in the Mariners' 3-1 victory over the Angels in his first save situation since losing the closer's job 24 days earlier.
But the man who led the Majors with 45 saves last season and is second to Craig Kimbrel for the most saves in the big leagues since 2012 hasn't won back the role yet, as manager Lloyd McClendon went to right-hander Carson Smith in the eighth inning Friday strictly because he wanted the big rookie facing Angels standouts Mike Trout and Albert Pujols.
"That was the biggest point in the game to that point," McClendon said prior to Saturday's rematch with the Angels. "If you lose a lead in the eighth, the ninth means nothing."
Smith gave up a single to Trout and walked Pujols, but escaped the jam with a double-play grounder by Johnny Giavotella. Rodney then came on for his 15th save of the season and first since May 29. Rodney gave up a single to David Freese, but struck out two and ran his scoreless streak to 5 2/3 innings over his last six appearances.
McClendon would like to get Rodney completely squared away and back in the closer's role at some point, but he isn't ready to flip that switch yet.
"My hope is that Rodney becomes that lockdown ninth-inning guy again, because I think we're a better club if he's in the ninth, Carson is in the eighth, [Mark] Lowe and [Charlie] Furbush in the seventh," McClendon said. "It closes the gap tremendously. That's my hope. But I don't know if that's going to happen or when it's going to happen. For right now, we'll keep doing what we're doing. We have to win ballgames."
Entering Saturday, Smith had converted all five save opportunities since taking over the closing role and has a season ERA of 1.48. Rodney still carried a 5.70 ERA, though that number was 1.59 in his last six games. The 38-year-old says his command has been better in his latest outings and he'll continue doing whatever is asked.
"I'll keep my head up and keep working and waiting for any situation," Rodney said. "Last night when they called [to warm up for the ninth], I said, 'Me? Are you sure?' I didn't know if they'd maybe give him the five outs."
But Rodney was more than ready for his return to the ninth-inning role, whether temporary or not.
"My heart said, 'Wabado, let's go. Let's do this,'" he said with a smile.
McClendon said Rodney has handled the change like a pro, helping Smith wherever he can. Rodney said it's all a part of what he calls "a crazy job," given the high stakes and pressures.
"Sometimes you have to understand," Rodney said. "I understand. They give you the chance, they know maybe I'm not as controlled with what I'm doing and they give this kid a chance and maybe I'll learn something. Because this game, no matter how long you've been in it, every day you learn something different."
Greg Johns is a reporter for MLB.com. Follow him on Twitter @GregJohnsMLB, read his Mariners Musings blog, and listen to his podcast. This story was not subject to the approval of Major League Baseball or its clubs.